Earlier this year, I started to plan how to best celebrate my fifteenth wedding anniversary. I knew that, for my wife and I at least, the ideal celebration would be built around a mini-vacation and a great meal. But with so many great restaurants in the world, where to go? After a few days of contemplation, I realised the restaurant we'd probably have the best time at would be Chef Zaiyu Hasegawa's Den in Tokyo, Japan.
We're huge fans of Chef Hasegawa as well as his food. For those who are new to the site, I first visited Den in 2013 and absolutely fell in love with Chef's culinary artistry and his sense of humour (you can read the article here). Back then, Chef Hasegawa was beloved in Tokyo but not that well-known internationally. Fast forward three years and he's become a total culinary rock star. Rene Redzepi is a fan. As are a legion of other amazing chefs hailing from all over the planet. Amusingly, one wall by the entrance of the restaurant, once pristine, is now covered with hand-written messages from fellow chefs who have visited the restaurant, who, like me, have become totally enamoured with Zaiyu and his restaurant. Den now has two Michelin stars and earlier this year, Den picked up the One To Watch award at the World's 50 Best Restaurants Award. And very recently, Chef has collaborated with Shake Shack to create an awesome sounding "Den Shack" burger made with an Angus beef patty, topped with bacon, red miso, marinated cucumbers and sandwiched in between potato buns.
After a few email exchanges, I was (thankfully) able to secure two seats at the dining counter (which faces the open kitchen) in Den on the evening of our anniversary. We were absolutely thrilled.
Upon arrival, we were warmly welcomed by Chef Hasegawa, his wife and his marvellous team. Chef was very happy to introduce us to his kitchen team, which now included 4 young non-Japanese chefs doing internships in his kitchen. With his current rock star status, he now has a line of foreign talent fighting to stage with him.
Our first course was something familiar to us. Chef served us one of his signature Monaka (a Japanese traditional sweet). This version was stuffed with foie gras marinated in white miso, green apple jam and smoked pickled radish. This tiny dish offered a brilliant contrast of textures and tastes. Sweet, salty, acidic, crunchy, soft and creamy… all in one small snack.
The next course was one of my favourites of the night: fresh yuba (yofu skin) in a soy milk bechamel sauce topped with sea urchin marinated with soy sauce. Outstanding, rich, umami and delicious dish. Truly sinful and sensational. I especially loved the idea of a soy milk béchamel, a concept I plan to steal for many of my own recipes.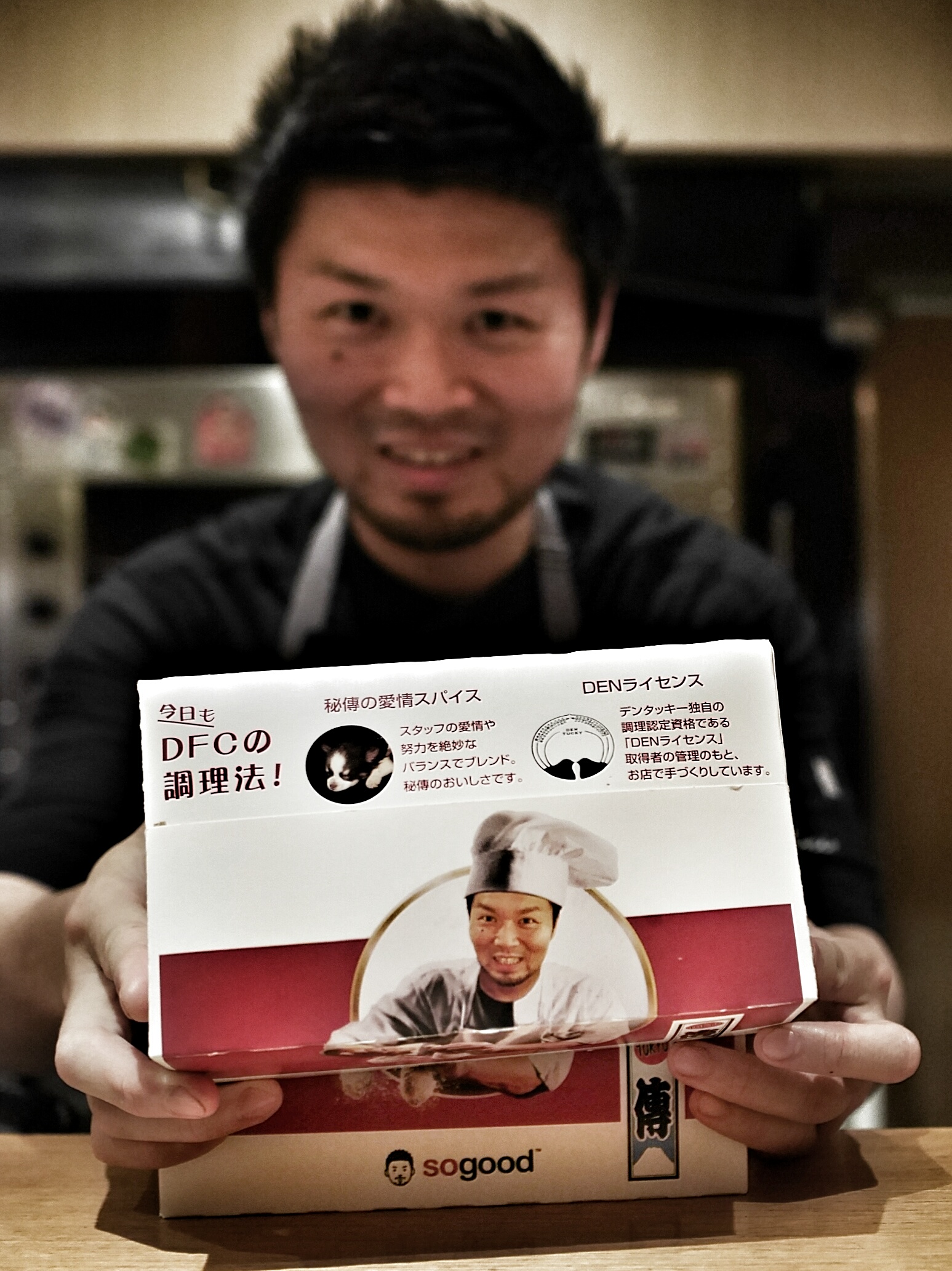 Next up was Chef's most famous dish — his Dentucky Fried Chicken (DFC). This iteration was a deep fried, deboned chicken wing stuffed with Japanese sticky rice coloured with yellow saffron (turmeric), raisin and almond. I loved the Moorish flavours captured in this dish. As usual, Chef served the DFCs in custom boxes emblazoned with his face. Except that the box he served mine in had my face printed on it instead of his! This sneaky chef had taken a picture of me off the Internet and used it on his DFC box. Talk about customising a meal for one's customer!
After the DFC, we were served a lovely and small plate of tilefish that had been aged for two days and served with wasabi. I was very intrigued to see that Chef Hasegawa is now exploring raw fish aging techniques. When done masterfully, a chef is able to draw out the very best flavours in the product. My own favourite sushi chef Keiji Nakazawa is an expert at this. It will be very interesting to see where Chef Hasegawa's explorations of this technique takes him.
Next was a second serving of tilefish. This was a crispy tilefish aged seven days and served with grated radish sauce, and topping with yuzu zest. Beautiful umami dish that provided some wonderful textural contrasts.
Then came Chef's signature salad, served with a live ant and more than twenty different kinds of vegetables. What is really quite amazing about this salad is that each of the vegetables is prepared in the style that Chef felt best highlighted that ingredient's flavours. Some were deep-fried, others pickled, others grilled, etc. That meant that every single ingredient was treated like it was the star product on the plate. Which, quite simply, made this dish the best salad I have ever eaten. Add the novelty factor of a wriggling ant that when eaten was astringent but quite tasty and this salad was not just delicious but fun.
After the salad, Chef prepared two claypots of rice for us. First up was rice with ikura (salmon roe) marinated with dashi and served with Japanese pickles and miso soup. True comfort food and very tasty.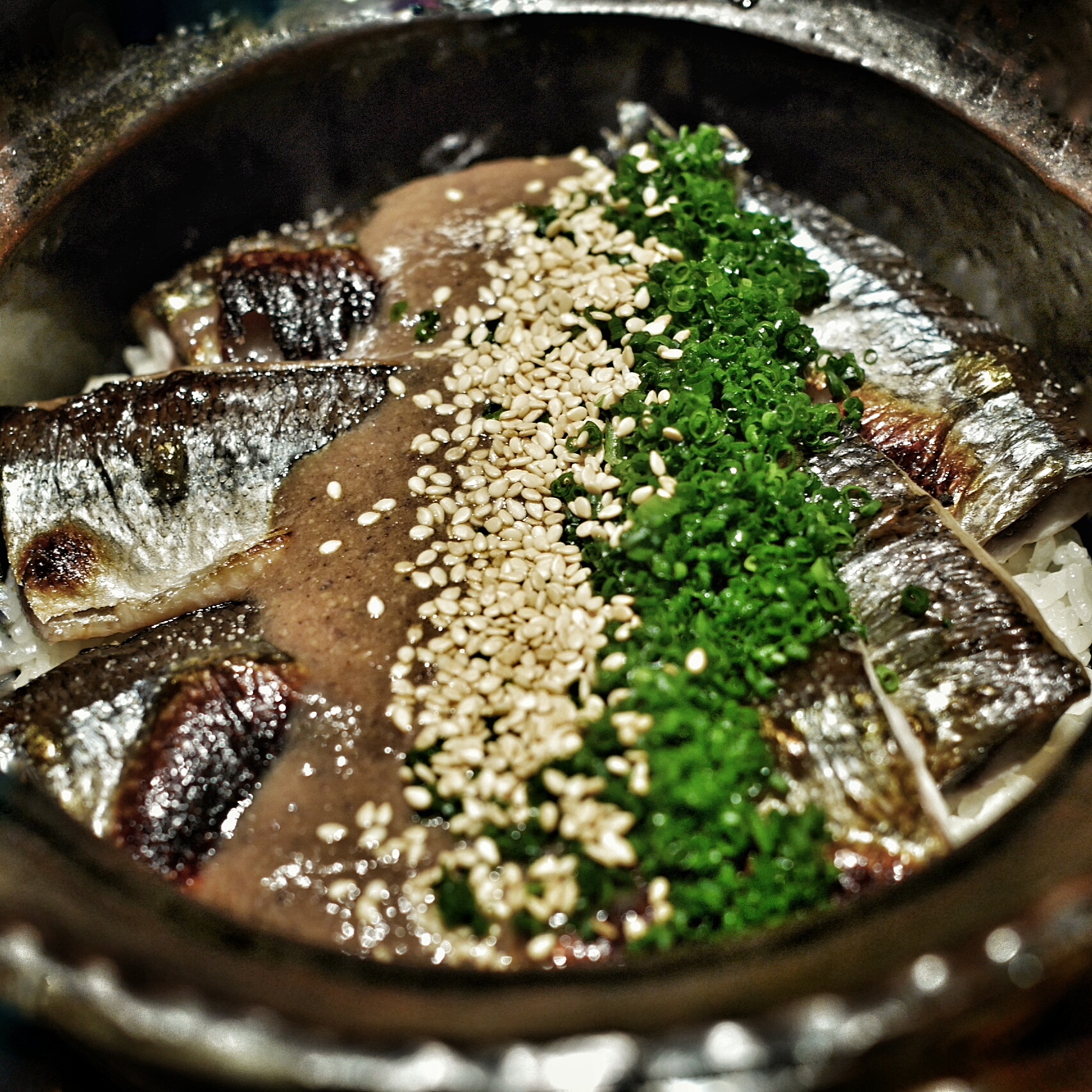 The next rice, though, was the crowning achievement of the night. Chef's claypot rice, topped with Sanma (pacific saury), and mixed with the liver of Sanma, miso, and sake, was quite simply, fucking awesome (pardon my French). This was so damned good. I honestly don't have the words.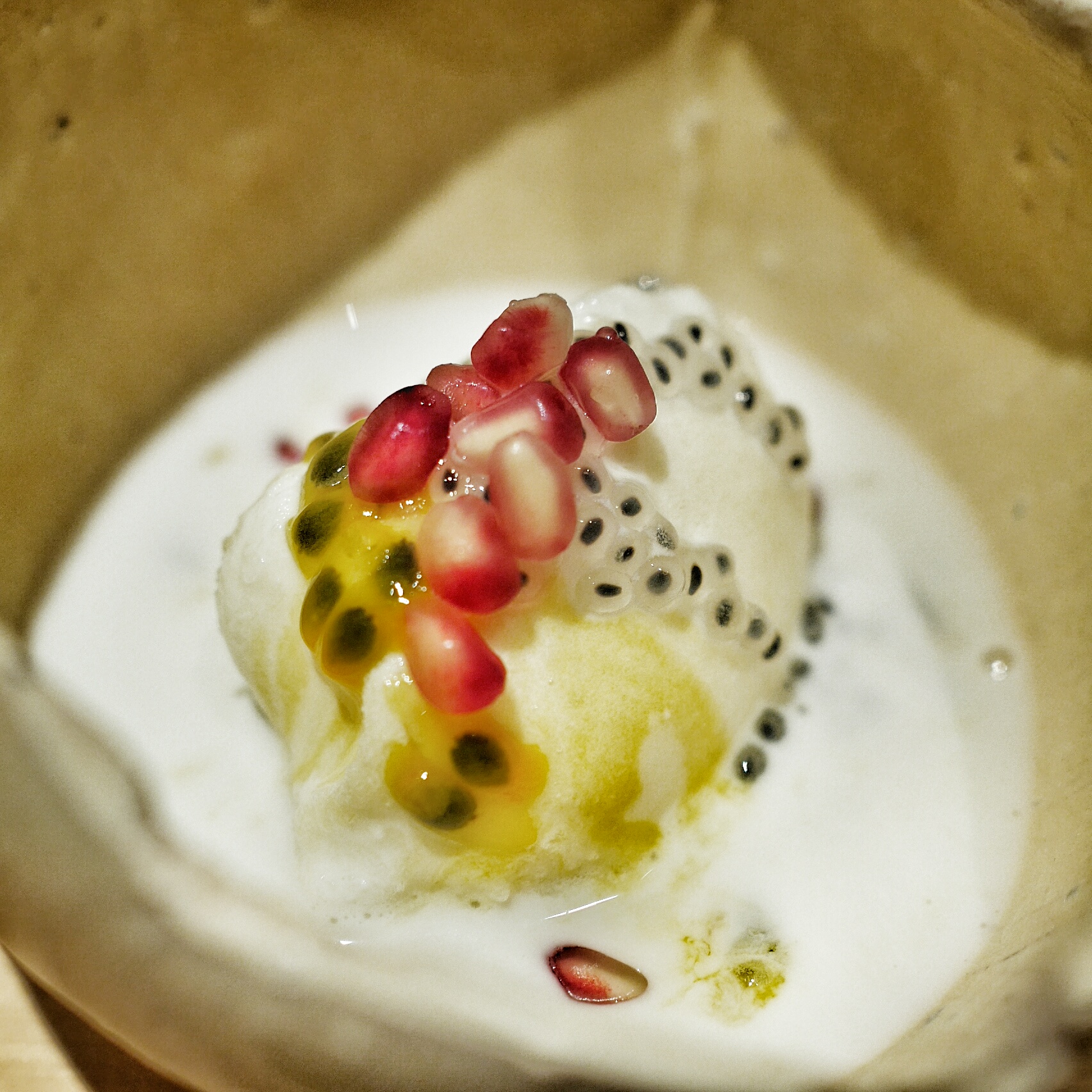 After our two rice dishes, we were quite full, so Chef served us two small desserts. The first was peach marinated with mint, served with frozen yogurt in coconut soup. This was great. It was fresh and cold, and refreshing.
Our final course was Japanese pear served with red wine and fig sherbet. This was, while also a cold dessert, rich and sensuous. While the previous dish woke us up, this dish wanted to tuck me into bed. Which made it a fitting last thing to enjoy in this marvellous restaurant.
Celebrating our fifteenth wedding anniversary at Den was definitely the right thing to do. The food was outstanding. But more importantly, Chef Zaiyu Hasegawa treated us like long lost friends. He and his crew made sure that every part of our experience with them would be memorable, warm, comforting, fun, enriching and pleasurable… Which, in many ways, reflects what a great marriage is about. So, again, perfect place to celebrate the fifteen years of joy and love between my wife and me.
Oh, on a final note, just want to let you all know that Chef is moving his restaurant from Jimbocho to Aoyama at the end of this month. I can't wait to see the new space.
Aun has always loved food and travel, passions passed down to him from his parents. This foundation, plus a background in media, pushed him to start Chubby Hubby in 2005. He loves that this site allows him to write about the things he adores--food, style, travel, his wife and his three kids!