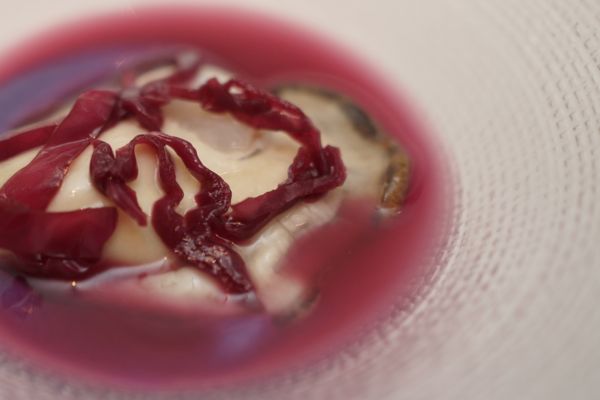 Dining at Iggy's – Singapore's award-winning restaurant that is on The World's 50 Best Restaurants and Asia's 50 Best Restaurants – is always a luxurious pleasure. Especially more so when I have followed the growth of the restaurant from its beginning. Recently, I had the privilege of savouring four sumptuous seafood creations. The oyster in Gilardo red cabbage with Cabernet Sauvignon soup was really impressive in its creativity, presentation and taste balance. Could have easily consumed a dozen… but the C.F.O. – that is my wife -reminded me of our sizeable mortgage repayments.
And it gets better. The sardine, a Japanese import, was slow cooked in light broth then seared with aromatic oils.  This was followed by lightly grilled wild young salmon with a delightful rhubarb and lily bulb paste. Instead of the usual wagyu or lamb main course, I chose to enjoy the succulent pomfret, basking in dark vegetable broth. I certainly did not feel shortchanged.
Already looking forward to our next visit!
Iggy's
581 Orchard Road, The Hilton Hotel
Singapore 238883
Tel:+65 6732 2234
www.iggys.com.sg

Roger's love affair with food started with a bang. Sent to a distant corner of Kent at 16, an Asian-food starved Roger tried to recreate mom's stir-fry with explosive results. The loss of the left eyebrow was well worth the reprieve from steak and kidney pie. Today Roger runs his own creative agency as a pretext for his food-based escapades. If you are unlucky enough to be seated next to Roger in a restaurant, do be thankful that he is annoying you with his camera, and not attempting to flambé with a wok.