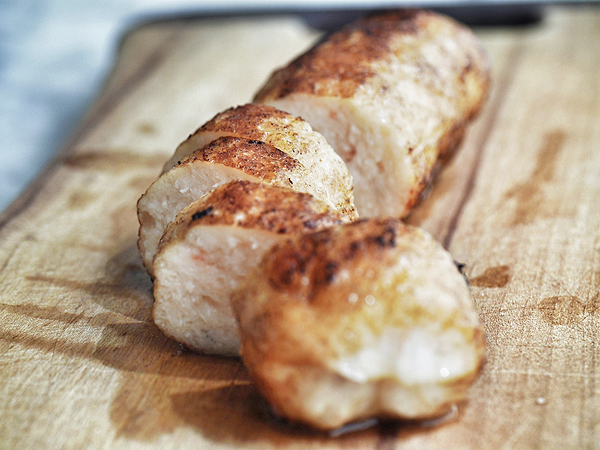 This past weekend was my brother's and his wife's birthdays; they share the same birthday. They also happened to have gotten married on their birthday last year. So, for their first anniversary and combined birthdays, I planned a small feast for them.
I knew right away that one course would be built around Vietnamese pho. My brother is a bit of a pho-addict. But I didn't want to just make the traditional dish; instead, and with help from my always meticulous wife S, I made a hoisin packed oxtail ravioli (with a homemade hoisin sauce), that would be served with Thai basil leaves (grown on our terrace) and with a pho broth, that I made also, loosely based on a recipe from The Red Lantern Cookbook.
For my main course, because both my bro and his wife are beef eaters, I prepared a duo of beef–a 48-hour slow cooked short rib à la Momofuku and a seared steak of Kagoshima wagyu ribeye. This was served with chilled white asparagus and some homemade pickles.
Because these two dishes were both very beefy, I wanted to prepare something lighter, made with seafood, to kick start the meal. Also, my parents would be joining us for dinner, so I needed to add at least one course that was seemingly healthy to keep them placated.
In the end, I decided to try making my own version of a seafood sausage, based on a recipe from the Chanterelle cookbook. Having grown up in Manhattan in the 1970s and early 1980s, and having gone to college there in the early 1990s, I still regard David and Karen Waltuck's Chanterelle as one of the greatest restaurants that has ever existed. It certainly had the best service in New York City, and some of the best, most imaginative, and elegant Franco-New American fare I've ever had the pleasure of tasting.
I purchased David Waltuck's hefty cookbook as soon as it was released back in 2008. And while I've lovingly thumbed its pages for years, I'd yet to cook from it.
Of all of Chanterelle's dishes, its single most celebrated dish was a seafood sausage, made with lobster, scallops, prawns, and seabass. Waltuck's version was stuffed into pork casing, poached then grilled, and then served with beurre blanc.
I decided to change the ingredients, both based on what I could pick up at Huber's Butchery and what would be a tad more cost effective. I also decided against a casing, deciding to use cling film to shape the sausage and poach it while wrapped up tightly. I made my sausage with scallops, prawns, halibut and crabmeat.
Thinking the sharp saltiness of bacon would contrast perfectly with the sweet sausage and the beurre blanc, I also decided to serve my version with some small chunks of homemade whiskey-maple bacon.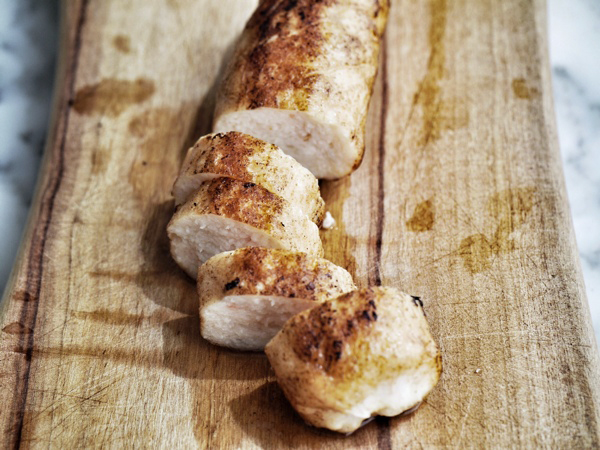 With the sausage, I served a 2006 Chateau de Puligny-Montrachet Puligny-Montrachet 1er Cru "Les Folatieres", which was perfect. The butteriness of the wine came through marvelously, and the flavours of the dish actually helped bring out a delightful sweetness in the wine.
The dish went over really well. My mother has hinted very strongly that I should make this sausage in bulk and freeze them so that "we" can have them whenever "we" want. S suggested we use my recipe and get Huber's to mass-produce these as Christmas gifts for friends–Huber's will make any custom sausage a customer wants, so long as you order a minimum of 5kg worth of it. And judging from the exclamations and "mmmm"s from my brother and his wife, I think they also enjoyed it. It was an experiment that turned out very well.
Seafood Sausage
Makes 6 sausages, approximately 10cm in length
600g scallops
200g prawns
250g halibut
250g picked cooked crabmeat
60 ml cream
Egg white from 1 large egg
2 tablespoons cognac or brandy
1 teaspoon port
Salt
Cut the prawns and halibuts into small pieces. Using a food processor or blender, blend the scallops, prawns and halibut with the egg white, cream, cognac and port. You want the mixture to be smooth and fluffy, but still somewhat firm. Fold in the crabmeat and mix. Add salt to taste.
On a tray, lay out a large sheet of cling film. Spoon a large dollop of the seafood mousse onto the sheet, about ¼ of the way in from the near edge of the cling film. Carefully, pull the cling film over the mousse and roll it over, continuing to roll so that the mousse spreads out into a compact tube. Grab the two ends of the cling film–the ends of the cylinder, pick the mousse up off the tray and spin the mousse forward in circles so that the mousse gets compacted into a sausage shape. Twist the ends of the cling film around and press them to the ends of your little package. Quickly take another sheet of cling film and tightly wrap the sausage with it. Do this once more. You'll be poaching the sausage in water, so you want the cling film to be as tight as possible.
Repeat this until all of the mousse is used up. When I do this, I get around 6 sausages with diameters of around 3.5cm and approximately 10cm in length.
Get a pot of water going and ready a thermometer. Or if you have sous vide equipment, get this going. You want your water to be 85º Celsius. Poach the sausages for 12 minutes. I find that they float, so either turn them once during the poaching process or use an otoshibuta (if, like me, your wife happens to own one) to keep them submerged.
Once poached, if you want to store these to eat later, dunk them in ice water to cool them down rapidly. Once cool, dry the packages and store in the fridge for up to five days. If you do this, just reheat for a few minutes in hot water before the next stage.
Unwrap the sausages. You may find it easiest to unwrap the first two layers and then for the layer of cling film in which your sausage is nestled, I suggest using a pair of scissors and trimming the plastic off the ends. This will make it easy for you to slide your sausage out.
Heat up a nonstick pan and melt a large pat of butter in it. Then brown your sausages in the butter. Remove, cut and serve. I recommend making a beurre blanc and drizzling that over the sausage.
Aun has always loved food and travel, passions passed down to him from his parents. This foundation, plus a background in media, pushed him to start Chubby Hubby in 2005. He loves that this site allows him to write about the things he adores--food, style, travel, his wife and his three kids!