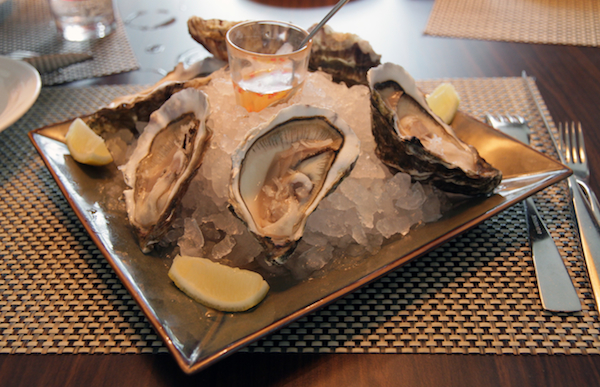 My family's been going to Gattopardo for two years now, and I still can't figure out why the place is never crowded. It surely can't be the quality – chef Lino Sauro, in my opinion, serves some of the most balls-to-the-wall Italian food in the city, with achingly fresh seafood and a technique that I can only describe as Sicilian voodoo. Some diners might be scared away, I guess, by the restaurant's hermit-esque location in the Hotel Fort Canning, or by the prices, which are a slight notch above those at other Italian heavyweights such as Pasta Brava. I'd like to persuade these people to make the journey up Fort Canning Park to try Gattopardo's set lunch, the perfect gateway into the restaurant's gut-busting cuisine.
Disclaimer: I'm a partisan patron, and have been a fan since my first meal there, during which our party of nine over-ordered and ended up with five pizzas, half a dozen plates of pasta, and at least a gazillion different kinds of antipasti. I've since learnt how to eat in moderation, and also how to navigate the large menu, sometimes ignoring it altogether and simply asking Lino to surprise me.
Il mare is the star of the kitchen and the sprawling colonial space. The day's catch is displayed, sushi bar style, at an L-shaped counter overlooking the entrance to the kitchen, and the earnest service staff always talk up dishes such as the juicy charcoal-grilled calamari, and the capellini with bottarga and sea urchin. The uncompromising level of the seafood, from something as simple as a seasoned raw amberjack to an utterly Arcadian fish stew, continues to impress, and belies the ability of a Sicilian shokunin at the top of his game.
On my most recent visit, I stuck with the script and ordered only seafood-based dishes from the prix fixe menu. Some of my dining companions, though, couldn't resist the Siren call of the à la carte dishes, and we ended up ordering a host of appetizers to share. The best of these was a platter of plump and briny Gillardeau no. 1's, each the size of a small poached egg and almost as creamy. I've been told that Gillardeau is a cult bivalve brand in France; after popping a few of those juicy jewels, which are assigned numbers in inverse relation to their weights, it was easy to see why.
If the oysters were evidence of "the leopard's" militant eye for raw produce, the rest of my meal was a masterclass in crustacean craftsmanship. A 'lukewarm' seafood salad starter – a meteor shower of scallops, clams, and mussels on a mountain of basil-kissed calamari – featured some of the most perfectly prepared shellfish I have ever had. Satisfyingly moist, tantalizingly fleshy, and easy on the jaw, the mussels and clams were a joy to eat; but to me, the calamari stole the show. The seasoned strips and tentacles were nothing like the overcooked, tyre-like rubbish in lesser restaurants, instead boasting a texture that approximated hamachi sashimi. Its tenderness allowed me to focus not on chewing but on savoring the gorgeous taste of the squid, blended with soothing basil and the zing of the orange zest sprinkled liberally on the plate. If there was an al dente for shellfish, Lino could write the book on it.
Equally impressive was my main course, an inspired spaghetti with chorizo, calamari, and black olives in a light tomato sauce. The calamari was, once again, superlative – I'm convinced Lino channeled his inner Jiro in the meticulous preparation of the squid – and the punchy flavors of the chorizo and olive gave the dish a salty dose of chutzpah. I loved that Lino used all parts of the squid – body, fin, and tentacles – for a trio of textures, and that they were all done to absolute perfection.
According to the menu, the tomato base was muddled with some "squid sauce," which, given its irrationally addictive taste, must be restaurant parlance for cocaine. I ate unreservedly and thoughtlessly, as one should with rustic, ruddy pastas.
I also had the chance to try some of a friend's set lunch main course, garoupa acqua pazza. The fillet, poached in a "crazy water" of tomatoes, herbs, onions and (presumably) red wine and served in a terracotta pot, was a bit too firm for my taste, though I was willing to forgive this single transgression after a spoolful of the deeply satisfying Tuscan-style broth. It reminded me of one of Gattopardo's signature dishes, a seafood stew simmered in a similar terracotta pot.
For dessert, we could choose between a selection of gelato or a flourless chocolate cake with vanilla ice cream and salted caramel. No prizes for guessing what everyone ordered. The cake was sinful, albeit predictable, and, at $29 for any two courses (starters, mains, and dessert) and $35 for three, I couldn't complain.
The lunchtime crowd consisted of hotel guests and the odd businessman, which is to be expected for a restaurant nowhere near the central business district. But Gattopardo is a place that deserves a larger afternoon clientele. The set lunch is affordable, constantly changing, and extensive, with both vegetarian and carnivorous options. It'd be a crying shame, though, if you don't get Lino to work his marine magic.
Gattopardo
11 Canning Walk
Hotel Fort Canning
Singapore 178881
Tel: +65 63385498
12pm­–230pm, 630pm­–1030pm
Closed Wednesdays
www.gattopardo.com.sg
Brandon Chew's first memory is of him eating chicken rice at the dining table of his parents' old flat. His second memory is of him politely asking for, and receiving, a second helping of fries at KFC, which taught him two things: manners gets you places, and fries are the most awesome food known to man. Brandon has just returned to Singapore from New York and is happily exploring the food scene here.