My girlfriend K has been a wonderful companion on my journey through the restaurant scene here in Singapore as well as in New York, where we lived for close to three years. Pescatarian by choice, she also lived in Paris for a year, and, as a result, never fails to remind me that when it comes to food, the French, quite simply, do it better. It isn't just about the razor-sharp techniques of the chefs there, she explains, but also about their commitment to fresh and quality produce, which makes something as simple as a summer salad – or even a baguette from a nondescript boulangerie – taste brilliant.
I was suitably excited, then, when I was invited to a tasting at JAAN, whose chef de cuisine Julien Royer has a reputation for serving super-seasonal, produce-driven offerings sourced from his home in France and beyond. After sampling the best of the restaurant's dishes, and after chatting with chef Julien himself, I must admit that I am completely in agreement with K.
Nestled on the 70th floor of Swissotel The Stamford in City Hall, JAAN boasts one of the most spectacular views in town, a panorama that spans the entire Marina Bay area and part of Singapore's skyscraper-laden Central Business District. Until 2010, it was also home to one Andre Chiang, whose has since opened his own restaurant in pursuit of his remarkable Octaphilosophy.
Chef Julien, who came on board less than a year ago, has his own unique approach in the kitchen – Artisanal Cuisine, a philosophy that demands only the freshest, most sustainable produce, and which is lovingly attuned to provenance and seasonality. It's a simple, yet sensitive, paradigm that flows from chef Julien's bucolic upbringing in a family of farmers.  "I grew up in a very quiet countryside in Cantal, Auvergne, where everyone grows their own vegetables and rears their own animals, so I believe in authenticity," he tells me as we drink in the sights of the Marina Bay Sands after a typically busy lunch service at the restaurant. "We source the most seasonal of produce, so the quality's better, and the produce is at its best. We can then take this authenticity, this terroir, and give it to the customers at our restaurant."
Chef Julien, who works as much as he can with small-scale, organic-minded producers, believes that "the hardest part of his job is finding the produce itself, and then getting this produce at a consistent level over several weeks or months." On the strength of his creatively curated six-course tasting at JAAN, I'm happy to report that he's doing remarkably well on this front.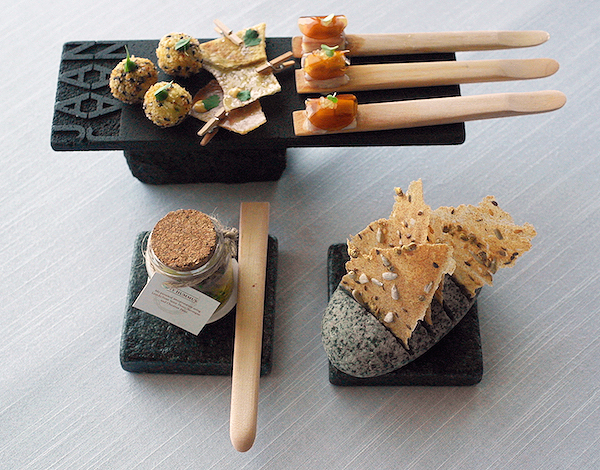 The bounteous assortment of amuse bouche that opened our meal, for example, featured, among other things, chef Julien's interpretation of hummus, made from earthy lentils from Saint Flour, Auvergne and chestnut pate; crisp cromesquis stuffed with Cantal cheese and softened with a drop of tarragon puree; and a brewed mushroom "tea," poured frothily over a sabayon of cep, lovage, and walnuts. Each of those small bites, served on blocks of hewn slate and trays of raw dark wood, exploded with the hearty, hearth-warming flavors of the field and farm, an unapologetic homage to chef Julien's heritage. The warm mushroom "tea," in particular, was soothing, almost maternal, in its deep, herbal taste profile; the perfect panacea in the middle of a hectic workweek.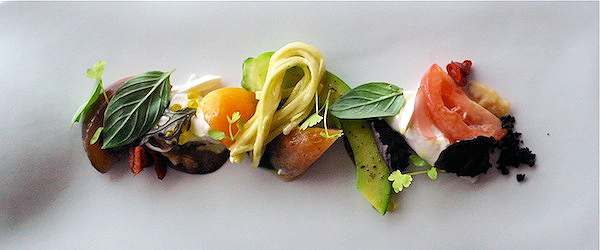 But chef Julien does not limit himself to the harvests of France for his cuisine. His "salad" dish, a concert of vegetables, features the very best of Italy – spaghettini-thin strips of Sicilian trumbetta zucchini, and hearty mounds of burrata "artigiana" that don't so much melt in your mouth as envelope your tongue in an avalanche of salty, runny cheese. Supported by many-hued wedges of heirloom tomato – some sweeter, some more tangy, all perfectly heterogeneous – the dish is decorated with black olive sugar and what I can only describe as membranous, ikura-like pearls of olive oil. It was one of my favorite courses of the afternoon. I don't think I've had a burrata this good, a zucchini this juicy, anywhere else in Singapore.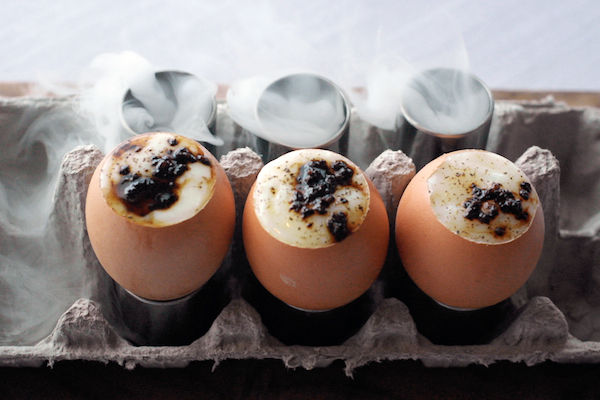 Beyond Europe, the restaurant's signature dish, organic egg from New Zealand smoked with scientific precision at 64 degrees Celsius for 55 minutes, could be said to be an evolution of chef Julien's cuisine as he looks closer to his new home in Asia for inspiration. The yin-yang balance of the egg's silky albumen and oozy yolk was enhanced by pouring it over a bowl of kurobuta belly, pickled cep, and crisp toasty buckwheat; and the bed of smoked rosemary under the transparent bowl added a whole new dimension to the dish with the herb's distinctive perfume.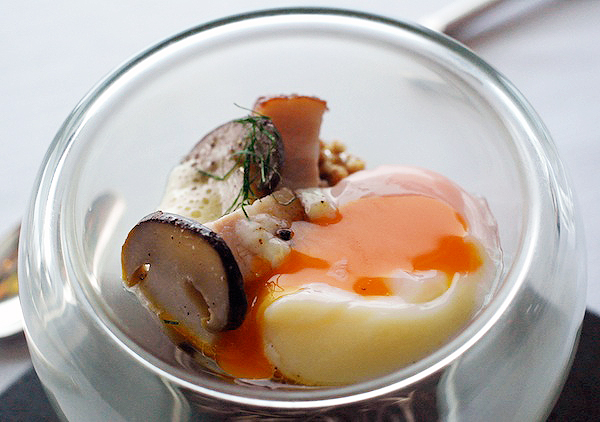 In between pouring the contents of the three eggs, served at the table in-shell and in an old-school egg carton, for me and my two dining companions, assistant manager Max Bluemel tells us that chef Julien recently returned from a trip to Australia, and was so enamored with the produce there that he's thinking of incorporating them into his dishes. Chef Julien himself admits that he's also interested in the spices and fruit of Southeast Asia as he seeks to improve and invent new dishes at JAAN. "I have no geographical limits."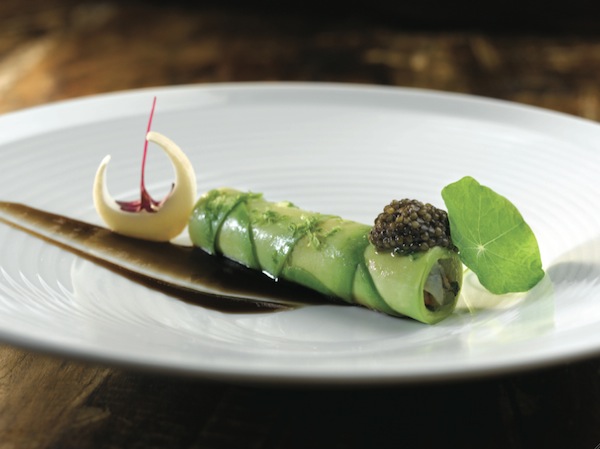 Chef Julien's skill and invention was most apparent in one of his newest creations: a tartar of New Caledonian obsiblue prawn and chorizo iberico enshrined in a cannelloni of carpaccio-thin sliced avocado, finished with oscietra caviar, almonds, and a smoky mushroom ketchup.
I loved the colour palette of the dish, its muted shades of black and green taking me to the very cusp of Fall. It was one part of a Vivaldi-esque triptych, juxtaposing nicely with the warm yellow tones of the egg and the triumphant summer spectrum of the zucchini, tomatoes; chef Julien's intimate attempt to bring the seasons to us here in temperate Singapore.
I also absolutely enjoyed the obsiblue prawn, which had a succulent sweetness similar to amaebi, one of my favorite toppings for sushi.  There were so many good things going on in this dish – the animal/vegetable, land/sea union of the prawn with smoky chorizo, avocado, and caviar; the delightful crunch of the almonds that punctuated buttery mouthfuls of the cannelloni; and the understated cheek of the mushroom ketchup, equal parts tangy and subdued. This, to me, was chef Julien's philosophy on a plate – the very best of ingredients, married with an artisan's sensibility and skill.
Chef Julien was visibly proud of this dish when I complimented him on it. "We worked very hard on this dish – not just me, but the entire team at JAAN – so it's good that it turned out well. We tried twenty-five different kinds of avocados before we found the right one, the one that looked good and tasted good with the obsiblue prawn. It's a simple dish in terms of flavour, but we tried to find an interesting way to execute it."
The other courses I had at JAAN – a fluffy confit of arctic char with crayfish and girolles; a boldly gamey hay-roasted breast of pigeon from the famous Bresse province in France; and a childishly fun chocolate degustation called "Choconuts 3.0" – each have their own story too, a story that spans oceans and pastures and climates. But it was the unparalleled quality of simple ingredients – the mushrooms, the burrata, and the beautiful obsiblue prawn – along with an artisan's delicate touch and technique, which won me over at JAAN. "The cuisine we do here at JAAN is not complicated," according to chef Julien; but it definitely is contemplatively, caringly constructed.
Ultimately, though, Artisanal Cuisine has an artistic vision – to evoke and emote, to stimulate a sense of pleasure and appreciation for seasonality and produce similar to the affection my girlfriend K has for fresh French food. It's a simple goal, but one that, to me, has produced something modestly magical. "Our task is cooking for, and serving food to people," says chef Julien, noting also that his some of his customers have told him that they are now trying his seasonal approach to food at home.  "We try to serve honest food, good produce, and if we can convey an emotion to people, we've succeeded in our task. There aren't a lot of jobs that can do this."
"If you can deliver an emotion, it's the most beautiful job in the world, no?"
JAAN
2 Stamford Road
Swissotel The Stamford, level 70
Singapore 178882
Tel: +65 9199 9008
www.jaan.com.sg
Mondays—Saturdays ­12pm—230pm, 7pm—10pm
Closed Sundays and Public Holidays
Many thanks to chef Julien, Natasha from Ate Integrated Communications and Merissa from Swissotel The Stamford for my hosted tasting at JAAN.
The photo of the obsiblue prawn and avocado cannelloni has been used with kind permission from JAAN.
Brandon Chew's first memory is of him eating chicken rice at the dining table of his parents' old flat. His second memory is of him politely asking for, and receiving, a second helping of fries at KFC, which taught him two things: manners gets you places, and fries are the most awesome food known to man. Brandon has just returned to Singapore from New York and is happily exploring the food scene here.