It's been a slow week in the kitchen and a hectic week at work. The result is that I haven't had any real time to roll up my sleeves and make anything worth blogging about. That said, I've decided to entertain myself with two items, both of which are accompanied with pictures taken on my new smartphone, an HP hw6515. Normally, I hate the cameras on camera phones. It really doesn't matter if they can produce 1.3 megapixel images. Because the lenses are so crappy, and because, as users, we have no control over depth of field or shutter speed with these things, the images are usually fit only for the recycle bin. I bought the hw6515 a month ago, and hadn't really field-tested the phone's camera, so I decided over the weekend and the past few days to see whether it would be better than others or just another useless way for HP to increase the price of their product.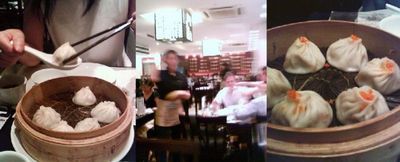 I shot these pix last night, at the new Nanxiang Steamed Bun Restaurant in Parco Bugis. As any regular reader knows, I am a xiao long bao addict. I had originally planed to visit this newest addition to Singapore's xiao long bao scene last weekend, but because The Straits Times (our local daily English paper) ran a small article about it, I figured the crowds would be too big and put off going for a few days. This small restaurant in a teen-oriented mall is a franchise of Shanghai's most famous (but in my opinion not the best) xia long bao restaurant. The staff, while a tad clumsy, are very nice—appropriate for a new restaurant that needs to secure business away from its many competitors. The décor is passable, neither better nor worse than Crystal Jade La Mien Xiao Long Bao or Din Tai Fung (the two main competitors). Of course, the décor is hardly what matters. What does is the dumplings. We ordered three varieties of xiao long bao: the normal pork ones; pork with crabmeat and "crab ovary" (crab roe would be such a better term…sigh); and the pork and shrimp. Overall, the dumplings were good. I wouldn't order the pork and shrimp again but I'd order the other two, especially the crab roe ones. The soup in the dumplings was good; it was much tastier than the soup in either Crystal Jade's or Din Tai Fung's dumplings. The pork was also good, leaner than the pork used at Crystal Jade but fattier than what's used at Din Tai Fung. Unfortunately, Nanxiang's dumpling skin is too thick, especially at the top. In Shanghai, I witnessed hordes of people queuing up to buy take-away xiao long bao from Nanxiang. The dumplings are plated in a Styrofoam container, from which people, standing or sitting wherever they can along the road, happily eat away. It's fine to serve thicker skinned dumplings in this kind of situation; serving dumplings with a thin skin might result in too much breakage and leakage. But in a sit-down restaurant, the skin should be much thinner. Crystal Jade's xiao long bao are the best in this regard. So, would I go back? Sure, but mostly because I live in spitting distance to Parco Bugis.
If you want to read even more about xiao long bao in Singapore, here's a Business Times article that reviews the various places that serve it here. Link to article HERE.
Nanxiang Steamed Bun Restaurant
#02-53 Parco Bugis Junction.
Tel: 6835 7577
Over the weekend, while I skipped out on a visit to Nanxiang, I did manage to make it to a cooking class at a school owned and run by a friend. Shermay's Cooking School is where Shermay Lee (pictured above looking very Nigella-esque) teaches hordes of hungry Singaporeans the secrets of Straits (Nonya) cooking. The class I attended was not being taught by Shermay though, but by Chef Jimmy Chok (yup, the same guy who cooked that fabulous lunch for RW Apple Jr.)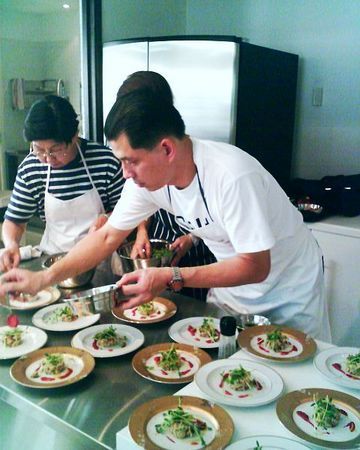 Since I started this post talking about cameras, I should state that both of these photos are also shot on my HP hw6515 smartphone. And while they are hardly fantastic, I think they're not too bad. Anyway, Jimmy entertained a class of a dozen women and me, walking us through 3 simple recipes. I especially liked his braised lambshank, plated off the bone, with sautéed ceps and fried mantou (a Chinese bun). I'll have to try making that soon sometime.
Anyway, nothing else to report for now. I've been tagged to take part in the Best Bit'O Grape in the Last 30 meme by Robyn, so I'll try and do that in the next few days. Plus I'll be visiting Wild Rocket on Saturday. Stay tuned.
Aun has always loved food and travel, passions passed down to him from his parents. This foundation, plus a background in media, pushed him to start Chubby Hubby in 2005. He loves that this site allows him to write about the things he adores--food, style, travel, his wife and his three kids!