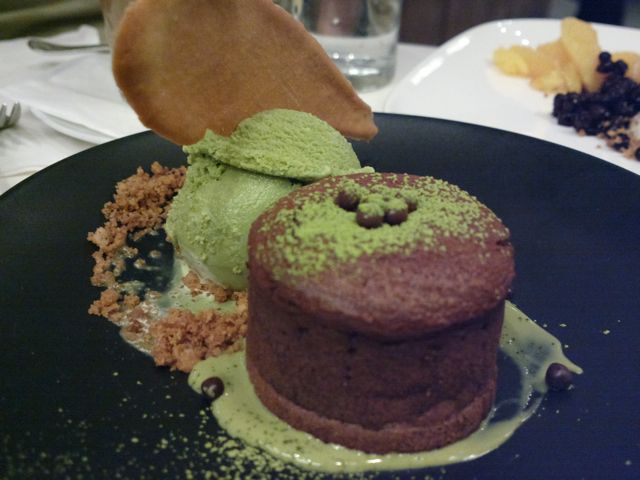 I'd been looking around for a Japanese dessert place in New York City for a while, so when a friend recommended Spot, we made plans to go almost immediately. (I found out later that the owner of Spot is Thai but the amazing desserts have a distinctively Japanese edge to them). Spot is located in St Mark's Place, one of NYC's fave Japanese food and drink hangout spots. St Mark's is filled with izakayas, yakitori places, ramen restaurants and karaoke bars and the vibe is more casual and laid-back due to its proximity to NYU and East Village.
The top recommended item (pictured above) here by the servers is the Chocolate Green Tea Lava: a dense dark chocolate fondant filled with chocolate ganache and green tea. The fondant is heavier on the chocolate, just the way I like it. (I love my brownies dark and chewy instead of cakey…I call that chocolate cake!) I am usually not a giant fan of green tea flavored items because I find the taste of the green tea a tad too strong for my liking but the green tea here is confined to just the lava and it cuts the richness of the cake to a more manageable level. Green tea lovers will appreciate that green tea ice-cream accompanies the fondant! My favorite is probably the soft cheesecake. Served in a toppled over glass, the server will ask if you want the glass to be removed, leaving the deconstructed cheesecake on the plate. The cheesecake does not come with a base; instead there are ground walnut bits to replicate the base, and the blueberry compote pairs wonderfully with the lightly flavored cheesecake. I felt like I could have gone on eating this forever!
People who complain that desserts are often too sweet will fall in love with the Yuzu Eskimo. This is made by topping yuzu flavored ice-cream with an oreo base, which is then frozen, sliced and served with berries, raspberry foam, crunchy dark chocolate pearls and a chocolate sauce. The sour notes in the citrusy yuzu provided a much welcome contrast with the other desserts. For folks who cannot make up their minds, Spot offers omakase of 3, 4 or 5 desserts for splitting and they also sell cookies, macarons and more! I will definitely be back to try more items on the menu!
Spot Dessert Bar
13 St Marks Place
New York, NY 10003
USA
Tel: +1 212 677 5670
www.spotdessertbar.com

Jeannice is a world traveller and eater. She has lived in Chicago and Madrid (as well as Miami and Yellowstone National Park, albeit for much shorter periods) and has recently moved to New York City. Like many Singaporeans, she seeks out the best places to eat when travelling as recommended by locals, friends who have previously visited the city or a simple online search.