A little while ago, I wrote about Pang Kok Keong, the young and talented pastry chef at Canelé Patisserie Chocolaterie. In that post, I also mentioned that I had been able to coerce Chef Pang into preparing a very special and unique meal, a 15 course dessert degustation. The dinner was pretty special, both because of the dishes that Chef Pang came up with but also because of the company — a mix of friends and readers who had won seats to the dinner.
The dinner was held on 6 December 2006 and was hosted at Canelé Patisserie Chocolaterie, which is located on the ground floor of Robertson Walk. Before I get into describing the food, I have to say that the table decorations were stunning. Chef Pang had engaged the services of Plant (tel: 68360010) , whose florists created a gorgeous and unique table setting that spanned the length of the whole table. It was made up entirely of vegetables! (By coincidence, S and I had also hired them the same week to do all the table settings for her father's 60th birthday dinner).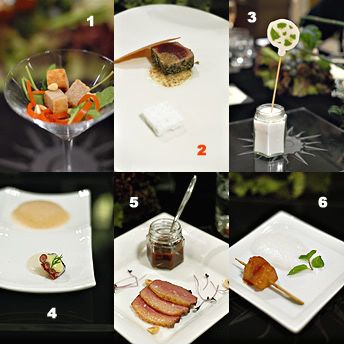 Our first course was a Roasted Pepper Tagliatelle with Olive Oil Cake and Spiced Pine Nuts. This pretty dish was served in a martini glass. The tagliatelle was actually made from roasted peppers and agar-agar. The olive oil cake was delicious. Our second course was a Tuna Tataki with Mustard Vinaigrette, Crab Tuile, and a Seaweed Marshmallow. I know this sounds like a wierd combination but it was really good. The seaweed marshmallow was awesome (I wish they sold bags of it at Canelé) and the crab tuile had just the right subtlety of flavours. Third was the Frozen Asparagus & White Truffle Lollipop. This was wild. For some reason, I had expected it to be a little sweet–probably because it was a "lollipop"–but it was savory. The flavours of both the asparagus and truffles were very pronounced and it was a wacky, icey mouthful of fun. Fourth was the "Tako" on Potato Jelly with a Paprika "Cloud" and Aioli. Tako is octopus, so this dish was sort of a deconstructed takopachi. To me, it was more interesting conceptually than it was delicious. But it was kind of cool to try. The fifth course was a Pan-fried Duck Breast with Orange Chocolate Jam and Roasted Hazelnuts. I loved this dish! When I had first seen this menu, I wasn't sure if it would work well. But it was delicious. The sweet, citrusy chocolate sauce was the perfect counterpoint for the fatty and savory duck breast. Again, I wish they'd bottle this sauce for sale; I would buy jars and jars for myself and all of my friends for Christmas. The sixth course was a nice sweet, simple dish that Chef Pang called "Pina Colada". It was seared and caramelized pineapple with coconut foam. This was really yummy.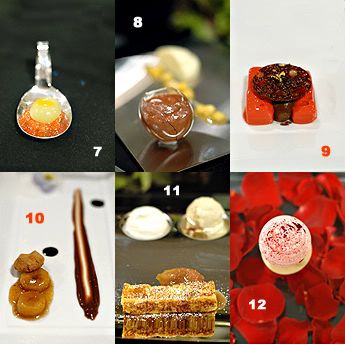 The seventh course was probably my least favorite. It was an Apple Ravioli with Apricot Coulis and Tomato Marmalade. From a culinary viewpoint, this was really interesting. Chef Pang was testing out Ferran Adria's famous technique for making skinless raviolis. From a taste perspective though, I found the dish a tad too sweet and I didn't like the choice of tomato. The next course, by contrast, was awesome. It was a Hot Chocolate Espuma with Frozen Kalamansi Chibouste and Exotic Fruit Compote. The hot chocolate foam was piped into perfect, round, hollow sugar balls. I was also really impressed by the cool, custom steel plates that Chef Pang had ordered just for this meal. This dish was served on one of them. The ninth course was a Raspberry Foam with Chocolate Tea Cream and a Cocoa Bean Tuile. This was really delicious and I could easily see this making its way onto many a restaurant's menu (or at least I have hopes that it will). The raspberry foam was substantial and dense, which was nice eaten together with the silky smooth chocolate tea cream. Unlike S, I like berry and chocolate combinations (she likes her chocolate au naturel), so I especially enjoyed this dish. Next was a Flambé Banana with Milk Chocolate Yoghurt and a Lemon Cloud. While interesting, this dish fell into my "hmmmm….okay, tastes good but what's next?" category. That said, the milk chocolate yoghurt was very, very good. The eleventh course was, from a pure taste perspective, my favourite of the night. It was a "Pain Perdu" with Spiced Fig Compote and Cinnamon Ice Cream. I love French toast and to be able to enjoy such an elegant and well-made version was a real treat. This is another dish that I would love to see on restaurant menus. While this eleventh course was my favorite taste-wise, clearly the most visually sensational dish of the night was the twelfth dish, Chef Pang's Rose "Bombe". When the waiters walked into the room and presented us with this dish, there was a collective gasp from the gathered diners. Perched on a clear acrylic box filled with rose petals was a perfect pink globe. The globe's shell was rose-flavoured meringue. Inside was a yummy rose and nougatine ice cream. Truly a showstopping dish.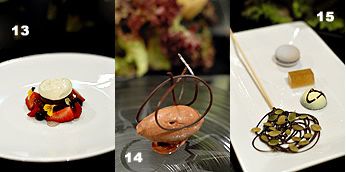 The thirteenth course was an Orange Tea Savarin. This was a light dish that was perfectly executed. The savarin was deliciously moist and the tea flavours, spiked with a little Grand Marnier, were lipsmackingly good. The fourteenth course was simply called Chocolat, Chocolat, Chocolat and was a trio of 2 tiny chocolate cakes with chocolate ice cream. Finally, to finish off the meal, we were each given a plate of Petit Fours. Chef Pang made a chocolate-pistachio lollipop, a violet macaron, a vanilla jelly and a caramel-chocolate truffle.
Suffice it to say, after the meal, I was on a serious sugar high. It was, especially now that I've had a week to think about it, an amazing meal. It was inventive and unique. No one else in Singapore is doing these kinds of things and I'm very grateful to both Chef Pang and OCBC (who sponsored the meal) for making this dinner possible.
But don't just take my word for it (after all, you should never completely believe what you read, right?), try Chef Pang's desserts for yourself. And if you or one of your friends or family members has an OCBC credit card, then you can even book your own dessert degustation dinner with Chef Pang. Starting 4 January 2007, if you have a group of at least 6 persons, you can book your very own 6 course dessert degustation dinner (priced at S$65+++ a head). Chef Pang will come up with an exquisite menu just for you. Some of the dishes might be from the menu I tasted, but with such a creative chef, you never know… he might end up making up some new, crazy and wonderful confections just for you. You will need to book 1 week in advance and this special dinner is only available on Thursday nights. If you have a sweet tooth, I would totally recommend booking a table. Chef Pang's dessert tasting menu is probably one of the most interesting, yummy and unique dining experiences in town.
Canelé Patisserie Chocolaterie
11 Unity Street
#01-09, Robertson Walk
Singapore
Tel: +65 6738 8145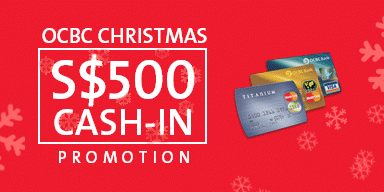 P.S. I'm off tonight to Osaka for a quick trip so I won't be posting until, most likely, the middle or end of next week. Spend the next few days perusing through all of the items up for grabs through Menu for Hope III and please make a donation. Help feed the hungry this holiday season.
Aun has always loved food and travel, passions passed down to him from his parents. This foundation, plus a background in media, pushed him to start Chubby Hubby in 2005. He loves that this site allows him to write about the things he adores--food, style, travel, his wife and his three kids!