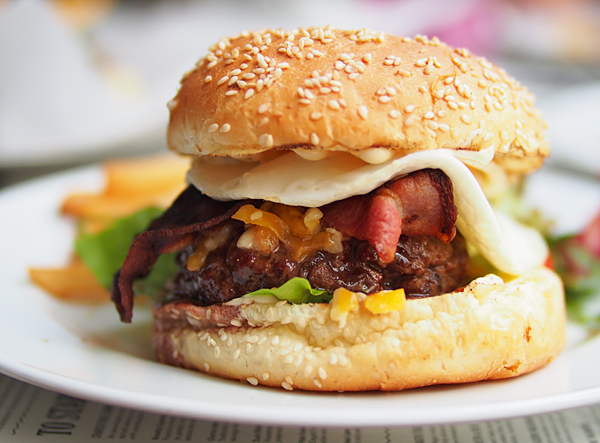 Any regular reader knows that one of the dishes I hold most dear to my heart is the burger. I adore burgers, both western style (topped with condiments and served between buns) and Japanese style (covered in a thick demi-glace sauce and served with rice). Unfortunately, while it is relatively easy to find a burger when dining out, it is hard to find a truly exceptional one. One that will make you go, "Wow!", immediately start texting friends about, and return just a few days later for another serving. The CW Burger Breakfast, available at The Market Grill on Telok Ayer Street (in Singapore), though, is just such a burger.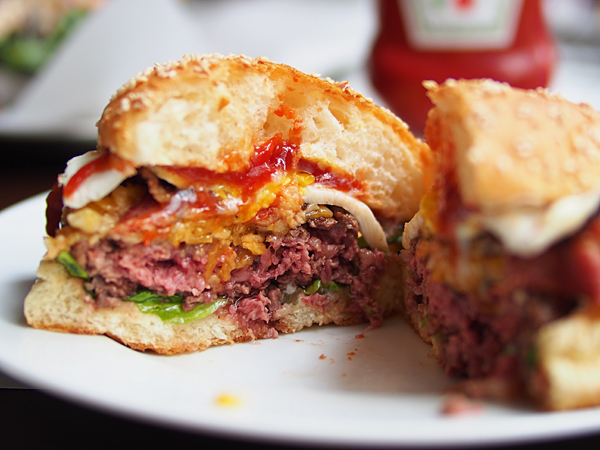 The CW Burger Breakfast is hands down the best burger I've eaten so far this calendar year. For my tastes, it ticks all the boxes. 150g of chuck, hand-formed? Check. Bacon? Check. Aged cheddar? Check. Sunny side up egg? Check? A light pickle spread for just a hint of acidity? Check. A dash of mayo? Check. Fluffy, soft, toasted sesame seed bun? Check. A couple dollops of Heinz and you're in burger heaven. The beef is seasoned expertly and done to a nice pink perfection. The condiments and toppings come together with just the right amount of salty, sweet, sour, savouriness that makes every bite a true joy.
As you can imagine, I eat a lot of burgers. And, every so often, drag my wife S out on a burger hunt. But, to be perfectly honest, almost every single burger I've had over the last year — even from many much ballyhooed burger specialty joints — has left me unsatisfied. Chef Colin West's CW Burger Breakfast is the first burger that I've wanted to write about.
Of course, Loh Lik Peng's The Market Grill is not even just a burger joint. It's a full fledged grill hiding inside a whimsical, industrial-chic diner — the kind of place you might imagine Jean-Pierre Jeunet creating for one of his films. The menu offers a nice variety of steaks, burgers, and lobster, pork chop, lamb rack, and cod. Plus a pretty substantial list of starters and sides.
Because I was so eager to return to The Market Grill after my first burger experience there, I brought S, our son T, and S's parents there for lunch just a few days later. A larger group also meant we could try more things. S ordered the Lobster Sliders, which should actually be renamed Lobster Roll, because that's what it is… a traditional New England style lobster roll, executed perfectly. The lovely, sweet meat from a 500g lobster, mixed into a creamy herbed mayo, served with fresh romaine in a toasted, split-open brioche roll. Simply gorgeous. The whole family sampled the yummy Crispy Pig Ears, which was served with a vinegary sauce that in many ways reminded us of similar Teochew dishes. And my in-laws both had other burgers, of which the CW Bleu Cheese is pictured above.
My only gripe with The Market Grill — which is a gripe I have with many of Loh Lik Peng's recent restaurants — is that they don't take reservations. As a fussy old fart who hates waiting in line, I find this practice really quite aggravating. But Colin West's CW Burger Breakfast is one thing I'll get in line for. That burger is just that damned good.
The Market Grill
208 Telok Ayer Street
Singapore 068642
OPENING HOURS
Monday – Saturday
Lunch 1130am – 230pm
Dinner 5pm – 10pm
Closed on Sunday
Aun has always loved food and travel, passions passed down to him from his parents. This foundation, plus a background in media, pushed him to start Chubby Hubby in 2005. He loves that this site allows him to write about the things he adores--food, style, travel, his wife and his three kids!