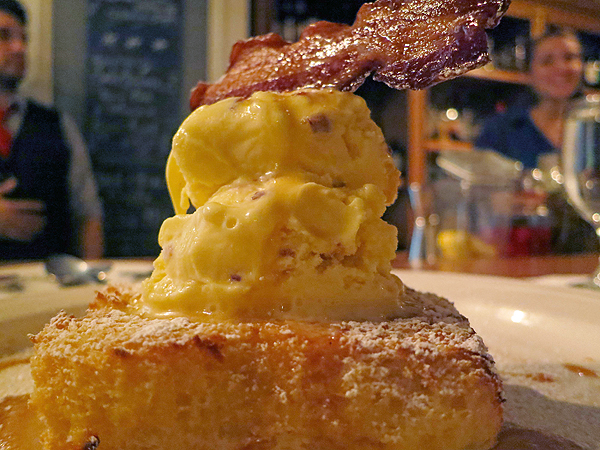 I haven't had that much fun in a restaurant in a long time! The Downtown Grocery Vermont is a ski town during this season, and when I called on Thursday night for weekend reservations, I was surprised that it was already fully booked for Saturday. Fortunately for us, they had a Friday slot available at 745pm. My sister and I arrived early as we were hoping to turn in a little earlier that night, and although we were a little apprehensive about getting seated at the bar because our table was not yet ready, man did we get lucky! Now, eating at the bar may sometimes be less comfortable because of the higher chairs but I highly recommend it if your party is small. The interaction with the bartenders, the owners and other customers is unbelievable. We were even able to chat with Rogan, the chef/owner of the restaurant. The picture of him lifting up his shorts says a thousand words about how vibrant and young the working environment in the restaurant is.
The Downtown Grocery has a list of seasonal specials written on a chalkboard near the entrance which customers can peruse once they enter. I selected my starter of homemade gnocchi with lamb ragu off the regular menu based on what I overheard one customer tell his server, "It was one of the most fabulous gnocchi I have ever had" And it was delicious indeed: the right amount of springiness and chewiness in the gnocchi and the saltiness of dark vinaigrette lamb jus paired perfectly with the mild tasting gnocchi. As we chewed through our starters, an elder couple sitting next to us highly recommended the arugula salad. They told us that they have a house there and come up every weekend to ski so the recommendation was definitely credible! It turned out to be one of the best salads I have eaten in my life – a mountain of arugula, tossed with thinly sliced Vermont apples, grilled pancetta cubes and parmesan shavings with a sharp pickled onion dressing. Even the house red was superbly impressive: a bold Sangiovese from Tuscany.
After chatting all evening with the bartenders about the drinks that they were making, we even made them give us dessert recommendations! Late Night Breakfast seems to be a strange name for dessert but it is so apt – light fluffy French toast topped with a generous scoop of bacon ice cream, drizzled with Vermont maple syrup. The battered French toast was light as air and did not sit heavily at all. The bacon ice-cream with its base of buttermilk ice-cream and little chopped pieces of bacon was surprisingly refreshing and was the perfect accompaniment to the French toast. The blend of breakfast food and dessert makes this one of the must-try dishes on the menu.
The Downtown Grocery
41 S Depot St
Ludlow, VT 05149
Tel: +1 802-228-7566
www.thedowntowngrocery.com
Open only for dinner

Jeannice is a world traveller and eater. She has lived in Chicago and Madrid (as well as Miami and Yellowstone National Park, albeit for much shorter periods) and has recently moved to New York City. Like many Singaporeans, she seeks out the best places to eat when travelling as recommended by locals, friends who have previously visited the city or a simple online search.