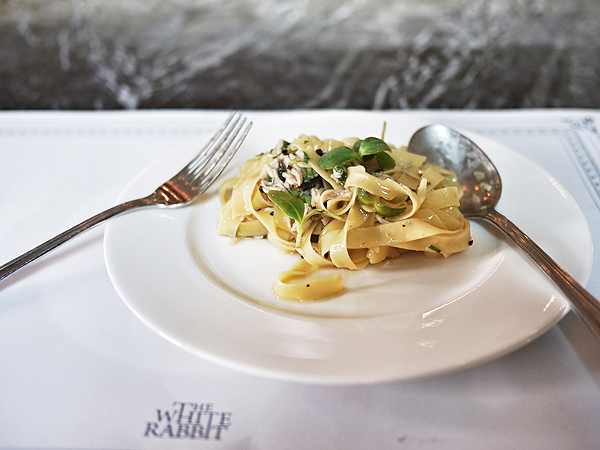 The past year in Singapore's F&B scene has certainly been busy. At times, it feels like there's a new restaurant to suss out almost every week. And it's really easy to get caught up in the frenzy of only wanting to eat in one of the newest, trendiest places in town. But we also shouldn't forget old favourites. Like The White Rabbit, on Harding Road, in the Dempsey area. While the Rabbit went through a rough patch a while back (the food was very so-so), I'm thrilled to inform y'all that Benjamin Tan, who was the restaurant's opening sous-chef, has returned to take over the duties of Head Chef. And the food is now better than it's ever been in the Rabbit's half-decade of operations. 
With Chef Ben's return has come a new menu for the Rabbit. The food is still very much based on European classic dining, but interpreted through Ben's perspective for the Singaporean diner. The result is modern, unpretentious, comforting and ultimately delicious fare that you could eat on a weekly basis. Some dishes are decidedly luxe, like his lobster bisque, served with a whole half of a Maine lobster! While others, like the lip-smackingly good burrata cheese, plated with cherry tomatoes, are simple, but prepared with passion and the best possible ingredients.
Since Ben's return and the launch of his new menu, my always picky wife S and I have been eating at The White Rabbit on a pretty regular basis. Our favourite starter is hands down Ben's wagyu carpaccio, served with shaved parmesan, celery cress, balsamic pearls and truffle cream. This is one of the best and prettiest versions of carpaccio I have ever found and it is highly addictive. Ben and his team are able to season this lovely soft, fatty beef so perfectly that every bite is a joy to eat.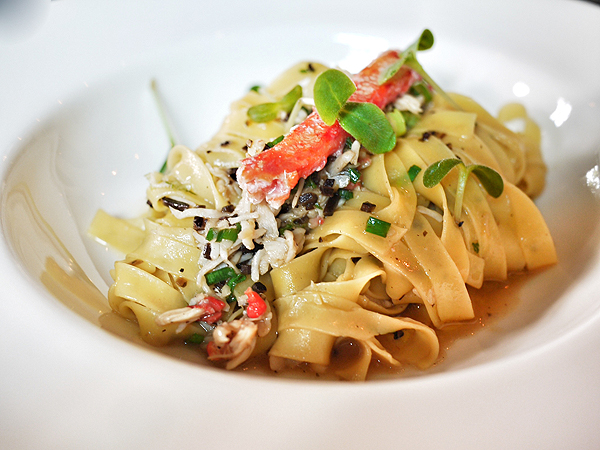 But even more addictive than the carpaccio is Ben's tagliatelle with Alaskan king crab, pork broth and kombu. The first time I had this dish I literally stopped eating and swore… it was that damned good. I also rushed into the kitchen after my meal, grabbed Ben and started babbling about how wonderful the dish was; he probably thought I was drunk or mad, or both. Simply put, I cannot have a meal at The White Rabbit today without at least a starter portion of this umami, slightly Asian, light yet flavour-packed, pasta dish. It's a dish I think about all the time and could honestly eat almost every other day.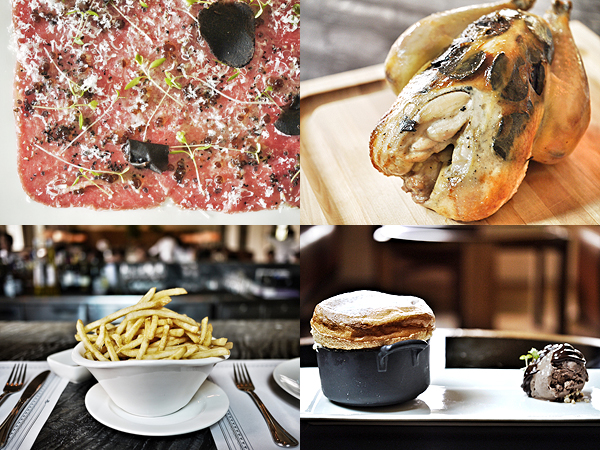 Another standout dish from Ben's menu is his char-grilled Mangalica pork collar, served with warm compressed apple, celery puree and calvados cream. But what S and I enjoy most these days is ordering Ben's roasted black truffle free-range chicken, served with natural jus. This is a dish for two persons–perfect for couples with complimentary tastes. Ben must brine his chicken for a day or more. Whatever he does to it, it results in one of the best roast chickens you'll find in Singapore today. The meat is always moist, full of flavour and scented with the gorgeous aromas of the thick slices of black truffle that have been wedged between the skin and flesh. The skin is always nice and crisp, and the natural jus that comes with the dish is like an umami cocktail! The chicken is presented to you first before being whisked back in the kitchen for carving and plating. We like to order some side dishes with the chicken, usually the peas cooked with bacon (for the wife) and some fries (for the unhealthy husband).
The White Rabbit has a slew of delicious desserts. I love the classic Crepes Suzette (flambeed tableside!) and the Baked Alaska. But most recently, I've been ordering the white chocolate souffle, made with Valrhona Opalys, and served with triple chocolate ice cream. The souffle is expertly made here; it's always tall, super light and fluffy. It's prepared at a standard you'd expect in a fine-dining restaurant but that is rare in more casual eateries. I like to dunk my ice cream into the hot souffle, creating a hot and cold contrast as well as mixing the flavours of the dark and white chocolate.
If you have never been to The White Rabbit, I urge you to check it out. Not only is the food great, but it's a beautiful space, housed in what was once a chapel for the British military. For those of you who have been in the past and may not have had amazing meals, please give Ben a chance. From what I've tasted (on several occasions now), he definitely deserves your support and I'm pretty confident you'll leave very happy and eager to return.
The White Rabbit
39C Harding Road
Singapore
Tel: +65 66816442
Aun has always loved food and travel, passions passed down to him from his parents. This foundation, plus a background in media, pushed him to start Chubby Hubby in 2005. He loves that this site allows him to write about the things he adores--food, style, travel, his wife and his three kids!