"Didn't we go to school together?" is not a question I'm usually asked by chefs. And yet, it seems par for the course in Lolla, a one year-old modern establishment that has become one of the hottest tables in the town, but which refuses to forget its convivial, clandestine origins. I've had two vegetarian meals at this sparkling supper-club-turned-restaurant (with my herbivore girlfriend K); the experience was eclectic, serendipitous, and sensational.
Lolla's rave reviews – and there are many to be found in the local blogosphere – unanimously extol the stunning simplicity of the food and the unerring freshness of the produce. They also unequivocally urge diners to order the sea urchin and squid ink pudding, intimating that no visit is complete without scarfing down what has become the restaurant's standout dish.
I'd like to offer a different perspective, and to preach a dining philosophy that I think stays faithful to Lolla's roots – epicurean adultery. Stray liberally from the printed menu at your section of table at the bar, decorated though it may be with quirky rhymes and naughty corsets. Wander from your seat to the weathered blackboard advertising a mercurial array of specials. And allow my outrageously talented schoolmate Ming and his crew to bewitch you with an assortment of the season's best.
Instead of ordering the assuredly excellent pudding, or the tempting tortilla with smoked eel and its kin, K and I plumped for the more innocuous sounding dishes on the blackboard, which change regularly and were completely different on our second visit for dinner. Some, like the watermelon salad with feta, olives, and balsamic, gave tired classics a new lease on life – the watermelon compressed in an immersion circulator to intensify the taste of summer, the olives served both sliced and crumbled for that added textural punch. Others, like the leek and fried chanterelle dishes, were culinary centrefolds. "Chicken fat for vegetarians" is how K described the mushrooms, succulent, sebaceous, and sweaty with fungal flavor; while the leek, grilled over an open flame and drizzled with a syrupy balsamic reduction, had such a crazy char to it that it tasted like barbecued skin encircling juicy green sheaths.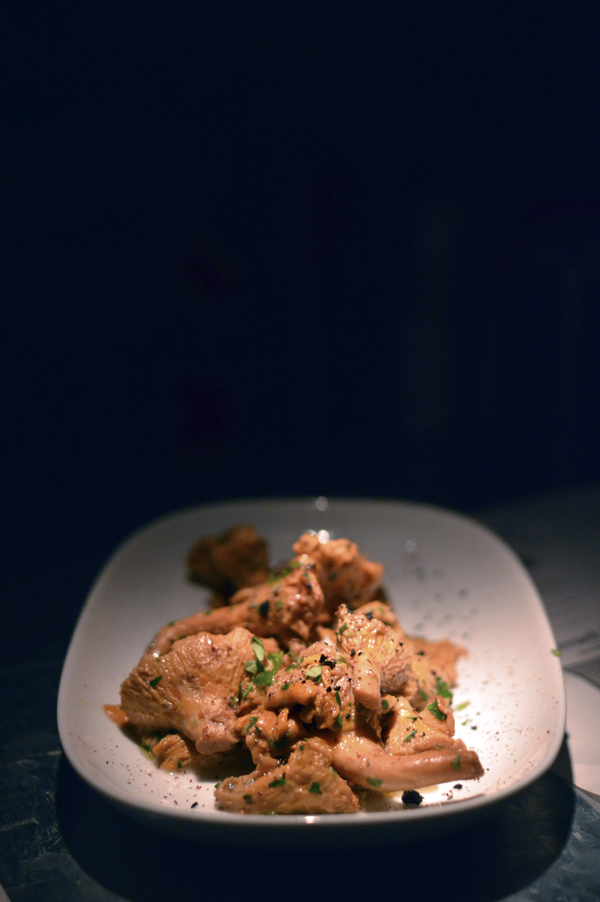 The gem for us, though, was a Greek-inspired platter of grilled eggplant, sliced to carpaccio consistency, rolled into hollow cigars, and stuffed with ricotta cheese and cranberries. Holy mother of God was this amazing, like the lovechild of an eggplant parmigiana and a 'berry cannoli.
To be sure, the regular fare at Lolla – all served in small sharing portions, as are the specials – isn't too shabby either, and even without ordering some of the more popular items, we had no complaints. All of these dishes showcased the creativity and range of Ming's team, from a deconstructed bruschetta (toasted Maison Kayser baguette with a dip of pureed San Marzano tomatoes) to a breakfast platter of champions (scrambled eggs with burrata and more San Marzano, a vegetarian version of an a la carte item and quite possibly the ooziest and richest dish I have ever put in my mouth). A gratinated fondant of leeks, onions, and eggs tasted like the French countryside, and prompted a second order of toasted baguettes to complete the rustic experience.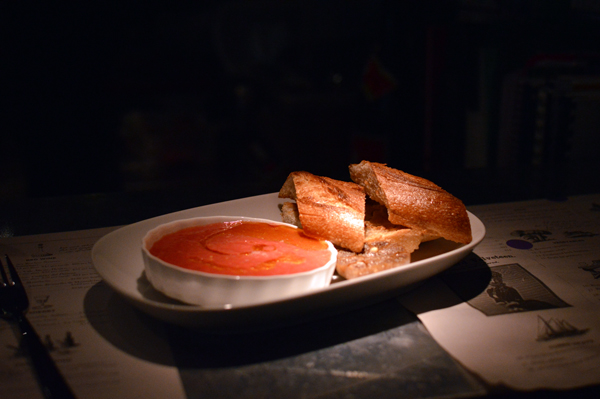 At the end of both meals, belts were loosened, blood pressure to the brain was at an all-time low, and the smoked chocolate ice cream was almost not ordered. (Almost.) And, while I've never been to one of Lolla's Secret Suppers, the pop-up meals where it all started, I think I know what it feels like to be a participant. The setting is dark and intimate, strangers turn and ask you about the cuisine, a glass of Northern Italian red mysteriously appears in your hands. A voice that sounds strangely familiar intones the specials of the evenings, and off you go.
Lolla
22 Ann Siang Road
Tel: 6423 1228
Mon – Sat: 12pm – 2pm, 6pm – 1145pm
www.lolla.com.sg
Brandon Chew's first memory is of him eating chicken rice at the dining table of his parents' old flat. His second memory is of him politely asking for, and receiving, a second helping of fries at KFC, which taught him two things: manners gets you places, and fries are the most awesome food known to man. Brandon has just returned to Singapore from New York and is happily exploring the food scene here.