My wife S and I have realized, over the years, that we eat more Japanese food than any other cuisine when dining out. While we have perennial favourites (like Tatsuya, Nanjya Monjya, Kandagawa, and Shunjuu), we're always thrilled to discover a new and noteworthy Japanese restaurant. Last week, after visiting a friend's shop, we spied an interesting new business across the street. Sauntering over, we were quite excited by what we discovered. Wacha is part shop, part restaurant. The front half of the space is a boutique specializing in Japanese lacquer and porcelain. In the corner of this room is a small dining counter with a half-dozen chairs. Wacha's second room contains a small, lovely and bright tea and sake salon. There are two tables which can comfortably seat four persons each. In addition, there is a small basement room with additional porcelain and lacquer pieces plus one little table, also for four.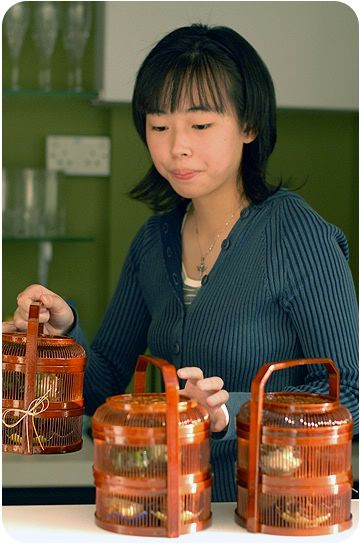 Wacha's menu is very small but very reasonably priced. In addition to the à la carte items, there is also a daily tasting menu available. And at just S$30 for five courses, it's one of the best (and best-tasting) deals in town. S and I couldn't help but return to Wacha the very next day for dinner with a friend. We each ordered the daily menu as well as a couple orders of sake.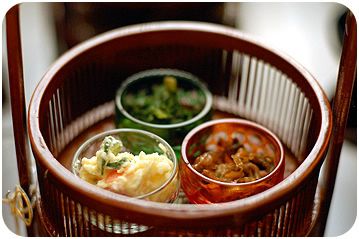 Our first course came in the most beautiful little baskets. Each basket had six little appetizers, all very tasty and perfect accompaniments to the delicious sake we had ordered (Hakkaisan junmai-ginjo). I especially liked the potato salad and the tamago (omelet).
Our next course was a simmered dish. It had chicken, tofu, and leeks. It was also delicious. The chicken was beautifully savory and tender. The clean flavour of the tofu was a perfect counterpoint to it.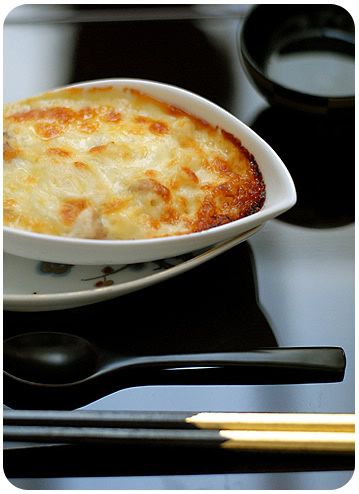 Our third course really made me happy. We were presented with small dishes of macaroni and ham gratin. Talk about comfort food! The gratin was deliciously rich and totally hit the spot. The macaroni was followed by a plate of seasoned daikon and greens. I have to say that while I wasn't a big fan of this dish, both S and our friend really liked it. Our friend P really liked that the daikon, which had a light sesame seasoning, worked as a good palate cleanser.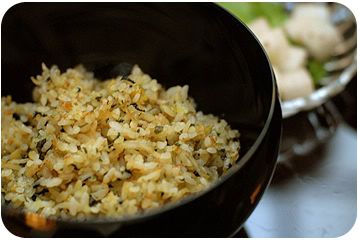 Our final course was a bowl of green tea fried rice served with a clear soup with mushrooms. Both dishes were excellent. Dessert wasn't included in the set dinner, so P asked for an order of green tea cheesecake while S had the dessert sampler, three different dishes with a cup of green tea.
Barely a month old, Wacha is a gem of a find. Both the products sold in the boutique and the food they serve are marvelous. But please, if you go, bear in mind that this is a tiny place with just a few seats and three staff members. Also note that they only open at 2pm. This certainly isn't the kind of place you storm into expecting fast service and a quick bite. Only go to Wacha if you're prepared to enjoy a quiet, leisurely meal. If you do, you'll be rewarded. The service is relaxed and polite. The food is really good and it's all served in beautiful lacquer plates and bowls. We really like this little place. We like it so much we originally didn't want to tell anyone about it. But a place this cool shouldn't be kept secret.
Wacha
14 Ann Siang Road
#01-01
Singapore 069694
Tel: +65 6438 1553
Open 12pm-10pm Tuesday – Sunday
Aun has always loved food and travel, passions passed down to him from his parents. This foundation, plus a background in media, pushed him to start Chubby Hubby in 2005. He loves that this site allows him to write about the things he adores--food, style, travel, his wife and his three kids!