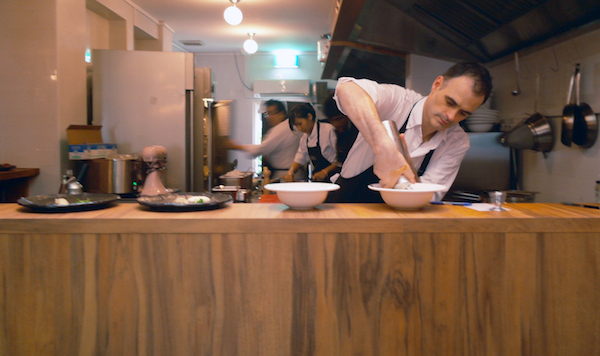 I first met chef Nicolas Joanny during a quietly remarkable dinner at his eponymous restaurant earlier this year. His wasn't the 'best' meal I've had in Singapore, but it was certainly one of the most earnest – more than anything, I remember chef Nicolas hunched over a counter at his open kitchen, putting the finishing touches on the evening's courses before personally bringing them to our table. Here was a chef who wasn't afraid to be in the thick of the action, a chef whose cuisine I wanted to explore. I was in for a huge disappointment, though, when the man told me that he was about to go on hiatus. I promised him then that I'd be back as soon as he returned to the scene. Just a month after the opening of the new and improved Nicolas Le Restaurant on Teck Lim Road, I've managed to keep my word, having had a satisfying multi-course lunch there.
Just a short walk from its former location on Keong Saik Road, Nicolas Le Restaurant occupies the first floor of an old shophouse. I remember feeling completely relaxed during my dinner in the old restaurant, thanks to its homey, rustic interior, and chef Nicolas has happily chosen to retain this ambience for his new home. Le Creuset paraphernalia and quirky antiques adorn the walnut-colored shelves and exposed brick walls, occasionally scumbled with orange and red hues. A section of the ceiling has been taken out to accommodate a glass window, allowing the afternoon sun to wisp softly. Gone is the kitchen counter seating from the previous design, and with it, the chance to chat with the man himself as he works; but in its place, there is an expanded one-meter tall, ten-meter wide counter that partitions the kitchen and dining area and which grants chef Nicolas a commanding view of the tables as he grills and garnishes. Some things don't change.
What does, however, is the seasonally sensitive menu at the restaurant. Chef Nicolas has chosen to be slightly authoritarian with his cuisine, offering diners a single S$42 (US$35) set for lunch, with a choice of three starters and as many main courses. (A "Lunch Degustation" option is available for S$68 (US$56), though this simply gives you smaller portions of all three starters, and your choice of the same three main courses – guess which one I ordered).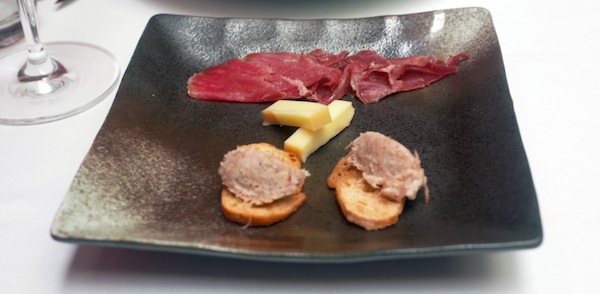 Given the size of chef Nicolas' intimate restaurant, and his demand for only the best produce, I can understand this decision. Admittedly, it does result in some repetition. Cured ham, for example, seemed to be a recurring motif the afternoon I went; but when the ham in question is acorn-fed Iberico from famed Cinco Jotas, which chef Nicolas told me is the best of its kind and was being served for the first time in Singapore at his restaurant, there really can be no complaints.
The Iberico was first served as an amuse, accompanied by smoky Scamorza and rillette; and it made an encore appearance in my first starter, an otherwise shrimpy symposium of Obsiblue prawn, prawn tortellini, prawn chips and crispy baby prawns in a lobster broth. The Obsiblue prawn was itself a familiar friend – I had a raw version prepared by chef Julien Royer at JAAN, and was delighted with chef Nicolas' steamed variation, which lost none of the flavour. The lobster broth was robust and addictive, and my first (and slightly embarrassing) reaction was to compare it to the best prawn noodle soups you can find in hawker centers here in Singapore.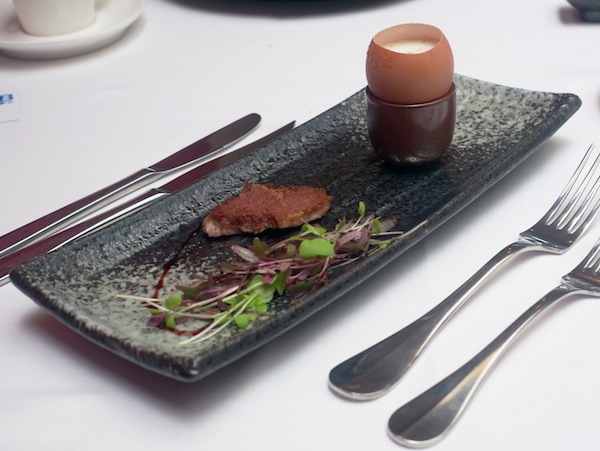 Chef Nicolas spent a bulk of his five-month sabbatical in France and Japan, and it's clear that he brings both European and Asian sensibilities to the kitchen. One of his menu mainstays is a confit New Zealand egg dashed with truffle essence, served once again with Iberico – this time a perfectly seared nugget of loin – and microgreens in a Pedro Ximenez reduction. A modern take on onsen tamago, it was a deconstructed riot of salty, sweet, and, well, truffle-y. It was also a good contrast to the final starter, a "Provencal" raviolo stuffed with pungent blue cheese (unfortunately I didn't manage to get the exact name), perched atop a bed of piercingly sweet confit organic vine tomato in an ocean of cep mushroom bouillon. As with the Obsiblue prawn starter, the intense bouillon was the scene-stealer for this dish. More than anything, it belied chef Nicolas' classical training in the kitchens of several Michelin-starred French restaurants.
Stock was to make one final appearance, in the form of an asari clam emulsion pooling around a duo of masago-encrusted Hokkaido scallops and a creamy pile of spelt risotto. While the lobster broth complemented the Obsiblue perfectly, and the cep bouillon was the yin to the yang of blue cheese and tomato, the emulsion felt like a superfluous afterthought to my main course; though all was forgiven the moment I took my first bite of the scallops. Lovingly grilled and then finished in the slow oven, they were crisp on the outside, and had a sous vide-like texture on the inside, reminding me of the enormous pieces of hotate sashimi I had in Sapporo. This was easily the highlight of my meal, and the dish I'm most likely to remember.
But, like my first and last meal at the old Nicolas Le Restaurant, what sticks in my head the most isn't the food, which, if I'm going to be brutally honest, isn't as memorable as some of the meals I've had at other modern European restaurants. What I like most about the place is its air of conviviality, a word that has been liberally (and in my opinion, mistakenly) used in several recent restaurant reviews. My lunch was prepared with an unfettered brio that I rarely see in even the most upscale places, and at a price point that is a bargain for the creativity on display. I never felt like chef Nicolas was trying to be too pretentious with his techniques, even though he had what my dining companion called a "foam fetish" when it came to liquids.
I can't precisely explain it, but I like Nicolas. I like that most of the diners in the restaurant are old customers who make it a point to walk to the kitchen and tell the chef how happy they are that he's back. I like that the man who answers the phone to take my reservation, even though he is the chef de cuisine, is also the man who receives me at the door, walks me to my table, and then rushes to the stove to prepare my lunch. And I like that the food, imperfect it may be to some, can make me feel perfectly happy and content in inexplicable ways.
It may not have the best set lunch in town, but Nicolas Le Restaurant is bursting with personality and promise. The menu changes just about every week or two, and I'm eager to see what else the prodigal chef has to offer.  I'm glad chef Nicolas is back.
Nicolas Le Restaurant
10 Teck Lim Road
Singapore 088386
Tel: + 65 6224 2404
Tuesdays–Fridays 12pm – 2pm, 630pm – 10pm
Saturdays 630pm – 10pm
Closed Sundays and Mondays
www.restaurantnicolas.com
Brandon Chew's first memory is of him eating chicken rice at the dining table of his parents' old flat. His second memory is of him politely asking for, and receiving, a second helping of fries at KFC, which taught him two things: manners gets you places, and fries are the most awesome food known to man. Brandon has just returned to Singapore from New York and is happily exploring the food scene here.