One of the great things about having lifestyle journalists as friends is that they're always sussing out new or cool places to check out. This includes a variety of things, like spas, boutiques, hotels, and of course restaurants and cafes. This past evening, I had the pleasure of tagging along with one such arbiter of taste and style. SS has been one of the more well-known and respected lifestyle writers here in Hong Kong for years. Tonight, she brought me, her brother and sister-in-law and a visiting photographer to a rather cool, obviously popular and decidedly local dai pai dong located in the North Point Market in Hong Kong. One of the reasons SS chose to bring us here was because of an assignment; she needed to interview the dai pai dong's owner for a magazine she's putting together for a client. The other reason was because she knew that all of us would appreciate this humble but very happening eatery.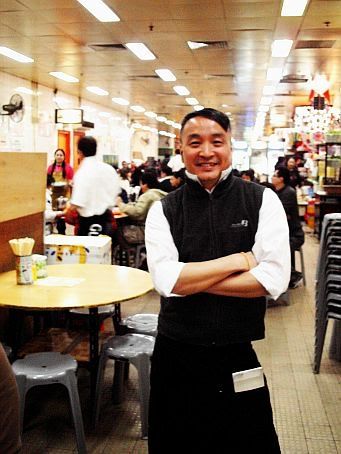 Tung Po Sea Food Restaurant is run by the enthusiastic and ridiculously friendly Mr. Robby Cheung (pictured above). Robby took over this café from his father some 13 years ago. He told us that back then, the place was miserable and he needed to put everything he had into turning the business around. That meant both the experience of having worked in the hotel industry most of his life but also as much capital as he could raise—which at the time meant selling his apartment. Fortunately, today, Tung Po Sea Food Restaurant is packed every night and from what we could see, Robby is both a successful and happy man.
The food at Tung Po Sea Food is pretty interesting. Despite looking like your typical Hong Kong food stall, it's not quite Cantonese. Robby has taken dishes and flavors from foods he enjoys from across China and all over the world and has adapted them, adjusting them to his own tastes. For examples, one of his more popular dishes is cuttlefish cooked in squid ink with noodles—obviously a riff on the famous Venetian pasta dish. He also serves up deep fried pig trotters, something you'd easily find on menus in Germany. These trotters, though, have been braised prior to being fried and are served with a lovely soy sauce-based dressing on the side. In addition to the very delicious squid ink pasta and trotters, we had some more traditional Chinese dishes. We had prawns fried in salted duck egg yolk, sea mantis served in a style similar to Teochew cold crab, bean curd skin sautéed with fresh broccoli, fish fried with black pepper and mountains of garlic, noodles fried with soy sauce and served with homemade XO sauce, and an old cucumber soup. Overall, the food was good. Some dishes like the trotters, surprisingly the squid ink pasta and the soup were excellent. Others were good but not great. The fish was slightly over fried, but the flavor of the garlic and pepper was wonderful. The noodles were nice but the XO sauce, while good, certainly wasn't the best I've ever tasted. The sea mantis was a little odd. Teochew cold crab is served with a slightly sweet and sour dipping sauce. Robby didn't serve his mantis with anything, which in my opinion was a mistake. It would have benefited enormously from an additional flavor or two. The bean curd dish was okay and the prawns were a little bland but very well fried.
The overall experience, though, was great fun. The restaurant is situated on the 2nd floor of a neighborhood market. It's noisy, bright, and crowded. Beer is poured in bowls and customers sit on uncomfortable plastic stools around collapsible round tables. Robby, charming fellow that he is, is fabulously shod with customized white rubber boots, a dress shirt, a fleece vest, rolled up jeans and an apron.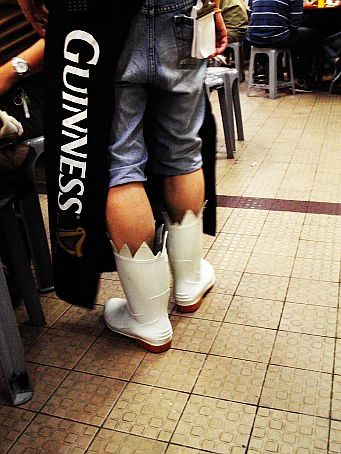 If you're looking for an edible slice of the real Hong Kong, with its ability to assimilate all kinds of tastes and cultures, in all its brash boyishness and loud frivolity, this is it.
Tung Po Sea Food Restaurant
2nd Floor, Cooked Food Centre
99, Java Road, North Point
Tel: 2880 9339
open 530pm-1230am
Aun has always loved food and travel, passions passed down to him from his parents. This foundation, plus a background in media, pushed him to start Chubby Hubby in 2005. He loves that this site allows him to write about the things he adores--food, style, travel, his wife and his three kids!