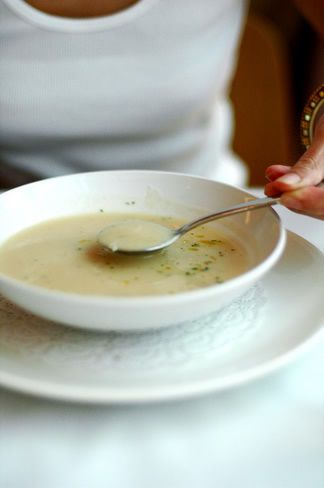 Yesterday, S and I decided to be among the first folks in Sillypore to try Wild Rocket. I should state that visiting a restaurant on its opening day is the kind of thing professional food writers usually try to avoid. No matter how hard a restaurateur and his team have prepared, there are always bound to be some small problems in those first few, frenetic and very stressful weeks. But since we weren't visiting Wild Rocket for any other reason than this blog and, of course, to support chef-owner Willin Low, we went anyway.
The restaurant is cute. It's very airy and casual, the kind of place you can go in shorts and flipflops or in Prada and a pair of Louboutins and not feel out of place. The menu is small, offering just a few choices for starters, pastas, mains and desserts. That said, all of the choices looked good and we had a hard time deciding what to try. In the end, we ordered the cauliflower cream with crabmeat soup, the laksa pesto spaghetti with quail's eggs, seared ribeye with wild rocket and sweet potato, profiteroles with vanilla ice cream, and a strawberry cheesecake with maple walnut ice cream–and shared everything.
The soup (pictured above, being eaten by S) was good. But I have this theory that cauliflower creams are best served cold. When chilled, the cauliflower taste comes forward. When hot, it becomes almost too subtle. This soup is served hot, which while tasty, thus didn't taste all that much of cauliflower. It really depends on what your personal preference is. The crabmeat was a yummy touch, though.
I really enjoyed the laksa pesto spaghetti. (Note that pictured above is a half portion.) The pasta was cooked perfectly and the pesto had a great fresh herb flavor. The dish also had just the right amount of spice.
S really wanted to try the seared ribeye (again, the picture is of a half portion), and I'm glad we ordered it. It was extremely juicy, flavorful and cooked just right. While I would have loved a side dish with some Bernaise sauce or, my own favorite steak topping, some coriander pesto, the steak was more than able to hold its own unadorned. The sweet potatoes–I think they were either pan-fried or oven roasted–were excellent. They were crispy on the surface and soft and sumptuous inside.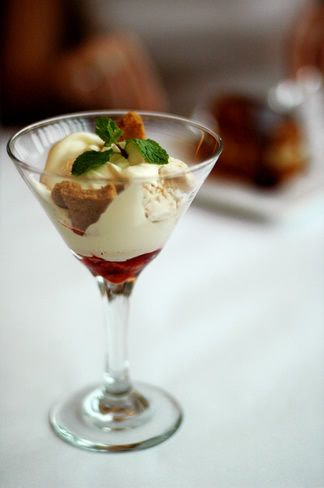 Of the two desserts, both S and I enjoyed the strawberry cheesecake, served unconventionally slightly deconstructed and in a martini glass. It was a winner. S announced rather emphatically, "I would come back here just for this!"
Overall, it was a good lunch. The service was excellent. We each had a glass of the house white, a sauvignon blanc, that while a tad green at first went very well with the food. The prices are also pretty reasonable, somewhere akin to those of Blood Bros Project Shop café. Over the next few weeks, the standard should improve. We did, as mentioned at the start, go on the worst possible day for evaluating any restaurant. I, for one, intend on heading back again soon, both in the evening to see how the restaurant looks at night and also for Sunday brunch; they showed us the brunch menu and it looks absolutely yummy.
So, if you're looking for a reasonably priced, simple meal, please check out Wild Rocket. It's a nice, casual owner-operated restaurant. And, like any young business, it needs your support to survive.
Wild Rocket
Hangout@Mt Emily
10A Upper Wilkie Road
Tel: 63399448
Aun has always loved food and travel, passions passed down to him from his parents. This foundation, plus a background in media, pushed him to start Chubby Hubby in 2005. He loves that this site allows him to write about the things he adores--food, style, travel, his wife and his three kids!