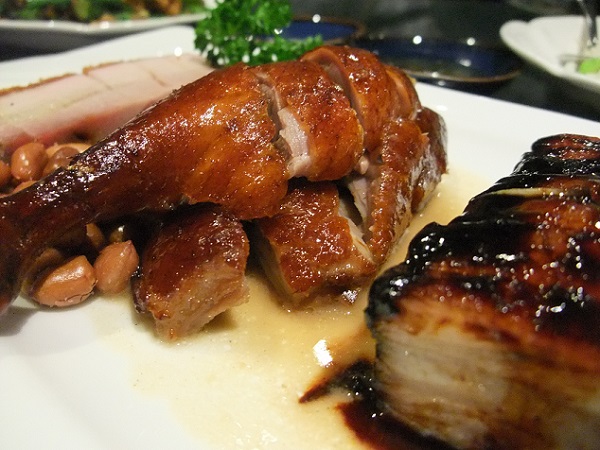 As we usher in the year of the snake, the most important event for many of us is the reunion dinner. In Singapore, where families are typically small, most people would be spending their Chinese (or Lunar) New Year's eve dinner at home with a home-cooked spread. That usually works for me too. But this year, to spare our homemakers from pre and post meal slaving over the kitchen stoves, we have included our extended families to come together for an eight course feast. I believe a bottle of wine ought to be in order.
The Chinese reunion dinner works like the Thanksgiving of the west. A day when family members residing in places a few flight hours away make the special effort to come together to have this one important meal.  In China, for example, people usually enjoy seven consecutive days away from work. Traditionally, the Lunar New Year is celebrated for 15 days, till the first full moon.
Since most of the ethnic Chinese in Singapore are descendants of southern Chinese immigrants, it is common to see menu items consisting of cured meat, seafood and roasted goodies. Unlike some cuisines which can be heavily focused on spices, in Singapore, the type of dishes are often focused on the original taste of the ingredients coupled with light seasoning. On this year's menu, we have crispy roast duck with mango and kiwi plum sauce, fried glutinous rice with Chinese sausages and cured meat, and Poon Choi. The last being a stewed medley of seafood, meat and vegetables from top (of the large pot or bowl) to bottom, and from rich tasting to lighter on the palate.
I am no food gourmet, nor do I know whether the restaurant we are headed to has a wood fire oven. But my favourite roast duck dishes are prepared with smoke and heat from apple wood fire. Light smoky sweetness to flavourful meat, dipped into mango and kiwi plum sauce to zest up the palate. The glutinous rice dish with Chinese sausages and cured meats are usually sweet and salted with a degree of oiliness to it. On the down side, salty food usually restricts the possibility of red wine pairing as it can elevate the coarse astringency from tannins.
Fortunately, the mention of these attributes brings to mind a bottle from New Zealand, the Two Paddocks Pinot Noir 2008. This winery is owned by actor Sam Neill, whom I always remember as Dr Alan Grant for his character in the movie Jurassic Park. With grapes sourced from his humble vineyards in Central Otago, this wine has the sweet dark fruit tone and spicy notes that go well with the above mentioned dishes. A low tannin grape with a light touch of used oak barrels will make this an ideal pairing.
For those who prefer the ever popular steamboat option for their reunion dinner, I recommend a light dry rosé wine from Domaines Ott Château de Selle Côtes de Provence. With its light citrus, dry mineral notes complementing the sweetness of the soup base, this is close to perfection.
Wait, so what about the Poon Choi? I spoke to my friend Vincent Kwong on how to pair wines with this traditional Cantonese dish when he was in Singapore for the National Sommelier Competition. A Hong Kong based Sommelier working for Amo Eno in the upmarket IFC in Central, he explained the spirit of Poon Choi. "This originated as a simple communal dish, with everything going into it. Keeping the same spirit of everything goes, therefore any wine goes!"
Well said indeed. Wishing everyone a prosperous year of the Snake.
Wai Xin is constantly educating himself in all things wine-related. Believing strongly that wine is for enjoyment and not a trading commodity, he encourages sensible, affordable drinking and the exploration of individual preferences. A Certified Specialist of Wine, his personal wine blog is on www.winexin.sg.