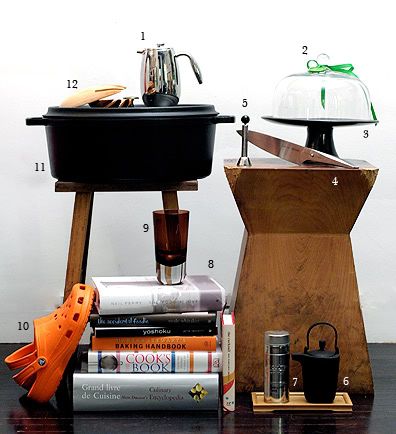 While I know that a number of magazines and other fabulous food bloggers have already printed and posted their own holiday gift guides, I thought I'd share my own ideas for what you could buy a loved one, or yourself, this year for Christmas.
And in the spirit of Christmas, I've chosen 12 items, one for each day (although admittedly, one of the items below is a range of 7 different things). I've also imposed two criteria while putting together this list. The first is that S and I had to have it already. Which means the products showcased here are all tried and tested. I'd never want to recommend something we didn't have and therefore only knew about second-hand. Everything here is something either I or S loves. Secondly, these holiday picks had to be current. Everything I've selected was either first produced this past year (especially the books) or else S and I had acquired it in the last 7 months, meaning it should still be readily available in stores near you.
You'll note that I've numbered the products for ease of identification. Start from the top and slowly work clockwise. Oh, I should add that the products aren't in any particular order, i.e. number 1 isn't better than number 7. All of them are awesome and great gifts that should put a smile on the face of any foodie friend or loved one. (Please note that most of the headers below contain hyperlinks to the brand's pages. Please mouse over to check.)
1. Bodum Columbia Thermo Press
I've written about these fantastic coffee makers before. These double-walled, stainless steel, French Press style beauties are as easy to use as they are gorgeous. They not only make great coffee (of course, that implies you're using good coffee) but also make your table look just that much more stylish.
2. William Yeoward glass cake dome
S has been looking for the perfect cake dome to fit her Bison cake stands (below) for months. Important to her was that the dome's sides had to relatively straight; domes with sides that curved inwards at too great an angle would be useless for covering layered or high cakes. She finally found her dream dome in, of all places, our local Jim Thompson boutique. William Yeoward's glass cake dome, like all of his other glassware, crystal and home accessories, is stunning. Its brilliance comes from its simplicity, elegance, and amazing quality, all things Yeoward is famous for. Domes come in several sizes so please measure your cake stand before rushing out to buy one.
3. Bison cake stand
S and I are huge fans of Brian Tunks' stoneware company. Bison makes the most beautiful, handcrafted ceramics. Of all of his company's designs, we like his cake stands the most, so much so that we have 3, two larger ones (the black is pictured here) and one tiny one. They're a joy to touch and they look smashing—which explains why they are so often featured in the pages of Aussie food magazines like Donna Hay and Gourmet Traveller.
4. Chroma Type 301 Chef's Knife
These FA Porsche-designed knives are sex with a honed edge. Forget Global. These are the designer knives you want. Especially once you handle one. Despite the ultra-modern and angled look, these knives are extremely comfortable to hold and to use. So cool and comfy, in fact, that they are the knives of choice of some of the world's greatest chefs, notably Alain Ducasse. In Singapore, pick yours up from BATS Singapore.
5. Egg Top Cutter
I know I just mentioned this super-cool, palm-sized product in my last post, but S and I cannot describe just how cool we think this egg top cutter is. Of course, to appreciate it fully, you have to be either a bit of an egg fanatic, which I am, or have aspirations to serve cool eggshell-enclosed dishes, like Thomas Keller's famous egg custard, at dinner parties, which S has. Singaporeans can buy it at Sia Huat, the cool kitchen-supply store on Temple Street.
6. Porcelain-lined Cast Iron Teapot
This super-cute and gorgeous teapot is one of S's favourite finds of the year. The second she saw it in the homeware section of Lane Crawford in Hong Kong, she knew she'd be carrying it back home with her. Cast iron, as most of you already know, retains heat beautifully. The porcelain lining ensures that the tea flavours are as pure as can be. How could any tea lover resist such a beautiful find?
7. Bernardaud Tea
Of course, a great tea pot demands great tea. We've built up quite a collection of teas, including several wonderful blends from Bernardaud. Of course, I'm a big sucker for great packaging and I really admire the sleek, silver container these come in—perfect for making a good impression on a friend.
8. Cookbooks, cookbooks, and more cookbooks
This was, of course, the hardest category to put together, simply because there have been so many great cookbooks published in 2005. But nonetheless, here's our picks for the best (in our minds) this year, chosen not so much because of great packaging or content, but based on what we felt were ones we'd end up opening and referring to the most over the coming years (listed from top to bottom).
Neil Perry, The Food I Love
We adore this book. It's clean, simple, and full of great, gorgeous and easy to make recipes. Who knew that Perry had this book in him? It's a great and soon to become classic book everyone who appreciates home-cooked food should buy.
Neale Whitaker, The Accidental Foodie
Whitaker is an editorial genius. He's been the brains behind some of the world's best food magazines for years and, hence, has worked with some of the world's best food writers and chefs. This beautiful book, photographed by the hugely talented Petrina Tinslay, collects recipes and stories from and about the foodies that have made a huge impact on Whitaker's life. It's both a wonderful love letter to friends and a great collection of delicious-looking dishes.
Jane Lawson, Yoshoku
I've also written previously about Lawson's excellent Western-Japanese book. The recipes in this softcover are mouth-wateringly good and a breeze to make. Everyone should have a copy of Yoshoku.
Martha Stewart's Baking Handbook
I've also just written about this beautiful book just last week. I love the look of this book. The design of the pages is exquisite, with real attention here paid to typography and choosing the right color palette. The photographs are sumptuous. And most importantly, the recipes here work. Another baking book I love is Nigella Lawson's How To Be A Domestic Goddess. However, I like Lawson's book more because of its style and tone; also, I've found the recipes, especially the baking temperatures, untrustworthy. With Stewart's book, I've discovered that I don't need to worry about this. The recipes have obviously been tested properly, and everything from the measurements to the temperatures to the timings seem spot on.
Jill Norman's The Cook's Book
S loves this DK book because of the way in which editor Norman has brought together some of the world's best chefs to pen their thoughts and share their cooking techniques. Truly noteworthy is Ferran Adria's chapter on foam and Pierre Hermé's chapter on pastry.
Alain Ducasse, Le Grande Livre du Cuisine
What can we say about this book that hasn't already been said? It's huge. It's ridiculously expensive. And every chef has to have a copy, 'nuff said.
Jane Rocca, The Cocktail: 200 Fabulous Drinks (standing)
This fantastically cheeky and pretty book was a recent gift from a friend. The recipes and the copy are marvelous. The graphics are both hilarious and gorgeous. Buy this for the femme fatale that you love drinking with.
9. LSA Otto glasses
S and I both adore glassware. And we're constantly searching for the perfect water glass, wine glass, lowball glass, etc. These handmade glasses, LSA's Otto, in a rich brown (they also come clear), are, we think, the perfect water glasses. They fit wonderfully in the hand. They have a nice, comfortable heft. They're exquisitely made. And they just look damn sexy. Drinking water never felt so chic.
10. Beach shoe from Crocs
First things first, these are not the clogs that Mario Batali wears. He wears Calzuro clogs, which are made for medical practitioners. These, though, especially for those of us working in hot kitchens, are the next best thing. Crocs' clogs are incredibly comfortable. They are light and airy. And moulded with just the right amount of support to make standing in the kitchen, prepping a 5 course meal for 5 hours, feel like a walk in the park. Seriously, if you spend a lot of time on your feet in the kitchen, you should put on a pair of these.
11. 40cm Staub Oval Cocotte
This is probably S's favorite acquisition of 2005. This monstrously huge cocotte, big enough to fit a miniature long-haired dachshund and a few of his favorite toys (not that we'd ever actually do that), is perfect for slow-roasting and braising everything from a leg of lamb, a chicken and a couple of lobsters, or lamb shanks for 8. While it is rather expensive, it's a worthwhile investment and, if treated properly, it should last you a lifetime. In Singapore, buy yours from BATS Singapore.
12. Nigella Lawson Serving Hands
I love all of Nigella's Living Kitchen products. These salad forks are more rustic than a lot of her other things, but they're very well-made and a joy to use. It, of course, doesn't hurt that they look really sexy as well.
Well, that's it. 12 fabulous gifts for yourself or your loved one(s). I'm off to Bangkok tonight for a few days. Good luck with your Christmas shopping!
Aun has always loved food and travel, passions passed down to him from his parents. This foundation, plus a background in media, pushed him to start Chubby Hubby in 2005. He loves that this site allows him to write about the things he adores--food, style, travel, his wife and his three kids!