I don't have any food to rave about this post, but I do have three cool things to write about.
The first is that Chubby Hubby is a finalist in 2 categories, Best New Blog and Best Food Photography, in the 2005 Food Blog Awards. There are so many great blogs nominated in these categories, I don't really know what my chances are. But, if you have time, please click on over to the 2005 Food Blog Awards and cast your vote. There are also a bunch of other great categories and more fantastic blogs nominated in these.
The second item comes via Robyn, aka the girl who ate everything (who in turn got this little gem from NOTCOT. Check it out below (Click on the photo to be taken to the Pagliei Online's store).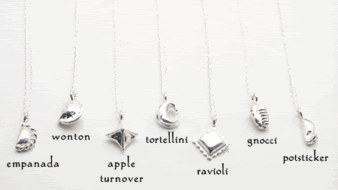 Photograph from Pagliei Online.
I think these are both hilarious and cute. I'm totally tempted to get one for each for my two golden retrievers; maybe a wonton for Alix, the younger one, and a potsticker for Sascha, whom S has recently taken to calling "fatty". They're the perfect gift for a young, fun (female) food-lover. Pagliei also sells these on a charm bracelet. How wonderfully kitsch!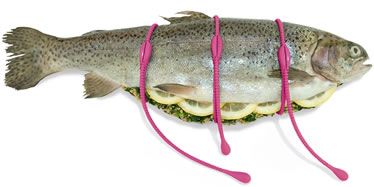 Photograph from The Food Loop
Lastly, and also via those wonderful folks at NOTCOT, check out the The Food Loop, a heat resistant, silicone food trussing tool whose manufacturers claim will make kitchen twine obsolete. I don't know about you, but I certainly want to get my hands on these and try them out. If, for no other reason, than to take photographs of my food tied up in them.
Aun has always loved food and travel, passions passed down to him from his parents. This foundation, plus a background in media, pushed him to start Chubby Hubby in 2005. He loves that this site allows him to write about the things he adores--food, style, travel, his wife and his three kids!