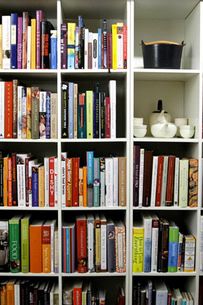 Couple days ago, Anthony over at Spiceblog shot some of his cookbooks. Like all things on the web, this has kicked off a fun new meme, asking foodies on the web to post pictures of their cookbook collections and answer the below questions. For more info, check out Anthony's original post here. I hope all of you out there will join in and post.
1. Rationale behind what we're seeing?
My wife and I re-ordered all our cookbooks last year. They're grouped by country as well as theme. The photo captures only 1/4-1/3 of the collection. The books line one whole wall in our living room
2. Most recommended?
My faves for cooking from are probably Real Food by Nigel Slater and Glorious French Food by James Peterson. There are just too many to recommend, but if pressed for 3 more, I'd also recommend Bouchon by Thomas Keller, Dishy by Kevin Gould (because it's just plain fun), and Mark Bittman's How to Cook Everything.
3. Cookbook that made you what you were?
Real Fast Food, also by Nigel Slater, and Molly Katzen's Moosewood Cookbook got me cooking properly. I got the first in Shakespeare & Co in Paris, during the summer of 1994, when I was an intern there. The latter I picked up in 1995, after having used a flatmate's copy for an entire year. These two books made me appreciate how easy it was to make delicious food.
4. Porniest cookbook?
Gastroporn? Has got to be French Laundry, which I pull off the shelves, look at over and over again, and almost never attempt to cook from (my wife, much braver than I, actually does though).
5. Sophie's Choice cookbook?
Um… I'm not quite sure what this means.
6. If you were a cookbook, which cookbook would you be?
Country Egg, City Egg by Gayle Pirie and John Clark. It's small, cute and full of wonderful things to start your morning.
7. If your cookbook we're extrememly valuable, so valuable you might hide it with other valuables, where would that place be?
You think I'm silly enough to post that?
Aun has always loved food and travel, passions passed down to him from his parents. This foundation, plus a background in media, pushed him to start Chubby Hubby in 2005. He loves that this site allows him to write about the things he adores--food, style, travel, his wife and his three kids!