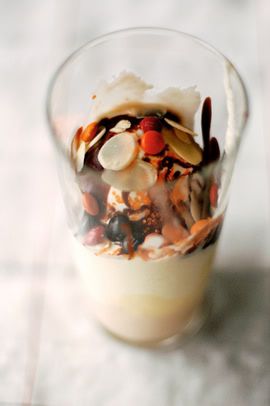 I love ice cream. Always have, and I suspect, always will. Lately though, I haven't been eating a lot of it. Trying to eat a slightly more nutritious and healthier diet has meant that ice cream, instead of being a regular treat, has become a reward of sorts. A week of eating well means I can indulge in a nice big bowl of whatever frozen dessert I want.
While I love some store bought brands, the ice creams I want most nowadays are home-made. Riciotti (owned by my favourite Italian restaurant in town, Garibaldi) makes some terrific flavours—and their tartufo ice cream cake is to die for. But my favourite ice creams are cooked up by my wife. A couple of years ago, S bought the most amazing appliance, a Musso Lussino ice cream maker. Not only is this machine ultra-sexy in design, it functions wonderfully. It makes 1.5 quarts of ice cream in 30 minutes, freezing while it churns (so there's no need to pre-freeze bowls or anything). In the past few years that we've owned the Musso, I've enjoyed challenging S to make up both traditional and experimental (even goofball) flavours. She, I think, has enjoyed discovering which chef's recipes work best.
We threw another dinner party this past weekend. This time, we prepared a 5 course meal, capped off with what we thought would be a fun dessert, DIY Sundaes. I have to admit we were inspired to do this by one of our guests—a doctor and restaurateur who used to own a place that offered, among its desserts, a great little sundae trolley. S whipped up 2 flavours—vanilla and strawberry-mascarpone. I prepped a bowl full of freshly whipped cream while S also made some Valrhona-based hot fudge sauce. When it was time for dessert, we served each person a scoop of each flavour and placed the whipped cream and the fudge sauce out on the dining table, along with flaked almonds, mini m&m's, and some colorful candy sprinkles. It was good fun watching each of our guests ladle on their toppings. I, greedy boy that I am, went for all of them. The dessert, I think, was a hit. Our guests offered several suggestions for future toppings (my favourite was chocolate chip cookies) and also excitedly discussed their own favourite sundae combinations.
So, what's your favourite sundae?
Aun has always loved food and travel, passions passed down to him from his parents. This foundation, plus a background in media, pushed him to start Chubby Hubby in 2005. He loves that this site allows him to write about the things he adores--food, style, travel, his wife and his three kids!