Last year, I was a little late in posting my Christmas Gift Guide. This year, I've decided to get as early a start as possible. Unlike last year, in which I recommended only things that I had already acquired and road-tested, this year I am including things that are at the top of my own wish list. (This is, of course, in the very self-centered hope that good friends and family members will actually consult this before buying us our Christmas gifts this year.) Some of these gifts are pretty pricey; some are very reasonable. Some are only for serious cooks; others are items even the youngest of foodies will enjoy.
I hope that you enjoy my little round-up. Like last year, in honor of the 12 days of Christmas, I've chosen 12 nifty gift ideas that will make your favourite gourmand love you more than ever. Singaporean-based readers should also take note that, in conjunction with my beloved bank sponsor, OCBC, we've arranged some special prices on some of these items for cardmembers. Happy shopping and happy holidays!
1. KitchenAid products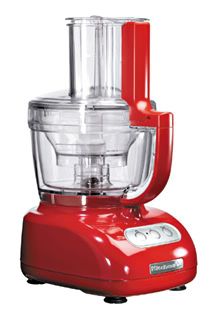 I'm going to take it for granted that you already have (or your favorite foodie has) a KitchenAid Stand mixer. I know that S wouldn't be able to live without hers. But what many of us often forget is that KitchenAid doesn't just make mixers. A couple of shiny countertop appliances that I've had my eyes on for quite awhile are their food processor, their espresso machine and their burr (coffee) grinder.
All of them are stunningly designed, with the same gorgeous, brightly painted, metal finishes as the mixers. The processor features the largest feed tube on the market; that means you can easily toss into your mix all kinds of large food items, like tomatoes, potatoes or cucumbers with minimal sectioning. The espresso machine is simply gorgeous. I mean, who wouldn't want that on their kitchen counter? And if you like your beans fresh, you'll need a good grinder. The Pro Line series (Model KCG100) one is fantastic. And it's not just for coffee. I have a friend who has one that she uses for grinding up Asian spices. Of course, you wouldn't want to use the same one for coffee and spices. Do what she did, and get two.
OCBC Promotion: From 8 December to 28 February 2007, purchase the KitchenAid KES100 Espresso Machine and KitchenAid KCG100 Burr Grinder at a special combined price of $1399 (usual price is $1698), including GST. In addition, purchase the KitchenAid KFPM770 Food Processor (red color only) at just $469 (usual price is $599), including GST. Purchases must be made at Mayer showrooms and stores. Locations below in Terms & Conditions.
2. Stovetop smoker
I love the idea of being able to hot-smoke foods right on my stovetop. These smoketop smokers, from Camerons Professional Cookware not only look really easy to use, they also look pretty stylish. I can just imagine smoking everything from salmon to duck to pork ribs in my new smoker. Experimenting with different smoking ingredients, from various kinds of wood chips to gourmet teas, would be fun too.
3. Bespoke tea
The truly special person in your life needs a truly special present. Some of the best presents I've ever received were those that were specially tailored just for me. Singapore's hottest, coolest and newest gourmet tea label, the Gryphon Tea Company, in addition to producing an exciting range of teas for the retail market, also has the facilities to custom-blend a tea specifically for you or your loved one. The process of creating a bespoke tea blend can take anywhere from a week to a month, depending on how many rounds of tastings you need to go through. Teas are packaged loose in vacuum-sealed bags. Because Gryphon is a subsidiary of one of the region's top tea manufacturers and importers, you can be rest assured that they can create something truly special and of top quality for you. Click here for contact info. Prices for a kilo of bespoke tea, which contains approximately 200 servings, starts at around S$250.
OCBC Promotion: Pay with your OCBC card and get a 10% discount on the price of your custom-blended tea. Promotion valid till 28 February 2007.

4. Cook With Jamie
I have to admit. This book really surprised me. Cook with Jamie, by Jamie Oliver, is a great cookbook. Unlike many of his more recent books, which I felt belonged in a "nice to have but far from essential" category, this well-written, clear and informative work has a good chance of becoming a classic cookbook. It's definitely for me one of the year's must-haves.

5. Revolutionary Chinese
Few people, Chinese or otherwise, understand Chinese food as well as Fuschia Dunlop. S and I were already big fans of her previous work, Sichuan Cookery. So, when Revolutionary Chinese hit the bookstores, we knew we had to have a copy. It's a brilliant primer on Hunan cuisine, filled with insightful essays and clear recipes.
6. Justin Quek: Passion & Inspiration
As part of the team that produced this book, I admit freely that I'm extremely biased about it. That said, I do believe that Justin Quek's cookbook is both beautiful and unique. Justin was insistent that this book tell his story–how he went from being a merchant sailor to becoming one of the world's finest chefs. He also insisted that this book pay homage to his mentors and friends, featuring them prominently in its pages. Because of these inclusions, this book won't just offer you dozens of amazing Modern French recipes (which it does), it provides the reader with a unique insight of one of Asia's most talented artists.
7. Mario Batali cookware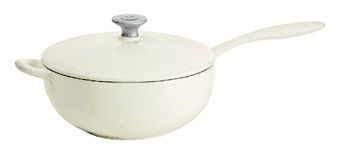 This range of cast-iron cookware, fronted by one of the world's favorite chefs, is both beautiful and affordable. The range that's currently available in Singapore includes the 6qt Italian Essentials Pot (S$269); the Panini Grill and Press (S$249); the Risotto Pot (S$259); and the Extra Deep Lasagne Pan (S$239).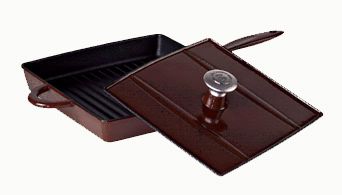 I've tried out both the risotto pot and the panini press and love them both. In fact, S and I like the panini press so much, we've ordered what looks like an awesome book of panini recipes just so we can use it more. S has also been trying to convince me to pick up the Lasagne pan. She likes that it has really straight sides; that ensures pretty plating when you serve the slices.
OCBC Promotions: Puchase any item from the Mario Batali cast iron cookware line and get the following items (worth S$116) free: a large ceramic utensils crock, a small silicone spatula, a large silicone spatula, and a silicone spoon spatula. Plus, buy any second item of cookware at 40% off. Available from the Razorsharp showroom, 315 Outram Road #01-03, Tan Boon Liat Building.
8. Mariage Freres teapots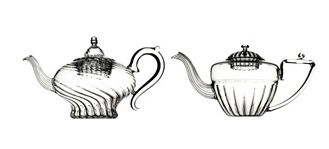 These gorgeous glass tea pots from one of the world's most notable tea companies are really S's contribution to the Christmas gift list. In fact, she's dropped many unsubtle hints to me that I should be placing an order for her as soon as possible. The two models above are amusingly named (from left to right) Happy Alladin and Happy Dream. Give one of these to your favorite fashionable female and I guarantee she'll be happy as can be.
9. Fresh Alba truffle
Nothing is more indicative of the end of the year than the annual clamor for white Alba truffles. And nothing is as seductive or as powerful for food-lovers than the aromas and subtle flavors of these ridiculously expensive and rare tubers. This year, the average price was around 3,000 Euros per kilo. Is it worth it? Only you can answer that. But if one of your loved ones is a truffle fanatic, you might consider shelling out some cash and purchasing him or her a few truffles. Check with local restaurants and gourmet food importers. See if they'll sell you some at a wholesale price. Or contact a top truffle company, like Tartufi Morra in Alba, and beg them to sell you some directly. Just remember to eat them properly. You never cook white truffles; they are best simply shaved over some risotto, pasta or scrambled eggs.
10. Kasumi 20cm chef's knife

You can't go wrong with a Kasumi chef's knife. I know I can't live without mine. This beautifully made, well-balanced Japanese knife is thin, strong and sexy as hell. The knives are made in Seki, Japan, which has a knife and sword-making history stretching back 700 years. The main cutting blade of Kasumi knives is V-Gold No 10 High Carbon stainless steel; the blade has a hardness on the edge of 59-60 HRC. The fine Damascus stainless steel pattern on the blade comes from 32 layers of folded steel. It's both an essential tool and a work of art.
OCBC Promotion: Buy a Kasumi 20cm chef's knife (usual price is S$290) for S$245 and get a Kasumi 12cm utility knife and a bamboo cutting board free. Plus, you get a voucher for one free knife sharpening service. Available from the Razorsharp showroom, 315 Outram Road #01-03, Tan Boon Liat Building.
11. Musso Mini ice cream machine
I've probably bored readers to tears over the last 2 years with countless stories about the fantastic ice cream that my wife S makes for me. She uses a Musso Mini, which looks a little like R2D2's cuter, smaller cousin. It's a fantastic machine. It freezes while it churns and can whip together a fresh batch of ice cream in just 20 to 30 minutes. While it's certainly not a cheap appliance, it is very well-made and after 5 years, ours is still performing perfectly.
OCBC Promotion: Purchase your super-sexy Musso Mini right now for just $1,344 (usual price is S$1,680, so you save 20%). Plus get a voucher for an ice cream making class (venue and date to be determined). Contact BATS Singapore by calling +65 62925658 or email them at info@bats.sg. Alternatively call Sebastian Muthu at +65 94241807.
12. A case of Jacquesson Cuvée 730
Nothing is more festive than a glass of good Champagne. One of my favorite Champagne producers is Jacquesson. Founded in 1798, this excellent vineyard produces only 350,000 bottles a year. And while Jacquesson is nowhere near as well-known as some of the other houses in Champagne, like Krug, Moet & Chandon, Bollinger, or Veuve Clicquot, its wines are as elegant and well-crafted as those from these other houses.
The Cuvée No. 730 is the 730th cuvée made by the House since its Centenary Cuvée in 1898. It's a light, clean, crisp Champagne with slight nutty and citrusy elements. It's the perfect bubbly for toasting in the new year.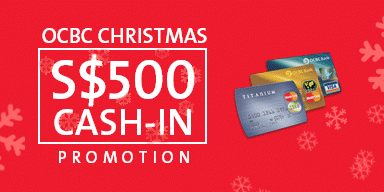 KitchenAid Terms & Conditions:
a) Please note that these offers are valid while stocks last only.
b) Valid for all OCBC cards.
c) Limited to one purchase per product category only. That is, one card member can only purchase 1 Espresso Machine, Burr Grinder and Food Processor only.
d) Not valid in conjunction with any other promotions and offers.
e) Not entitled to Mayer In-Store Promotions, Free Gifts & Lucky Draw.
f) All items are cash & carry and do not include delivery. Collection of products must be at point of purchase. In the event there is no stock at the showrooms, new stock will be sent to the showrooms and customers must collect within 5 days of notification.
g) Promotion is valid till 28 February 2007.
h) Promotion is for purchases made only in Mayer stores. Locations are as follows: Causeway Point #03-22/23 Tel: 6767 1017, Compass Point #B1-01/02 Tel: 6315 8700, Great World City #02-05 Tel: 6838 4079, IMM #02-45 Tel: 6563 4288, Parkway Parade – Home Haven on 7 #07-10/14 Tel: 6346 9216, Plaza Singapura #05-06 Tel: 6835 8272. Showroom opening hours: 11am – 9.30pm daily.
Mario Batali and Kasumi Terms & Conditions:
a) All items are while stocks last.
b) Valid for all OCBC cards.
c) Razorsharp reserves the rights to replace free gift items with other items of the same value.
d) Color depending on stock availability.
e) Promotion is for purchases made at the Razorsharp showroom, 315 Outram Road #01-03, Tan Boon Liat Building, Singapore 169074, Tel: +6562277515. Operating hours : Mon~Friday 09:30~18:00 & Sat 09:30~13:30 (Closed on Sunday & PH).
f) Promotion is valid till end January 2007.
Musso Terms & Conditions:
a) This offer is valid while stocks last.
b) Valid for all OCBC cards.
c) Cooking classes are contingent upon a minimum number of participants signing up.
d) Promotion is valid till 28 February 2007.
Aun has always loved food and travel, passions passed down to him from his parents. This foundation, plus a background in media, pushed him to start Chubby Hubby in 2005. He loves that this site allows him to write about the things he adores--food, style, travel, his wife and his three kids!