My darling wife S and I are both devoted design fans. It's one of the things that we bonded over very early on in our relationship. The fantastic thing is that we also have amazingly similar tastes; we often find ourselves drooling over the same items in our favorite stores, be they chairs or cake stands. Over the half decade we've been together, (and once S successfully got rid of my "bachelor stuff") we've amassed a wonderful array of beautiful things to serve food on and with. And, from what I can tell, we're still adding to our collection.
So, I was very excited and flattered when contacted recently by Design Public, a very cool online design store that also maintains its own blog, and asked to take part in "Delicious Design", a week long blogging event it's hosting during which invited floggers are asked to write on the theme, "the aesthetics of food." This is a great topic.
I consider myself a highly visual person and great food to me has always been more than just its taste. As any restaurateur or chef will tell you, it's also about the presentation. This, in turn, can be broken down into two components. The first is the artistry that the chef demonstrates when plating a dish. You know, the swirling lines of sauce, the ingredients that are gingerly stacked in gravity-defying towers, things like that. Some chefs prefer to play with colors. Some chefs like height. Others demonstrate artful restraint, placing small portions of food on large, pristine plates. Others lean towards overabundance, overwhelming the diner with the amount and complexity of their ingredients.
The second component is the plate itself. It's both the frame and the canvas for the art that the chefs create. A great plate, a beautifully designed plate, can elevate a dish. It can take a good dish and make it great. And it can transform a great one into a culinary masterpiece. But don't get me wrong. Beautiful design doesn't mean over-designed. Let's not forget that the role of a plate is to present and enhance the pleasure of great food. The plate shouldn't overwhelm the food. It shouldn't compete for attention. Like the best designed dresses, which enhance the beauty and sex appeal of the women who wear them, great plates make food more appealing. Great plates should, though, always be well made.
As mentioned earlier, S and I have, what I consider to be, a great collection of plates, glasses, and other things which make our food look great and (to me) taste better. Some of these items are entirely frivolous, like our red-metal tiered cake stand. On the other hand, we consider our handmade Bison stoneware cake stands–of which we have three (in different sizes, 2 in white, 1 in black)–entirely necessary. We treasure our set of Thierry Cheyrou-designed Raynaud wide-rimmed porcelain plates. We will always be eternally grateful to family and friends who, through our wedding registry, helped us acquire a stunning selection of Tiffany's dinnerware, silverware and wine glasses. I'm particularly drawn to square and rectangular plates and S has allowed me to purchase several sets over the years. At the same time, I've indulged her obsession with searching antique stores and flea markets for Sheffield steel, bone-handled cutlery. We have specific flatware for specific dishes. We have certain plates we only use with certain friends. We even have some items we rarely use, preferring to admire them unadorned. And we love them all.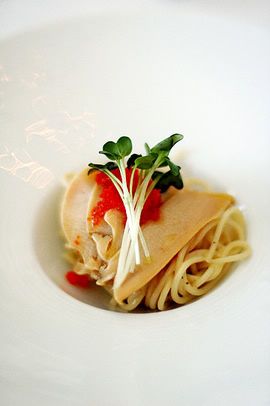 One of my favorites is a set of 10 Bernardaud wide-rimmed porcelain plates with the tiniest of serving spaces. We first saw them at Les Amis, one of Singapore's fanciest French restaurants. We loved them on sight. When we later saw them on display at one of our local restaurant supply stores, we immediately asked if we could purchase a set. Unfortunately, we were told that only bulk orders for restaurants or hotels would be entertained. Then, a few months later, when we were back in the shop, a staffer that recognized us told us that they had just gotten a large order for them and could help us piggy-back 10 extras if we were still interested. Of course, we screamed, "yes!" and all but hugged her. The picture above (which is actually also inset in the collage at the top) is of the plate, being used to present an abalone noodle dish.
The pieces that we're currently most excited about are a set we bought in Shanghai at an amazing pottery store called Spin. These handmade porcelain plates are beautiful. They're simple, white with a shallow bowl shape. Around the rim of each plate is a streak of red underglaze–a nod to Ch'ing dynasty pottery. Each plate is also unique, with a slightly different streak. Unfortunately, the plates are being shipped to us and won't arrive for another 4-8 weeks.
The only downside of being a foodie, design addict and slight compulsive shopper is that every time I enter a cool lifestyle store or great design shop, I have to be careful. There are just so many beautiful, tempting items which S and I would love to own and use. Of course, being unable to actually afford them all means that we better appreciate the ones we do eventually end up splurging on. The reward, though, is not in the act of buying them, but in using them–in finding just the right recipe with which to pair each new plate. And serving the dish, perfectly plated, to friends and loved ones.
Aun has always loved food and travel, passions passed down to him from his parents. This foundation, plus a background in media, pushed him to start Chubby Hubby in 2005. He loves that this site allows him to write about the things he adores--food, style, travel, his wife and his three kids!