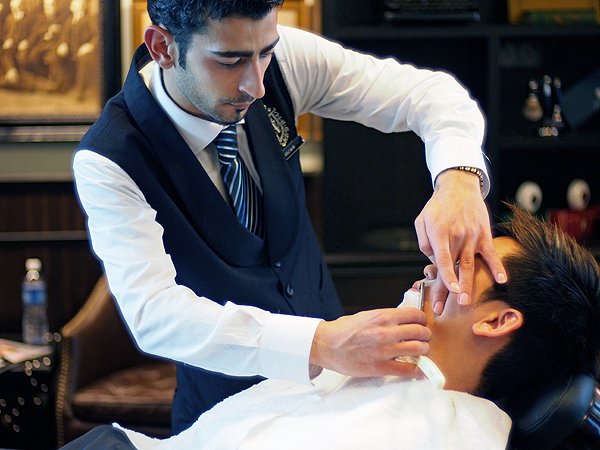 For most of us guys, a shave is something we do in the mornings, as part of our get-ready-to-go-to-work ritual. It is not something we necessarily associate with luxury. That is, until we experience our first really exceptional wet shave, performed by someone else.
For me, my wet shave epiphany happened five or six years ago (I forget the exact date). I was in Tokyo for work and was desperately in need of a haircut. I had read that the Dunhill boutique in Ginza had just opened a posh barber shop. I figured that this was a safe bet… not only would I be guaranteed a cool experience (that I could tell people about for years to come) but the chances of the barbers actually speaking English were extremely high. What I didn't know until I arrived was that all of the staff at the salon were tall, beautiful Japanese women, which of course (cad that I am) only made the experience that much more delightful. The haircut was great, and when it was done, my lovely barber asked if I wanted a shave. I agreed immediately and another leggy lass took over, lathering me up and shaving my cheeks and chin as smooth as a baby's bottom. The whole ritual was so enjoyable that as soon as I returned, I raved about it to friends. (One of them, in fact, on his next trip to Tokyo, visited the salon. His description of his experience is something I'll never forget. So taken was he by the beauty that was attending him, he said that when he had closed his eyes as she started applying shaving cream to his cheeks; he suddenly felt like she was softly licking his face. Suffice it to say his wife whacked him pretty hard when he told us this.)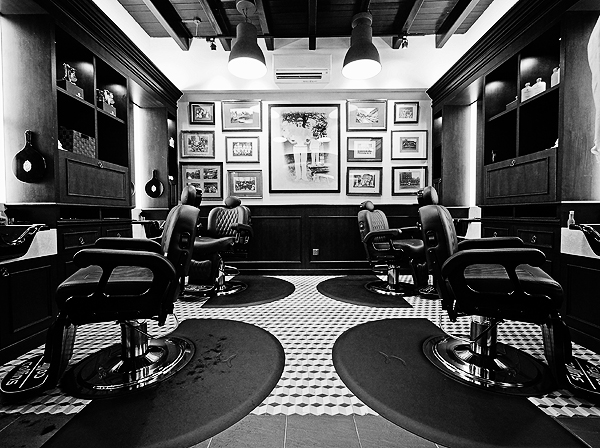 I've also, since then, become a huge fan of a truly luxurious and properly done wet shave. Unfortunately, in Singapore, getting a really good wet shave has been tough until now. Because as of yesterday, the oldest barbershop in the world has opened an outlet here, offering exceptional barbering services. And of course, top notch wet shaves.
Truefitt & Hill was officially recognized by the Guinness Book of World Records in April 2000 as the the oldest barbershop in the world. In 1805, its first outlet was opened by William Francis Truefitt in London. He established himself as a fine barber and wigmaker as well as a perfumer and went on to formulate exclusively prepared colognes, pomades and hair tonics on the premises. Truefitt's reputation soon grew and it was not long before he was designated Court Wigmaker to HM King George III. Recognised as the finest traditional gentlemen's barber and perfumer in London, Truefitt & Hill holds the British Royal Warrant by Appointment to H.R.H The Duke of Edinburgh. Its list of clients reads like an international Who's Who: Members of the male line of the Royal Family, members of visiting Royal Households, of course. And Charles Dickens, Oscar Wilde, William Thackeray, Sir Winston Churchill, John Wayne, Frank Sinatra, Charles Dickens, Fred Astaire, Cary Grant, Alfred Hitchcock, Leonardo Di Caprio, and Michael Schumacher, just to namedrop a bit.
As said, Truefitt & Hill officially launched yesterday in Singapore. This outlet is housed in a lovely little shophouse on Ann Siang Road, in the heart of Chinatown, and is luxuriously outfitted with masculine, sleek interiors from British designer Timothy Oulton.
I had the pleasure of dropping by a week early, to check out the premises, and also to get a haircut and a shave. Everything was exceptional and the services at this small space really raise the bar for men's grooming in the country. I have no doubt that the salon — which will soon be serving cocktails in partnership with one of the city's best bars — will become a frequent gathering place for our country's most well-dressed men. I can already see people congregating there in the evenings for shaves, drinks, and conversation.
So, what are you waiting for? Book your first high-end shave now, or if you're one of our female readers, surprise your husband or boyfriend with a visit to Truefitt & Hill.
Truefitt & Hill Singapore
9 Ann Siang Road
Singapore 069690
Tel: +65 6223 5263
www.facebook.com/truefittandhillsg
Aun has always loved food and travel, passions passed down to him from his parents. This foundation, plus a background in media, pushed him to start Chubby Hubby in 2005. He loves that this site allows him to write about the things he adores--food, style, travel, his wife and his three kids!