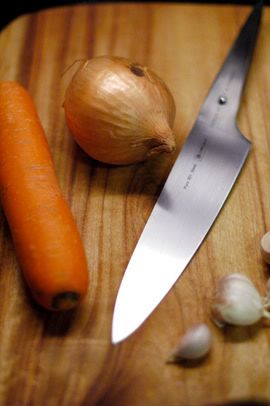 A couple of weeks ago, I got an email from a friend of mine. He's the local distributor for some pretty amazing kitchen-related brands. After seeing my blog—which I had never mentioned to him—written up in the local daily newspaper, he dropped me a line asking me if I had some ideas on how to better market his products. Also, and surprisingly, he offered to sponsor me and my site with some of these products. After having read recent discussions on sponsorship on The Accidental Hedonist and Food Blog S'cool, I decided that I'd accept the offer, given a few caveats. I'd be totally open about the products that I accept and be totally honest about what I think of them.
I've been given a Chroma 301 kitchen knife as well as a set of Staub plates and (mini) cocottes. I haven't had a chance to test out the Staub stuff yet—although they look totally sexy (I'll post pictures of them when I get around to using them)—but I did try out the Chroma knife today (we whipped up a big batch of oxtail stew for later this week). The Type 301 was designed by FA Porsche; the handle is made with 18/10 stainless steel and the blade is forged with 301 Japanese steel. It's used by several top chefs and is the official knife of le centre de formation Alain Ducasse. It's still a bit early to really evaluate the knife's performance. That said, the look is, as expected from Porsche Design, stunning. The weight and feel in the hand are also really nice. But I'm going to use it for a while longer before I make any more judgements. I also want time to compare it with our other knives (which include Kasumi, Wusthof, Furi, Global and Henkel).
Aun has always loved food and travel, passions passed down to him from his parents. This foundation, plus a background in media, pushed him to start Chubby Hubby in 2005. He loves that this site allows him to write about the things he adores--food, style, travel, his wife and his three kids!