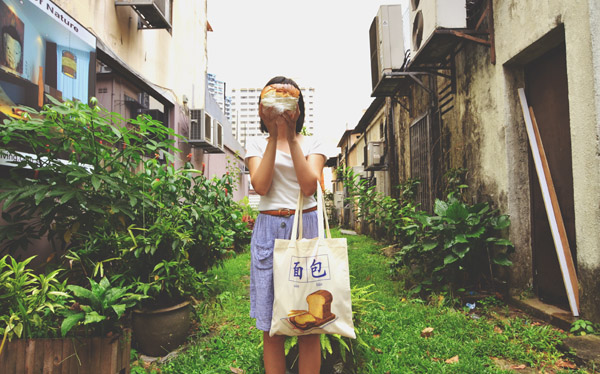 A couple of years ago, my friend Lynda gifted me with a canvas tote bag that had a quirky and beautifully illustrated print. It was a gorgeous print of a loaf of bread with its Chinese name enclosed in dotted boxes. I thought the design was pretty ingenious. If you were in primary school back in the 1980s (yes, you can start figuring out my age), the bag will bring back memories of writing Chinese characters within the dotted boxes and figuring out the correct hanyu pinyin (汉语拼音). Another huge reason why I love this bag is because it features one of my favourite things to bake – bread. This is one foodie gift I greatly enjoy carrying around.
I like the bag so much, I began to spy on the company who was responsible for it and I kinda regret doing that. My wallet got a bit thinner because of this "foolish" act. When I was four is a local design studio and brand whose work philosophy is about simplicity in creation and being inspired by everyday life. Their design aims to create nostalgia, bringing back childhood memories, and providing us with a piece of history that we can hold onto.
Since I began shopping at When I was four, I've acquired quite a few of their bags and notebooks as gifts for overseas friends. For each item you purchase, it is accompanied by a little blurb, giving people a better understanding of Singapore. What impress me the most about When I was four is their continuous effort to produce new and interesting products. They started off with notebooks and bags, and now they have evolved to include accessories and plushies. Recently I was at their booth (at a flea market), and was delighted with their new ranges. They have Mamee noodles, Bee-bee snack and Hiro cake pins (pictured above)! These were my must-have snacks when I was a kid. I love the idea so much that I badgered Li Ling (the genius behind When I was four) into transforming these designs into cushions.
I am going to be honest – When I was four's products are not cheap by any means but are they worth the price? The answer is a astounding yes. The illustrations are painstakingly crafted. They are then transformed into different products. They are locally made, not from some faraway sweatshop. And they are limited in quantity, so you know you are getting yourself or a friend a really unique gift. The most important reason is, as a Singaporean, I think it is our responsibility to show our support to young entrepreneurs through such purchases and helping to spread the word around. When I was four is doing great work and I hope everyone can show them a bit of love.
When I was four's products are available from their online store and selected retail shops.
Photos courtesy of When I was four.
Mandy's journey into the culinary world began out of necessity–a means of survival whilst she was at university. She believes cooking should be simple and fun. Besides spending time in the kitchen whipping up hearty meals, Mandy also dreams of having a bottomless stomach that she can fill with all kinds of delicious things.