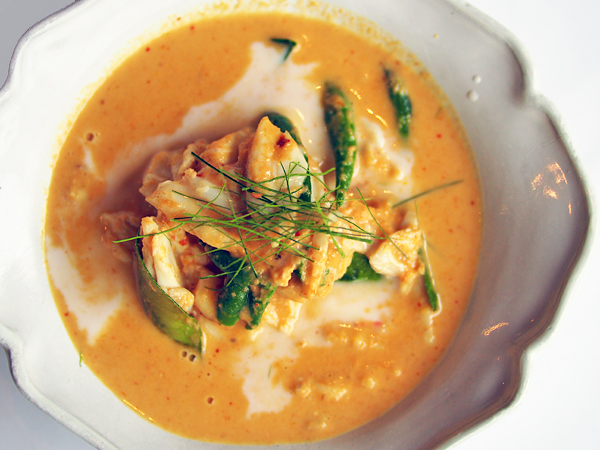 When I was younger, I loved active vacations, the kind in which you're jaunting all over a city 24-7 in order to squeeze as much action and eating into a day as possible. A weekend away was akin to a scavenger hunt in which I'd rack up imaginary points based on the number of cool shops and great meals I could pack into a 24 or 48 hour window. But these days, now that I'm older, married and have a kid, the perfect weekend away consists of doing as little as possible, in ideally one location.
Of course, greedy guy that I am, that one location has to serve up sensational food. One such spot that I recommend highly is the Metropolitan Bangkok. Bangkok is easy and fast to get to; every single discount airline flies there. While the Met oozes cool, understated luxury, it's considered by most travelers to be a business hotel, which means that weekend rates are affordable and rooms are relatively easy to book. The spa is wonderful. And the restaurants, Glow, known for healthy food, and Nahm, David Thompson's world famous Thai eatery, are simply fabulous. Perfect for a quick 36 hour jaunt to BKK with the tired wife desperately in need of a little pampering.
Which is exactly what we did recently. We flew up on a late evening flight; checked in; grabbed a quick dinner at a friend's restaurant (which I'll write about later); and crashed. With a two year old at home, sleep is a luxury for my wife, so she treasured the ability to turn in early and wake up late the next morning. But not too late. Both of us are big, big fans of the healthy brekkies served at Glow, the wellness-oriented restaurant on the hotel's second floor, and located right next to the spa's entrance. Executive Chef Chris Miller has just launched a new menu, featuring many dishes inspired by the "raw food" movement. Of course, there are other options, including the delicious egg white omelet with mushrooms, leeks and spinach that I had, which is pictured above.
Spend the rest of the morning catching up on movies or TV shows that you've missed, or laze by the poolside. If you're feeling perky, book a private yoga or tai chi class. The trainers at COMO Shambhala are outstanding. For lunch, head back to Glow. We recommend the "nachos" served with a trio of salsas. We also really like the marinated kale, sea vegetable and shitake mushroom salad served with a tamari citrus dressing. And just because you're having healthy food doesn't mean you can't have dessert. We really loved the strawberry and jambu tart with a nut crust. Delightfully tropical, healthy but still filling.
Mid-afternoon, head (or head back) to COMO Shambhala, the hotel's wellness centre and spa. If you were smart, you would have booked spa appointments when you booked your room. Spend an hour or two getting worked on. I like the hotel group's signature COMO Shambhala Massage, which is very relaxing and therapeutic. Make sure to take advantage of the whirlpool bath in the changing area. There's nothing like a nice hot soak to wash away the tension of the past week at work.
For dinner, there's only one option. And that is dining at Chef David Thompson's Nahm restaurant. According to the San Pellegrino survey, Nahm is Asia's third best restaurant. It is also the only Thai restaurant on the global list, which means that it is considered by many to be the best Thai restaurant in the world. While I don't actually know Thai cuisine well enough to say if that's true, I can say that every meal I've had at Nahm, and every meal David has ever cooked for me, has been truly outstanding.
There are so many delicious things to eat at Nahm, to try and pick out a few favorites is almost impossible. Instead, I'll just tell you what we had on this last trip. We tasted all of the canapes — smoked fish, peanut and tapioca dumplings; salted threadfin perch with ginger, chilli and green mango on betel leaves; prawn and coconut wafers with pickled ginnier; and toasted coconut with watermelon and mango. We had both a lobster and mangosteen salad (so damned good!) and a lemongrass salad with prawns and toasted coconut. I had a clear soup with roasted duck, Thai basil and young coconut while S had David's tom yum. We then enjoyed a "relish" made with salted duck eggs and crab simmered in coconut cream served with fresh and pickled vegetables; an aromatic curry of wagyu beef and sweet potatoes with a cucumber relish; David's very famous coconut and turmeric curry of blue swimmer crab with calamansi limes (pictured at the top of this post); and a truly amazing, runny stir-fried omelette with crab and beansprouts. Amazingly, S had room for dessert (I on the other hand felt like the fat guy in Monty Python's 'Meaning of Life'); she ordered longan in scented syrup with Thai cup cakes.
What is remarkable about eating at Nahm is that while some of the flavors might be familiar, the dishes are, for the most part, really unique and very complex. This is not your neighborhood takeaway Thai food. This is Thai food elevated to an art form based on decades of research into the cuisine and its history. Any self-respecting foodie should, in my opinion, dine at Nahm at least once in his or her life. Because unless you've eaten here, you can't really say you've experienced the true depth and richness of Thai cuisine.
Of course, one of the best things about staying at the Met and eating at Nahm is that all you need to do is ride up the lift and you're "home".
The next morning, get up, and grab a filling brekkie at Glow. This time, order from the unhealthy left side of the menu. I recommend the eggs benedict or the fried noodles with chicken and egg (pictured here). This will give you enough energy and fill you up enough to get through your flight home without having to suffer through airline food.
And there you have it. The best, most relaxing, gustatory way to spend 36 hours in BKK.
The Metropolitan
27 South Sathorn Road
Tungmahamek
Sathorn
Bangkok 10120
Thailand
Aun has always loved food and travel, passions passed down to him from his parents. This foundation, plus a background in media, pushed him to start Chubby Hubby in 2005. He loves that this site allows him to write about the things he adores--food, style, travel, his wife and his three kids!