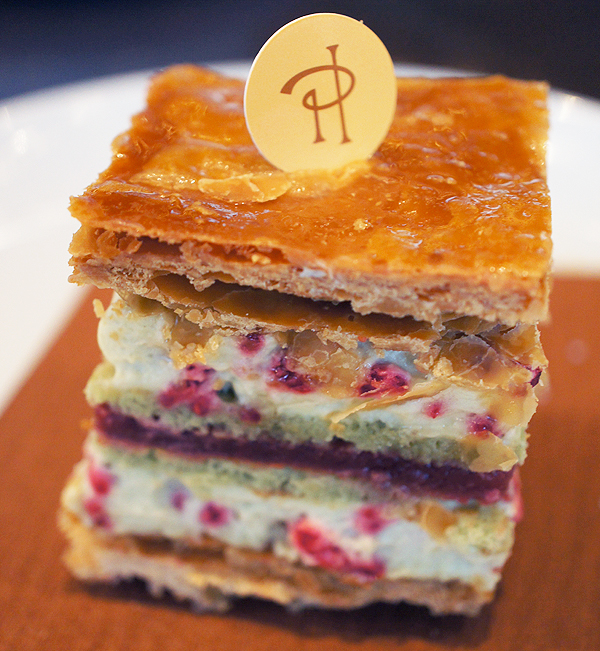 I have a sweet tooth and Tokyo is a well-known dessert haven. When I was in Tokyo over the recent Christmas holidays, I could not resist the many sweet temptations abound in the city. I am a huge fan of anything made with sweet red beans, so not surprisingly,  I had an overdose of delicious taiyaki, which is the waffle-like, fish-shaped snack filled with thick, gooey, mashed red beans. As if this was not enough, my wife and I, plus our two boys, decided to check out one of the Pierre Hermé dessert boutiques in Tokyo.  
We went to the chic outlet on Aoyama-dori, which is just next to the United Nations University.  Like the main store in Rue Bonaparte on the Left Bank in Paris, the Aoyama outlet is designed like a high-end fashion boutique (sorry folks, no photography was allowed of the interior. You have to visit it to see it yourself).  There is a small tea room on the upper floor and we managed to get a nice, cozy sofa after a brief wait.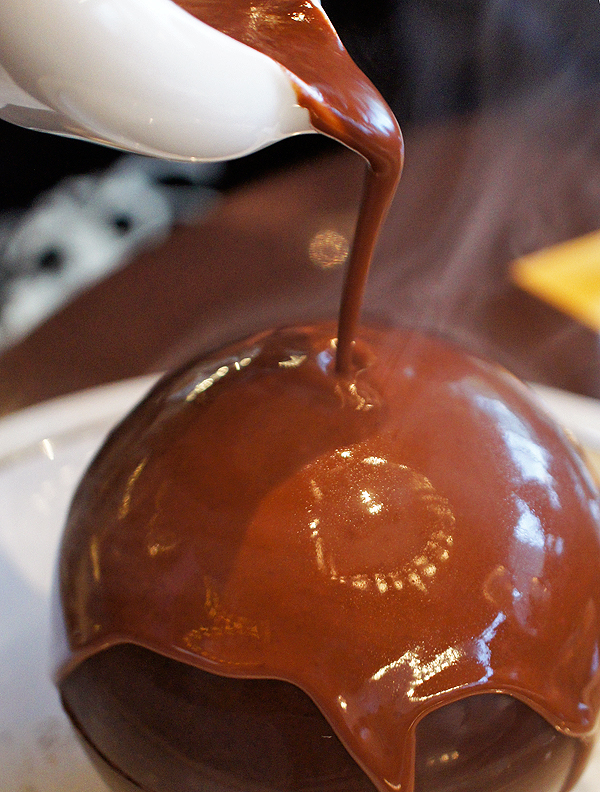 Well, the wait was definitely worth it.  My children ordered hot chocolate and half a dozen macarons. I tasted the macarons and I would declare that Pierre Hermé's macarons are consistently exquisite.  Sure sign of a well-trained team in Tokyo.   The hot chocolate was thick and flavourful.  My boys declared it the perfect drink for a very cold winter day.  My wife had the "chocolat et emotion gourmande", which is a large chocolate ball melted by pouring hot chocolate over the dessert.  I had the Christmas special,  curiously named "Fetish Montebello", an assortment of special creations with a red and green theme.  My favorite was the millefeuille with pistachio and raspberry cream topped with fluffy pastry (main image).   After our hot chocolate and desserts, we walked out feeling very warmed up. I would certainly go back there, even if it is not winter in Tokyo. You can say that my family is now a big fan of Pierre Hermé.
Next stop: Pierre Hermé in Paris in June! Meanwhile, Happy New Year to everyone out there.
Pierre Hermé
La Porte Aoyoma
1st and 2nd Floor, 5-51-3, Jingumae
Shibuya-ku Tokyo 150-0001
Telephone: +81 (0)3 5485 7766
(Closest Metro station is Omotesando)

Maroj Alliax sleeps better on an airplane than on terra firma. Maroj keeps himself sane during his many business trips by checking out nice restaurants and food places when abroad. In his student days, Maroj worked as a waiter in restaurants and went to cooking school briefly in Paris. He likes to cook for friends but has less time to do that now because of the travelling. He has not given up the idea of running a restaurant one day.