Everyone knows that Rio is a carnival town.  On a recent business trip to Rio, I discovered that it also has an exciting culinary scene.  I chose a hotel facing Copacabana beach, a lively part of town with many side-streets filled with eating places.  I prefer the Copacabana area because it has a more authentic feel than Ipanema, which tends toward a more "trendy" atmosphere.  When you are in Rio, you have to check out the different beaches because each has its own feel and sub-culture.  I was excited to be back in Rio, after more than ten years.  I realised that the pulse of the carnival city has not changed but it has clearly become more prosperous, with many new buildings and fancy restaurants.
The day I arrived, I had a quick lunch in a small snack bar patronised by the locals.  Rio is full of hole-in-the-wall bars known as boteco or botequim.  They are like the "kopi-tiam" (local "coffeeshops") of Singapore.  That's where you really feel the pulse of the city.  I ordered a savoury and high-calorie meat-pie that looked a lot like a "Old Chang Kee" curry puff you find in Singapore but without the spice.  I washed it down with a freshly squeezed orange juice and finished that off with a Brazilian expresso. All in all, an authentic Rio experience and a great antidote for jet lag.
Fortunately, I had a light lunch that day because that evening we headed to a churrascaria, which is a fixed price, all-you-can eat barbecue restaurant. In my humble opinion, a visit to Rio is not complete if you don't make it to a churasco restaurant.  But be duly warned – it is not for the light-hearted because a lot of grilled meat will be served and even imposed on you.  The good thing is that there is a vast salad-bar to balance your diet and ease your conscience.  I went to the Porcão, one of the most well-known Churrascaria chains in Brazil.  They have several branches, but I went to the one in Flamengo, which overlooks the world famous Sugar Loaf mountain.  If you want the view, get there early, before sunset.
In a churrascaria, the trick is to start with the meat and then proceed to the salad bar, if at all.  I think there is no point going to a Churrascaria for an overdose of salad!  Soon after we settled at our table, a brigade of waiters came around, each armed with a skewer with a different type and cut of meat.  They come at regular intervals, bringing the skewer straight off the charcoal grill.  For a restaurant that serves over 20 types and cuts of meat, that means a constant stream of waiters who proceed to tempt you with their skewers.
I started with beef, with a nice big slice of rump steak.  It was incredibly moist, soft and very tasty.  How did they get it so soft?  Then came a skewer with filet mignon, which was nicely medium rare and very tender.   I am sure they have a secret marinade.  The seasoning was generous and even a little on the salty side – but that's the Brazilian way.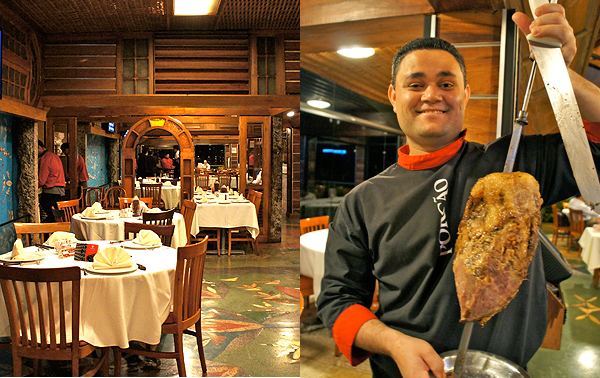 Frankly, it was difficult to keep up with the waiters.  I tried some chicken drumsticks that came neatly arranged in the skewer.  My goodness, it was delightful.  Very crispy on the outside and juicy on the inside.  I suspect all the meat is grilled with generous amounts of fat and lard that makes them moist and tasty.  Then I switched to sausages, both the small ones and the large one coiled around the skewer.  As I was contemplating a brief pause, a waiter arrived with a skewer filled with one of my favourite items…chicken hearts.  It was just a tad dry and almost crunchy, but with a chewy texture and a nice salty taste.  It reminded me of the chicken-heart yakitori I tried in Tokyo one time.  Each skewer must have had at least a hundred chicken hearts.  Where do they get it from!?
After a brief pause, I went for the lamb.  I tried the rack of lamb which was excellent and I would highly recommend that.  The exterior had a nice brown crust and and a herbal and salty taste.  It reminded me of the crispy lamb ribs at One on the Bund in Clifford Pier in Singapore.  Then I tried the leg of lamb, which was savoury and tender.  Then came a trolley with beef ribs, with a nice brown crust.  It was simply impossible to resist.   And then came a skewer with roast beef covered with cheese.  It was a very unusual combination but tasted better than it appeared.  Just to be safe, I dipped the cheese-flavoured beef into some Tabasco filled with a local variety of small, red chillies which looked and tasted just like chilli padi (bird's eye chilli).  After yet another pause, I went back for some more lamb and some sausages.  Finally, I definitively flipped my token from green to red, which is placed next to each diner.  This was the signal to the waiters that I wanted no more.  It was time to surrender.
To ease my digestion, I made a reluctant trip to the salad bar.  But it had more than salads.  There were plenty of cold cuts, including some nice jambon, seafood and even sushi.  I settled for some simple green salad and some grilled heart of palm, which is not easy to find in Singapore. I must confess I had to skip dessert but finished what was left of the house wine made especially for Porcao by a vineyard in Portugal.  It was a decent wine that went nicely with all the meat.  I slept very well that night.  The next morning, I woke up early and ran five kilometres along Copacabana beach.  At the end of my run, I felt much lighter.  I was ready for another heavy dinner in Rio de Janeiro.  And indeed, a few more heavy dinners were had.  I will spare you the details, but here are some delightful restaurants to check out when in Rio.
Porcao (Churassco Restaurant)
Avenue Infante Dom Henrique,
Aterro do Flamengo
Rio de Janeiro
Brazil
Tel: +55 (21) 3461 9020
www.porcao.com.br
Zuka (Contemporary cuisine, with a Brazilian Touch)
233b, Rua Dias Ferreria
Leblon, Rio de Janeiro
Brazil
Tel: +55 (21) 3205-7154
www.zuka.com.br
Gero Barra (Modern Italian)
Avenida Érico Veríssimo, 190
Barra da Tijuca
Rio de Janeiro, RJ 22621-180
Brazil
Tel: +55 (21) 3523-5700
www.fasano.com.br/gastronomia/restaurante/25

Maroj Alliax sleeps better on an airplane than on terra firma. Maroj keeps himself sane during his many business trips by checking out nice restaurants and food places when abroad. In his student days, Maroj worked as a waiter in restaurants and went to cooking school briefly in Paris. He likes to cook for friends but has less time to do that now because of the travelling. He has not given up the idea of running a restaurant one day.