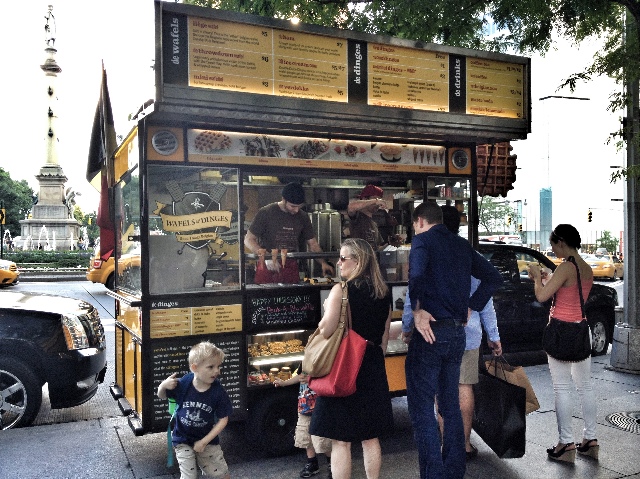 Food trucks have been gaining in popularity throughout the US and New York City has many of them. They tend to be priced lower than most sit-down places and even though some of them have long lines, you still get your food pretty quickly as people in the trucks typically prepare food from a limited menu. There are even many Smartphone apps that follow the movement of trucks and update their locations so it's now easier than ever to find the truck you're looking for!
Very coincidentally, I recently moved to New York City, considered by many to be the food mecca of the world; and having eaten my way through several other cities, I am raring to get started here!
By luck, I chanced upon Wafels and Dinges which had their truck parked just outside the southwest corner of Central Park. Verdict: Delicious!
They offer two types of waffles: the Liège and the Brussels. The Liège looks darker on the outside and does not come in a standard waffle shape as the dough holds its shape. It is chewier and almost seems half-baked, with some of its insides still appearing quite dough-like. The dough contains pearl sugar, which caramelises during the baking process. Wafels & Dinges also does a mini version called the wafelini if you just want a taste. The Brussels is what we are more used to in Singapore. Think Geláre.
I tried the Liège waffle which was served piping hot, crunchy on the outside and oh-so-chewy on the inside. The vanilla flavour was fragrant and hit just the right spot after a long day of furniture and appliance shopping. I'm a big fan of the caramelized pearl sugar with its lightly burnt smell and taste, and it is not as sweet as you may think from looking at its appearance.
I had my Liège waffle topped with spekuloos spread–I had to: the menu says that the spekuloos spread is the most popular! Speculoos are buttery crunchy shortbread biscuits from Belgium; the nearest taste comparison that I can find is the Dutch stroopwafel, but with speculoos tasting more of spices like nutmeg and ginger. The spread captured the taste of speculoos very well. It was thick and grainy, tasting of a mix of spices and was reminiscent of hazelnuts, and smelled fantastic. The other spreads were pretty typical: nutella, fruit, ice-cream, etc. The next time I come back (and there will be a next time), I will probably still get the Liège; but top it with strawberries or just have it plain as the speculoos spread got a bit heavy and sweet towards the end and I ended up scrapping some of it off. First timers should definitely try the spekuloos spread though, but consider asking for less of it. They also have savoury toppings but the sweet ones are by far the most popular.
The vibe of this food truck is quite interesting as well. Apart from being one of the better looking ones around and painted primarily in sunny yellow, the menu is tongue-in-cheek and the people serving in the truck look like they are having fun too. Most customers were eating their waffles right in front of the truck; I would recommend doing just so as the waffles are best when they are piping hot.
Another great waffle place off the top of my head is Baladoche in Chicago. They offer a similar waffle called the Zücker waffle. The main difference in the waffles as far as I can tell is that the pearl sugar bits are more pronounced in the Zücker–such that when you bite into a pearl sugar zone, you taste the bits distinctly. Baladoche is a proper café with seating, so the prices are correspondingly higher at US$7 a pop (basic waffle+one topping+tax).
Actually, in Brussels, Belgium (presumably the birthplace of Belgian waffles), there is a waffle place practically every two blocks and it really is considered street food, with many locals and tourists alike eating it right outside the store or on-the-go. It is probably a bit easier to locate the Liège waffle than the Brussels waffle, although I'm guessing it would not be hard to find either anyhow.
Wafels & Dinges
It's a food truck! Check out the website or call them for the current location
www.wafelsanddinges.com
Prices begin at US$5 for a regular waffle with a single topping.

Jeannice is a world traveller and eater. She has lived in Chicago and Madrid (as well as Miami and Yellowstone National Park, albeit for much shorter periods) and has recently moved to New York City. Like many Singaporeans, she seeks out the best places to eat when travelling as recommended by locals, friends who have previously visited the city or a simple online search.