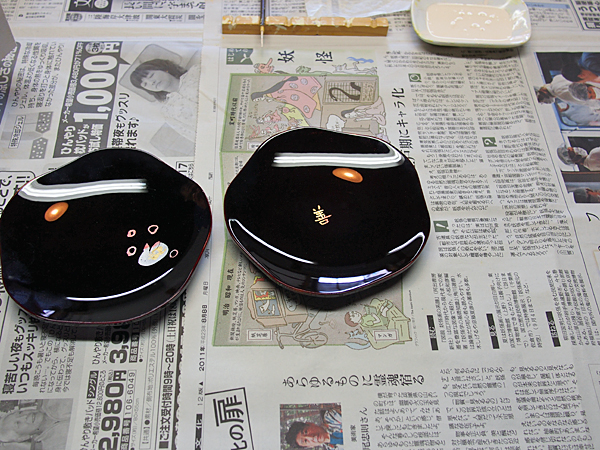 As you can see from the posts that have come before this on, there are many things to see and do when vacationing in Tohoku. There are wonderful onsens to bathe in, great drink to be tasted and purchased, and incredible food to eat. There's also a rich cultural heritage to explore. One city worth stopping in is Aizu Wakamatsu, which is the main city in Aizu, in the western part of Fukushima.
Two must-dos in Aizu are visiting Tsuruga Castle and shopping for Aizu lacquer. Aizu lacquerware has a history of over 400 years. In the Edo period, Aizu artisans adopted decorative techniques using gold powder and foils, and the region became one of the nation's foremost producers of beautiful lacquerware. Today, not only can you shop for this beautiful handcrafted product, at some of the top ateliers, you can actually try your own hand at decorating some lacquer pieces.
One such workshop is the 160 year old Suzuzen, known as one of the top producers in town. When you arrive, instead of heading into the main showroom, you walk past it into a small, crowded work room. Here, Suzuzen's main artisan will let you select a piece to work on. You can choose between small plates, chopsticks with rests, boxes and mirrors. Once you've chosen your lacquerware, you can then decide if you want to use one of several stencils from Suzuzen or if you want to create your own design.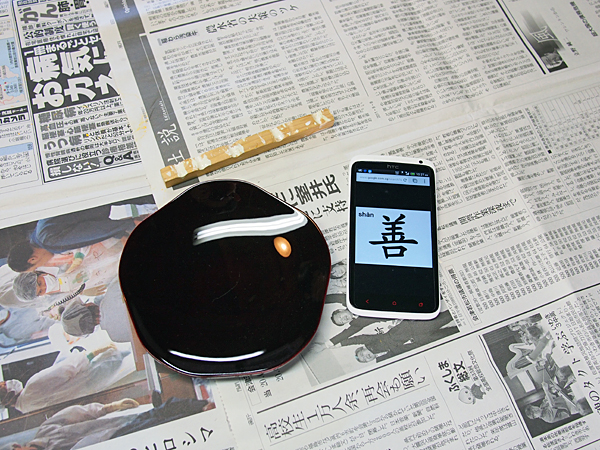 Both my guide and I opted for freehand designs. Using a very thin brush dipped in a white solution, you create the pattern/image you want. My guide opted to paint a small bunny rabbit surrounded by a few abstract flowers. I decided to go really minimalist and opted to paint just one Chinese character, "Shan", which means kindness and is also my son's Chinese name. Amusingly, the "zen" in Suzuzen uses the same character, so initially the artisan thought I had chosen it for that reason (which would have been a really silly reason).
Once the initial pattern has been painted, it is heated and dried slightly, just enough so that it won't smudge when a brush glides over the surface. Then, you head to another table filled with boxes of coloured metallic powder and another box with gold leaf. You then decorate your pattern with your choice of colours or gold. Once done, the artisan then waits briefly. He uses a chemical to wipe the surface of the lacquer and the colours and pattern are miraculously set. When I asked him if this would wipe away, he said, no, pouring water onto my plate to show me that the colours would not run. It is even food safe for room temperature snacks (such as cookies, etc).
It's hard to see in the photo at the very top of the page, but for my "shan", I had used gold leaf, some gold powder and a dash of orange-red powder as an accent.
Making these plates was really fun. And the possibilities are endless. In fact, I was kicking myself after we had driven off, because by then, I had come up with some really great ideas that I would have loved to have implemented. Of those, the one design I wish I had painted was a Mexican candy skull. I think the contrast of a large Mexican candy skull on traditional Japanese lacquerware would be super cool. But that's just me.
Anyway, if you do make it to Tohoku, consider Aizu. And if you do, be sure to drop into Suzuzen to create your own unique lacquer piece. It's a great way to spend an hour or more.
Suzuzen
1-3-28 Chuo, Aizu Wakamatsu-shi
Tel: 0242-22-0680
www.suzuzen.com
Aun has always loved food and travel, passions passed down to him from his parents. This foundation, plus a background in media, pushed him to start Chubby Hubby in 2005. He loves that this site allows him to write about the things he adores--food, style, travel, his wife and his three kids!