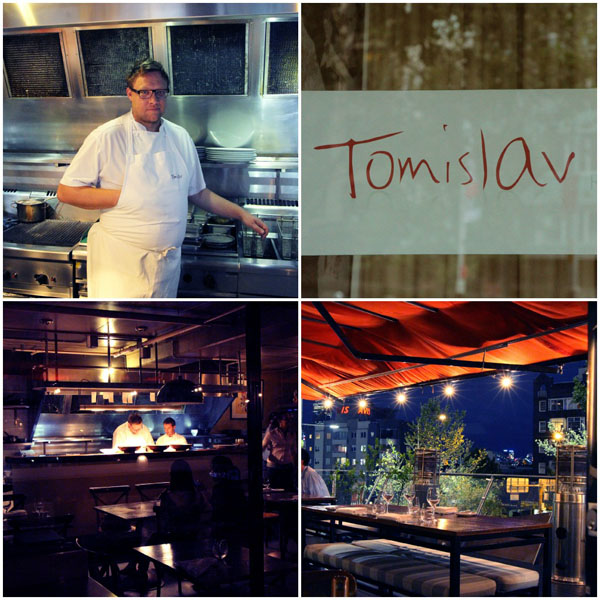 Opportunities like these don't present themselves often, so, when given the chance to take a cooking class with Chef Tomislav Martinovic, I instantly jumped on the bandwagon.

Tomislav Martinovic is an Australian chef of Slavic background who has worked in the kitchens of Heston Blumenthal, Eric Chavot, and Guillaume Brahimi.  He spent several years in Europe before deciding to return to Australia to open his own bistro, a place where creative modern cuisine is served playfully, in the comfort of an inconspicuous location.  The restaurant is just a few blocks away from Sydney's Kings Cross district, an area known for its vivid nightlife.  Tomislav Restaurant, however, is much like a pocket of calm next to the movement and lights of Kings Cross.
Ten people in total were greeted, warmly, into the restaurant, and invited to choose a table before standing over the service counter where the chefs began to sharpen their knives.  As we watched the team of chefs prepare for service, alongside Tomislav Martinovic, the evening began.  Due to time restrictions, the evening was a demonstration, instead of a hands-on cooking class, followed by dinner at Tomislav, chef Martinovic's restaurant.
Martinovic discussed the focus of the class.  Apart from his French training, he has had  extensive experience working in Japanese kitchens; and combined with his innate ability for perfecting modern techniques, the focal point for the class was raw food.
The first dish was a venison tartare.  Components of the dish included venison, chives, lime juice, beetroot leaves, and a hazelnut dressing that lifted the flavour of the meat ever so slightly.  When presented, we were delighted to see poppy seed toast as an accompaniment as well as mustard crumbs.  The mustard, made from a combination of dehydrated hot English and Dijon mustards was the modern twist one expects to see in Tomislav's creations.  Not a trick the average home cook can put together quickly, but with the right tools and a few days of patience to dry out the ingredients, anything is possible.  It tasted pungent and complimented the venison magnificently.
A dish of cured salmon and pumpkin juice came next.  I ordered this as my appetizer later during dinner.  It looked simple, but the number of elements showed the depth of the dish, and the collection of flavours.  The star was the salmon, cured in salt, dressed with caper berries and topped with a white sesame dressing made with chardonnay vinegar.  A pumpkin gazpacho was presented in a test tube to then be poured over the plate around the salmon. This, we didn't learn to prepare, but the chefs did mention that it took fourteen months to perfect the juicing process of this gazpacho.  Butternut pumpkin, salt, and water come together to create a bright orange liquid that tastes fresh like the vegetable it is made of, but has the consistency of plain water. Served with sour cream, pea shoots, and a few shavings of rice cracker (a signature snack served at Tomislav Restaurant), the cured salmon was a definite crowd pleaser.
Finally, we watched the preparation of a tomato tartare, perhaps the most contemporary dish of the three cooked during the class. Cherry tomatoes, chutney, chives, and a cabernet dressing all mingled together beautifully.  Intense tomato, pungent, and red, served with a sweet praline crumb.  Chocolate and tomato as an appetizer to get the diner's mind ticking –  we sampled this final dish and were in awe.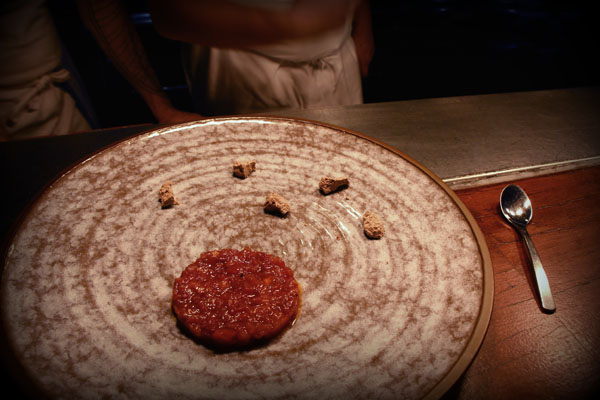 According to Tomislav, it is minute details like these that make him pursue new forms of serving food. Combining unexpected flavours and surprising his guests with new textures keep him wanting to reproduce comfort in creative ways.  He's an alchemist, he takes his time coming up with ideas, works in the kitchen (or might one say laboratory) days on end, creates concoctions, and shares his excitement that is evident in the final product.  Every dish on his menu has a twist.  Presentation is beautiful, and the description is always simple, allowing the diner's imagination to make reference to expected plates, when in reality, the final product is far more complex and delicious.  Often, the dish doesn't match the description. Deconstructed, dehydrated, with foam, with gel, with popping candy and crunch.  It's modernist cuisine, but not in excess, with just the right touch to inspire awe, and to  understand just why Martinovic is great at his craft.
After the cooking demonstration, we sat down to have dinner.  We were presented with a three course menu, with two options to choose from in each course. For the appetizers, we could select between the venison and salmon dishes prepared during the class. The main dishes were a choice between confit tuna or chicken wings.  I opted for a seafood dinner that night and chose both the salmon and tuna.  With dessert, the choices were a cheesecake with crumble or a chocolate parfait.
Every dish was a winner.  People around me ordered different things and every single person seemed happy with their meal.  As for my choices, I was impressed by the attention to detail in every dish and the different components that made both the presentation, texture, and taste enchanting. I'd sampled the cured salmon earlier, but the complete dish, served with liquid pumpkin and some popped rice crackers on top was energizing, its subtle flavours combining wonderfully.  Together with my glass of Riesling, I was buzzing ready for my main.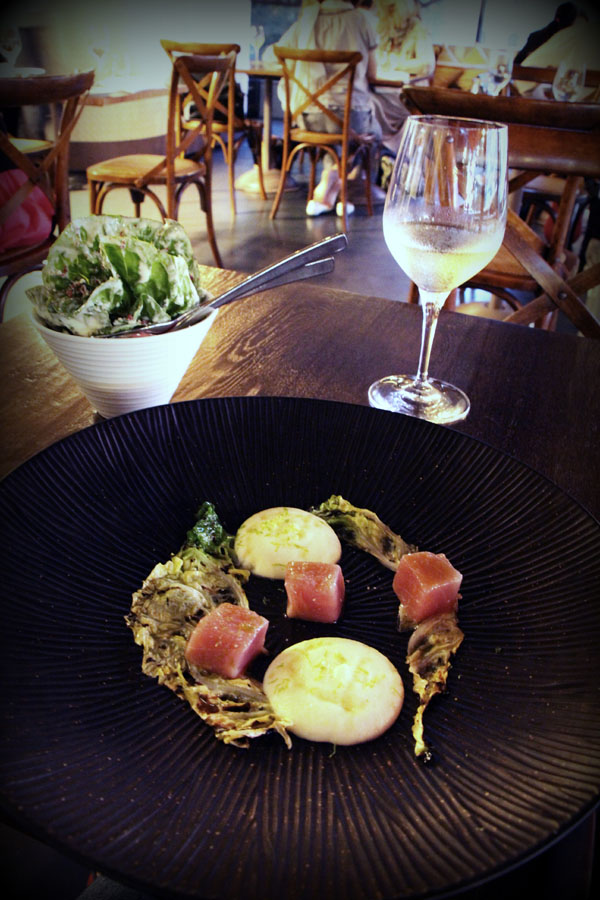 The tuna, which I complemented with crunchy wedge and hazelnut salad, was a distinguished dish.  It came served with grilled Chinese cabbage, rainforest lime, and sour potato (served as a mousse-like mashed potato).  The textures were soft, and the flavours had sparks of sour and sweet, where the lime was infused with honey.   I enjoyed every bite.
Finally, I decided to move away from my tendency to order the chocolate dessert, and asked for the signature cheesecake.  This came as a recommendation, because it is one of the techniques that Tomislav Martinovic is best known for – deconstructing crumbles and putting them back together in amusing and enjoyable ways. Scrumptious.  I could have had at least two servings of dessert.
Before the night drew to a conclusion, we made sure to thank the entire team at Tomislav.  The servers that night were courteous, and managed to keep their cool while accommodating the night's diners as well as those of us who were taking part of the cooking class.  The chefs that assisted Martinovic were friendly and happy to answer any questions we had, patiently explaining the different techniques they use, and how they'd compare to a home cook's day to day practices.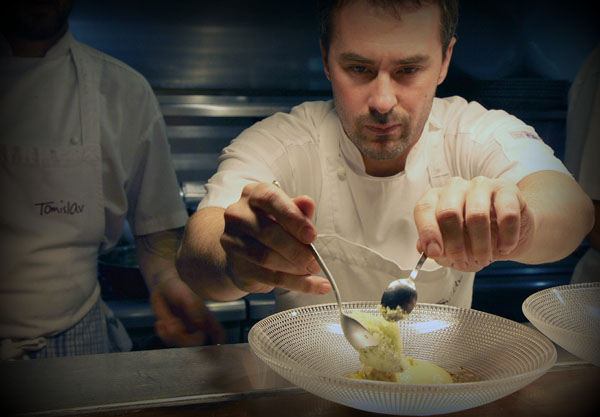 Tomislav Restaurant
Level 2/13 Kirketon Road, Darlinghurst
New South Wales, 2010
Australia
Tel: +61 2 9356 4535
www.tomislav.com.au

Janice is a girl from Lima, Peru who loves a good cebiche and a glass of dry Riesling. She travels the world (often for food or to check out new restaurants) and lives in Australia. Janice tries to learn about different countries through cuisine, and takes advantage of Sydney's multiculturalism by exploring gastronomy in all of its forms. Grower's markets, wine tastings, restaurant openings, cooking classes, shopping for specialty spices; she's keen to do it all.