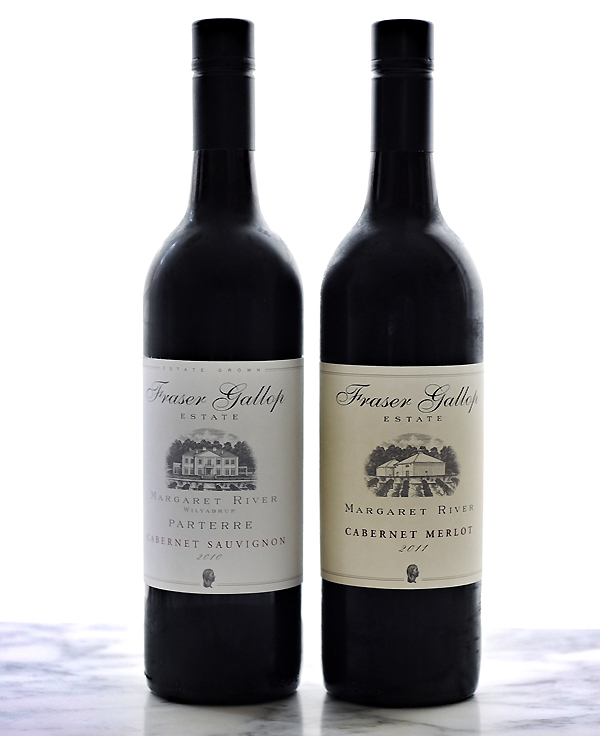 Australian wine – almost a market synonym for Shiraz from South Australia. Known for its strong flavour, overwhelming ripeness and full body texture, Shiraz appears to one of be the favourite varietals for most Singaporean drinkers. Grown on a small corner of South Western Australia, with terrain and climate akin to the highly prized and reputable Bordeaux region in France, Margaret River has been setting the stage on fire with its own class of style.
A lesser known piece of wine trivia perhaps, is that the Margaret River wine region is also home to some of the finest Cabernet Sauvignon wines grown in Australia. Occupying a small corner south of the greater Western Australia region, it's home to reputed wineries like Vasse Felix, Moss Wood, Xanadu and Cape Mentelle. Gentle slopes and undulating terrains provide ample access to sunlight in order to meet the necessary ripeness for optimal growth. Gravel-based soil type with low water retention sets the harsh conditions for the vines' growth. The English proverb, "when the going gets tough, the tough gets going" applies to quality vines as well.
Mirroring their style to that of the left-bank of Bordeaux, red wines are either commonly blended with five other permitted varietals or otherwise solely Cabernet Sauvignon based. Wine makers have the flexibility to create the unique profiles of their wines by adjusting the proportion of different types of grapes used. Some grapes provide structure through tannins and acid, while others provide ripeness from their juicy attributes. These wines are cultivated under a maritime climate of cool weather, and sheltered from the wind by the hills littered along the coastal line. Unlike the ever-outgoing Shiraz of warm climates like the Barossa Valley, I liken these wines to behaving like a disciplined, serious man. Much finer on the palate and with a more complex flavour expression, these are age-worthy wines, with a nice potential to be cellared for well over a decade.
Thanks to CH, I recently received two fine bottles from Fraser Gallop Estate, a Cabernet Sauvignon Merlot 2011 vintage, and a Parterre Cabernet Sauvignon 2010 vintage. The wines are the culmination of the works of Nigel Gallop (vigneron), Clive Otto (winemaker), Kate Morgan (assistant winemaker) and Paul Pavlinovich (vineyard manager). Determined to create wines with a distinct sense of origin or terroir expression, the vines are not irrigated, leaves are carefully trimmed and berries are hand-picked. This goes a long way in ensuring that the best of every single berry is exemplified and damage is minimised.
I called upon a friend, fellow Certified Specialist of Wine, Mr Lim Hwee Peng. A certified French Wine Scholar and a judge in the Dan Murphy's 2011 Margaret River Wine Show, he is the ideal man to consult, with his in-depth knowledge on both French and Australian wines.
We started with the 2010 Parterre Cabernet Sauvignon. First impressions matter. Slightly woody with the ripeness of black fruit, we both quickly detected hints of 'stemmy' herbaceous, which added a nice complexity to the aroma. Once on the palate, we were charmed by the balance between acid, tannins and the richness in flavour. Although labelled as Cabernet Sauvignon, the wine is actually a careful blend of Cabernet Sauvignon, Petit Verdot, Malbec, Merlot and Cabernet Franc. Australia's wine laws permit naming the bottle as a single varietal when the composition of that varietal is at least 85 percent. This classy Australian wine with its Bordeaux expression easily puts it amongst the ranks of French Cru Bourgeois when tasted blind. A premium wine that can stand the test of time – easily between seven to ten years.
The 2011 Cabernet Sauvignon Merlot behaved like a younger brother of the 2010 Parterre. Possessing more prominent herbaceous notes that were fortunately not overwhelming, initial impressions showed restrain on the aroma, and presented grainy raw edges on the texture. After a significant amount of aeration, the tannins mellowed (and the texture became akin somewhat to that of powdery coffee powder in the mouth) and nicely displayed the aroma of the cranberry's and strawberry's red fruit ripeness. This wine would pair nicely with meat dishes with layers of fat or a rich gravy that would soften the wine's overall texture. Perhaps designed to be a more straightforward bottle of wine, it will need to mature for another three years or so before it can be enjoyed on its own without being paired with food.
These wines are currently exported to United Kingdom, Canada, Switzerland and Hong Kong. Alternatively, orders can be placed online for international shipping with freight rate available on request. To avoid any surprises, do check with local authorities regarding import and tax laws.
Wai Xin is constantly educating himself in all things wine-related. Believing strongly that wine is for enjoyment and not a trading commodity, he encourages sensible, affordable drinking and the exploration of individual preferences. A Certified Specialist of Wine, his personal wine blog is on www.winexin.sg.