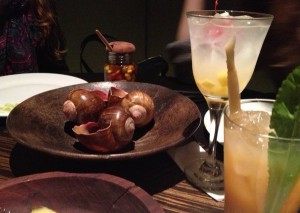 To those familiar with the cuisine found in the South East Asian jungle, Amazonian cuisine may, or may not come as a surprise. It comprises similar preparation methods and ingredients, including grilled bananas, meats and seafoods. I had just come back from Tarapoto, a city in the San Martin region, and had sampled popular dishes such as tacacho, and patarascha, which involved the grilling of meats and seafoods on heliconia leaves.
Now back in Lima, a comfort merely an hour away from the jungle, I found myself in Amaz, which is on the World's 50 Best Restaurants. Amaz presents the best of the tropical rainforest in its ingredients, and reinvents dishes from the inhabitants in the Amazonian rainforest. Amaz was also featured in Mistura 2013 as well (see here for my review on Mistura). Chef Pedro Miguel Schiaffino designed the restaurant as such to create an otherworldly, Amazonian experience for diners. The ingredients used are a result of the close relations between producers and Chef Schiaffino, and are thus sustainable and fresh. Upon entering Amaz, I was greeted by the entrance mascot, a colorful leopard by artist Rodrigo Tartido. That set the tone for my taste of the diversity of Amazonian ingredients.
I could not recognise any of the ingredients nor the dishes on the menu (my knowledge of Peruvian cuisine being insufficient). To placate my anxiety, the waiter suggested a sample of various dishes. Soon came the appetisers – to my horror. My two french companions, were not at all surprised when our churos pishpirones, or slow – cooked, giant Amazonian snails arrived at the table. Served in a spicy sauce and sago like seeds, the snails were, well, gigantic snails, but tasty indeed. Other appetisers included tapioca and banana empanadas filled with mozzarella cheese, fried in cashew nut oil.
The other main courses included an Amazonian twist to lomo saltaedo, which is a Peruvian-Chinese stir fry with a touch of bananas, and rice with a touch of coconut. We also had pacamoto, an indigenous dish with chorizo that is prepared and smoked in a bamboo tube. And then came the desserts. To have chocolate made from cacao grown in the Amazon is an amazing experience, to say the least. I have had a field time sampling chocolates and various cacao products when I went in search of cacao around Tarapoto last week. But that is another recount for another time. I have had my Amazonian fix.
Amaz
Av. La Paz 1079
Miraflores, Lima
Peru
Tel: +51 221 – 9393
www.amaz.com.pe

Michelle loves her food - street food, exotic foods, you name it. Aside from cooking and experimenting with new ingredients, she is also interested in how food and the habits of having meals are closely intertwined with culture, tradition, memory, and identity. Otherwise, while she's not doing any of the above, she would be making art and hitting the books.