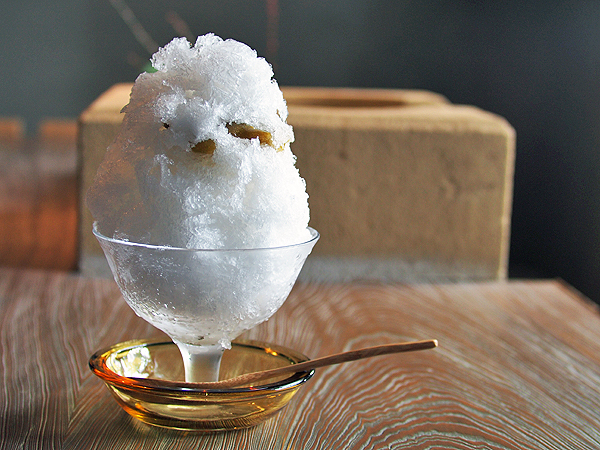 When I had told my wife S that I was taking her to Tokyo to celebrate our wedding anniversary, she pretty much left the planning to me. The only requests she made were a stop by her favorite designer's boutique in Omotesando and a visit to Baishinka, the gorgeous new tea room opened by the folks behind Higashiya (which we've established in an earlier article that she's quite obsessed with). Of course, I was happy to accommodate her requests.
Baishinka is located in a beautiful house in the Southwest of Tokyo. To get there, do not do what we did… which is take the train to Meguro station and then cab it from there, using this map to inform the cab driver of your destination. As the minutes went by, and as I watched the taxi fare get higher and higher, I realized that while the address says "Meguro", it was actually very far west and north of Meguro station. Y2,700 west and north to be exact. Of course, in typical Higashiya fashion, the website does nothing to aid foreigners (i.e. non-Japanese speakers) from finding the place. So, having visited, and having used Google Maps to pinpoint the location while there, here's the best way there. Take the Tokyu Toyoko Line, which you can pick up from Shibuya station, to Toritsu-daigaku station. From there, grab a cab, once again using the map found at this link; of course, if you actually look at the map properly, which I have to admit I didn't, Toritsu-daigaku station is actually on it. Duh! From Toritsu-daigaku station, it's only a few minutes away and just Y700.
Once there, Baishinka is utterly relaxing. (Too relaxing in fact for some guys. So boys, while your wives will adore this manicured, minimalist, zen-chic tea and snack house, if you get bored easily, let her go alone, or better yet, find a girlfriend for her to go with.) The entrance is elegant and impressive. You walk up a garden path to discover a beautiful old home that has been renovated. Touches of modernism give the house a lovely, timeless and inviting feel. Upon entering, you will be greeted by a concierge, dressed like an Asian major domo from a Lewis Carroll fantasy.
In the first hallway you enter, you'll encounter the gift shop, essentially a counter filled with some of the signature treats that you can buy–for yourself or for discerning friends. Among those, I highly recommend buying a pack or more of what they call kurobo. Kurobo (which means "black sugar stick") look like burnt biscotti but taste amazing. They are, I now believe, the perfect cookies to dunk in milk.
Towards the left sits Yakumo Saryo, a reservations-only Modern Kaiseki restaurant that has a cult following in Tokyo. In the opposite direction, behind a discrete sliding door sits Baishinka, which is really just a large room with a raised section that has a tea counter and a lower floor with a large square communal table.
The menu, I should also say, is entirely in Japanese. And while the major domo speaks English well, he won't be waiting on you in Baishinka. You'll be left to deal with staff that speak barely passable English. The best thing to do is ask for wagashi, upon which you'll be presented all the available treats that day. You can also ask, in hot months, for kakigori, a popular Japanese shaved ice dessert, which they'll most likely have available (the one I had the day we visited was ume — plum —  flavoured). And ask for your favorite kind of Japanese tea. If they don't have that, they'll try their best to suggest something to you.
Once your snack and tea are served, join the Japanese housewives seated at the table with you and stare out the window, which looks over their lush gardens, and contemplate life. (Or you could be like me, and open Google Maps and try and figure out exactly where the hell you are while your wife oohs and aahs over Baishinka's beautifully made Japanese desserts.)
I honestly don't know if I'll ever go back to Baishinka. I think S would. But I think she'd do so with girlfriends living in Tokyo. And if she does, I'm making her bring me back some of those kurobo cookies!
Baishinka
3-4-7 Yakumo, Meguro-ku
Tokyo, Japan
Aun has always loved food and travel, passions passed down to him from his parents. This foundation, plus a background in media, pushed him to start Chubby Hubby in 2005. He loves that this site allows him to write about the things he adores--food, style, travel, his wife and his three kids!