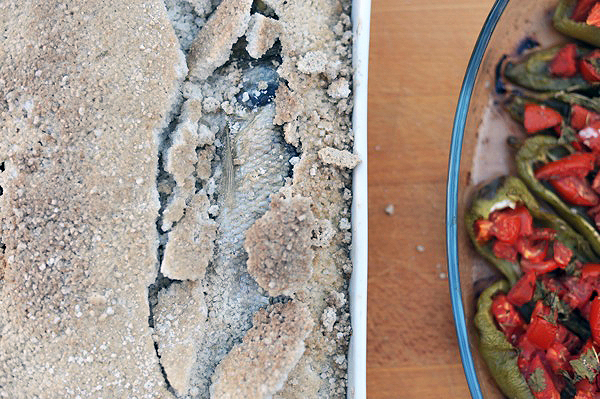 Ask any foreigner what the best place to visit in France is, and you'll get a long and varied list peppered with sighs and "oh, but it's impossible to choose". Ask a French person what the best place to visit in France is, and you'll only get one answer – the region that they are from. We are proud, chauvinistic creatures…
I am no different of course. If you ask me what the most amazing place on the planet is, I have only one answer – the Ile de Ré. That's why I talk about it so much on The Kitchen Nomads. I mean the place has its own, trademarked brand of gem-like new potatoes, for crying out loud!
A curved bridge away from the west coast of mainland France, this long and thin island of beauty has been a favourite holiday destination among those looking for something a little more wild and authentic for years, and it's easy to see why: surrounded by sandy beaches, oyster beds and salt marshes, each of the island's seemingly secluded villages has both breathtaking scenery and quaint local charm. Not to mention incredible food.
There's nothing easier than jumping on your bicycle (which the Ile de Ré has plenty of, on account of it being so flat and easy to ride on) and riding to a favourite spot to spend an afternoon sipping on a glass of rosé wine (the island has its own vines – you can't get much more local than drinking wine made from the grapes behind your table…) and nibbling on a plate of freshly caught seafood to the sound of rocking boat masts. Strolling along the harbour front of one of the little clusters of white-washed houses and alleys of hollyhock, it's hard to know what time of day or year it is. It's hard to even care.
The ubiquitous bicycles are often the only way to get in touch with the island's heart and soul – a quick ride will take you through salt marshes that cars cannot access. The island is one of France's favourite producers of salt, including the unique and popular fleur de sel, a delicacy that uses only the finest salt that floats up to the surface during the production of the coarse stuff we use more liberally.
Which brings me to my recipe, bar en croûte de sel. It's simple yet full of flavour, and with its salty crust that you break away at the dining table, it adds a bit of drama to your average Sunday lunch. In fact it makes you look like a total kitchen pro, when all you have done is made the most of the fresh produce at the local fish market.
Of course, if you can't get a hold of salt from the Ile de Ré, just use any other gros sel (the coarse, unprocessed stuff). But don't let me catch you trying to trick me with it – despite my husband's incredulity, I actually CAN tell the difference!
Bar en croûte de sel (salt-crusted baked fish)
Feeds 4
1.5kg whole seabass (try to get just one heavy one, but otherwise you can fit two or three smaller ones in most big oven dishes) – ask your fishmonger to empty the fish and clean it, but leave the scales on
3kg gros sel (coarse, raw sea salt)
15cl white wine
3 egg whites
Thyme and ground pepper, to taste
Preheat your oven to 200ºC.
Wet the salt with the wine and the lightly beaten egg whites. Cover the bottom of your oven dish with about a third of the salt.
Place your seasoning inside the fish and lay it/them on top of the bottom layer of salt. Add the remaining salt and make sure it completely covers the fish, about 2 cm or so. Place the dish in the oven for about 30 minutes.
Bring the entire dish to the table and break through the salt crust to access the fish, as cleanly as you can. Remove the skin and serve with some steamed vegetables or stuffed roasted peppers. And of course a helping of Ile de Ré grenaille potatoes, those little gems that you can only find on the island.

The Kitchen Nomads are Paola, the Colombian style maven with a Spanish husband, who has lived in Cali, Boston, Barcelona and La Coruña; and Jessica, the French-English word lover married to a Northern Irish man, who has called Paris, London and Tokyo her home. They found a family in each other after meeting in Hong Kong in 2008 and started their blog to preserve the recipes of their ever expanding families and document all the wonderful things they eat and cook. They are kitchen nomads, they have both roots and wings.