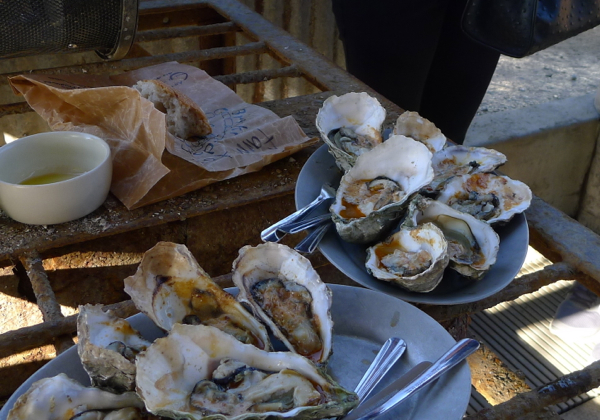 Northern California is one of my favourite destinations in the world, and nothing makes me happier than spending a week (or two or twenty) exploring the countless gustatory delights, interspersed with some fun activities and fab shopping of course.
Over Christmas, J and I took a quick trip to the bay area – as we only had a week, we wanted to take it easy and not go crazy driving too long distances or changing hotels too much. We landed into San Francisco, which is much closer from Hong Kong than from Singapore, yay, and didn't venture further than Marin County.
We ate a lot – and like many of you greedy folks out there, we sure wished we had several tummies and could eat a whole lot more. The challenge with eating being the major agenda on a trip is that, one could be actually be just too full to really enjoy the next meal, or snack, or nibble. Nonetheless, from our gluttonous week, there were some definite highlights – starting with the barbecued oyster.
The barbecued oyster from Hog Island Oyster Company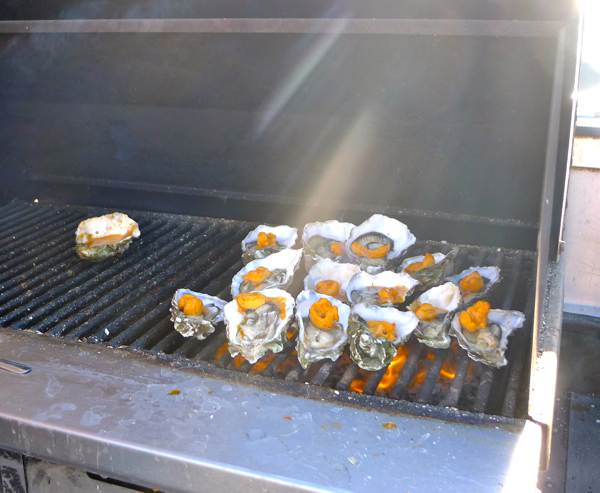 We signed up for the Flavors of West Marin Tour in the Point Reyes area on our last full day – the boutique tour company, West Marin Food and Farm Tours, is owned and operated by the very knowledgeable Elizabeth Hill. We started with some luscious pastries from Bovine Bakery, tasted the beautiful artisan cheeses from Cowgirl Creamery, shared some burgers from Marin Sun Farms, did a quick stop at the Point Reyes Winery, and culminated with oysters from the Hog Island Oyster Company.
Back to the barbecued oyster. We kicked off with some fresh oysters – for me, fresh oysters are fresh oysters, and while I generally find them pretty nice (deliberate use of the overused adjective), I've never been a giant fan. But. The barbecued oysters – oooohhhh. I have never had barbecued oysters before, and these were just – literally mouthwatering. Each glistening beauty arrived swimming in a little pool of sea-salty oyster juice that was gorgeously infused with the special chipotle bourbon butter each one is barbecued with (as in, they put a large dollop on top of each one – see image above, the orange chunks are the butter). I wanted to have ten, or maybe twenty, sitting at one of the bench tables with a spectacular view – but it was our last stop and we had to be on our way.
The Truffle Shiitake Royale Burger from Umami Burger
Founder of Umami Burger Adam Fleischman – who opened his first store in Los Angeles in 2009 and now has over twenty, primarily in California – is set to vastly grow his empire. It was our virgin experience (we visited the Oakland one) and it was indeed worth waiting for. My burger (the burger on top in the image above) arrived smothered in creamy truffle goodness and the bun was warm and toasted just right. J had the Manly burger (beer-cheddar with bacon lardons) which was just as delicious.
Triple Decker Carrot Cake from Norman Rose Tavern
I adore large layered cakes, and carrot cake is a firm favourite. We had dinner here on our first night in Napa, and even though we were super stuffed (the rest of the non-dessert meal was outstanding as well. We had really fresh mussels in garlic herb broth, the buttermilk fried chicken sandwich, mac and cheese and a large bowl of fries – of course, I'd wanted to order more than that but the waitress said – erm, you may want to wait and see if this isn't more than enough – !!) I just had to finish with something sweet. This carrot cake was the best I have ever had – truly. The level of sweetness and the cream cheese frosting was done just right, and the cake layers were juicy and firm. What made it extra special, however, was the candied pecans. They elevated an already delicious slice of cake to uber exceptional-ness with the combination of soft cake and crunchy pecans. Wash it down with steaming black tea, my beverage of choice with anything sweet.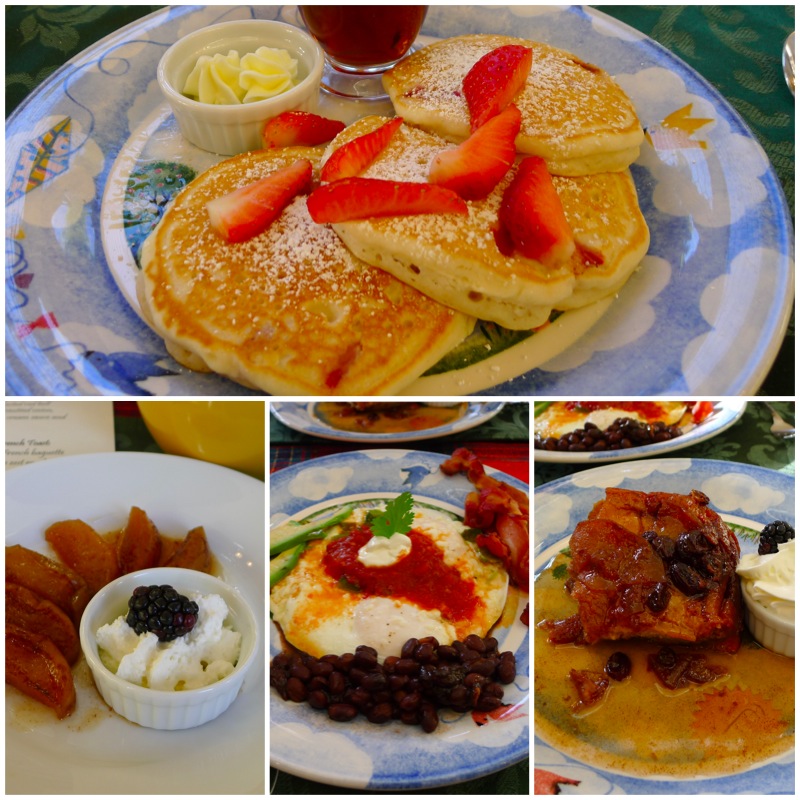 Don't you just love bed and breakfasts? I find nothing more comforting and luxurious than rolling out of bed and tucking into a freshly prepared delicious breakfast, preferably of several courses. This was our second visit to Churchill Manor – and the breakfasts (and the very lovely innkeeper Susan) were as great as we remembered. Breakfast is served in the sun-dappled dining room and on top of the usual yogurt, cereal and pastry selection, and the fruit-based starter (different each day), guests are presented with a choice of a served sweet or savoury entree. Of the breakfasts we had during our three-night stay, my faves were the huevo rancheros with bacon – with lots of hot sauce, the baked french toast with berries, and fluffy golden pancakes with strawberries.
Hog Island Oyster Farm
20215 Shoreline Highway.
Marshall, CA 94940
www.hogislandoysters.com 
Umami Oakland
2100 Franklin Street
Suite 2190
Oakland, CA 94612
Tel: +1 510.899.8626
www.umami.com
Norman Rose Tavern
1401 First Street, Napa, CA 94558
Tel: +1 707 258 1516
www.normanrosenapa.com
Churchill Manor
485 Brown Street
Napa, CA 94559
Tel: +1 707 253-7733
www.churchillmanor.com

Charmaine considers gluttony the most beautiful sin, and enjoys exemplifying it as she goes about her daily activities. Luckily for her, she currently lives in Hong Kong, the purported greatest city in Asia for everything to do with food (it's a close fight with Singapore, where she was born and bred). These days she can be found (over)eating, thinking of what and where to eat next, and attempting various recipes in her kitchen.