Since are so many choices when dining in Tokyo, why do I keep coming back to something so simple like Yakitori? Yakitori is ostensibly the most basic of foods – meats and vegetables, grilled on a stick. Many cultures have something similar like Thai moo ping (grilled pork on a stick) or Turkish kofte (grilled lamb kebabs) but I would argue that the Japanese version of a meal on a stick is by far the best. The Japanese obsession with detail elevates even the simplest of dishes and yakitori is no exception. As such, whenever I am in Tokyo I am perpetually on the hunt for a new yakitori place to try.
And on a recent trip to Tokyo, I was floored by a visit to Yakitori Hachibei in Roppongi. Not far from Tokyo Midtown shopping mall is Yakitori Hachibei restaurant. This is no ordinary happy hour style yakitori joint. It's a casually elegant resto in that unmistakable Japanese way of decorating, where rustic elements are blended with modern elements to arrive at an ambiance that is at once refined yet unpretentious – an atmosphere that belies the ethos of the food as well.
While it is located in the more tourist friendly Roppongi district, don't let that put you off. Its mainly filled with locals, which is always a good sign. And because it is tucked away – read: hard to find – it is really for foodies "in the know."
My Japanese chef friend had brought me there that night and wanted to make sure we try all the house specialties. The meal started with a serving of cabbage with vinegar for each diner. I don't know how the Japanese always manage to make something so simple seem so elevated… it's a perfect start to the meal and just whetted my appetite for the savory yakitori I was increasingly impatient to try.
We moved on to a classic chicken and leek yakitori as well as a shitake yakitori, both grilled to perfection (pictured below) . Followed by edamame croquettes, an amazing combination of mushy, creamy edamame beans with a crispy golden exterior.
And then, followed by a twist on the typical Japanese egg custard. In Hachibei's version, it is elevated with the inclusion of truffle, tomato, basil and tangy camembert cheese.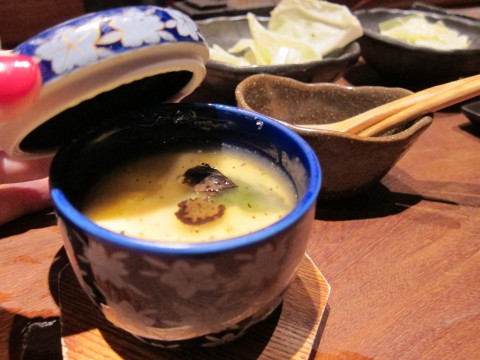 We wrapped up with a yakitori of cherry tomatoes wrapped in bacon and sukiyaki with raw egg yolk.
It's hard to eat poorly in Japan, but when you run across a meal this special it is hard to get it out of one's mind. Nowadays, I don't make a stop in Tokyo without hitting up Hachibei and would suggest that you also add it to your "must eat" Tokyo list.
Yakitori Hachibei 
〒106-0032
7-4-5 Roppongi Minato-ku Tokyo
Inagaki building B1F
Tel: +81 3-3475 1689
www.hachibei.com
Joanna Hutchins is a culinary travel blogger based in Shanghai, China.. In 2009, Joanna founded Accidental Epicurean, a culinary travel blog focused on Asia. Joanna is also a contributor to CNNGo, Look East magazine, SE Asia Globe and Two magazine.