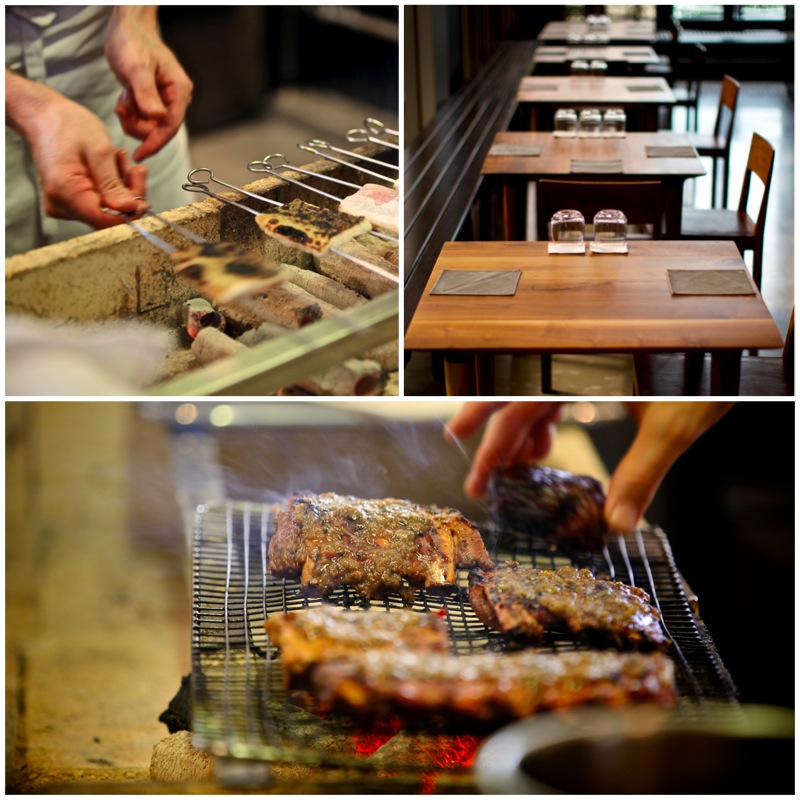 When Ryan Squires cooks, heads swivel, grown adults drool like puppies and expectations are sky high. It's Saturday night at Esq., the casual section of the multi-awarded Esquire restaurant owned by business partners, Ryan Squires and Cameron Murchison.
Squires heads up one the most prestigious kitchen brigades in Brisbane, ably assisted by head chef Ben Devlin who spent two years honing his skills at Noma, prior to his current gig.
Recent changes to the structure of the menu now give even more reasons to fill the high-backed wooden bar stools or tables that line the floor-to-ceiling glass walls and afford views of the action on the custom-made, slow burning charcoal grill.
The menu is divided into lots of little groupings under headings such as 'nibbles', 'vegetables and greens', 'starters', 'charcoal', 'mains' and 'sweet and cheese'.
We begin with dried wagyu and kim chi and from the get-go it's exciting.  A shin bone sawed in half longways has two incisions on the top.  This acts like a place card holder for a square of air-dried beef and a large piece of dried cabbage sitting up straight, spiced and wafer thin.  We break bits of both off and marvel at how it quite literally melts in the mouth.
Kim chi flavours include chilli, ginger, sugar and salt.  Separately, the two components are delicious, interesting and textural. Together they are rich, unctuous and utterly harmonious.  It's all about flavour but it is also deceptively meaty.  Wikipedia may need to list this little number under the true meaning of 'appetiser' as this is a near perfect balance of appetite enhancer and incredible lightness of being.
Next – sashimi of NSW silver trevally curled onto the plate with hints of blonde soy and a creamy emulsion of mustard leaf.  Mustard leaves garnish the plate as do slithers of pickled ginger and for dipping purposes, there's a little pile of porcini dust sitting on the side of the David Edmonds bespoke bowl, which adds depth and another flavour profile to the dish.  It's clean, lean and earthy and it's a platform on which the fish can shine.
Thumbnail sized agnolotti is filled with fresh sweet corn and there's a veil over the little cluster that we initially can't identify but soon find out it's a see-through layer of Tasmanian abalone.  Of course it is.  Adding richness and again, texture, each course just keeps getting better.
I want to ask for another four servings of this but before I can do so, another hand thrown bowl is placed in the centre of the table – it's a warm loaf of rye bread with house-made butter and pickles.  We can't stop ourselves – it is that good and makes shop-bought bread, butter and pickles look quite a tad ordinary.
Lamb belly is cooked via sous vide for three days at 72 degrees celsius.  Dressed with anchovy and olive, a perfectly glazed rectangle of lamb sits next to roasted Jerusalem artichokes and a vivid puree of cavolo nero.  Mustard leaves and red elk garnish what is a plate of flavour explosions and balanced combinations.
On a separate visit we order the native Murray cod, which comes off the charcoal grill slightly scented with garlic, Kinkawooka mussels topped with béarnaise and a salad of cold soba noodles. My next visit will definitely involve coal roasted steak with fried leek, ketchup, horseradish and mustard seeds (which I have on good authority is wicked).
Peter Marchant is arguably Brisbane's best known and most convivial sommelier, so it's his wine list and menu of beers, aperitifs and spirits.  Aperol spritz and negroni are suggested and there's a thoroughly comprehensive wine list of cherry-picked labels from both the new and old world.
"We are continually changing the list and will continue to source small batch wines that provide interest and unique insights into the regions they are from. We will also be increasing the number of older Australian wines on the list," says Marchant, who also believes the most important aspect of service is training.  "(We teach) our team to think about more than just flavour, as texture is critical also. Taste, taste and taste some more."
Wise words and that's exactly what we continued to do as dessert time came around and dishes like grilled popcorn parfait and Campari with curds and whey milk ice cream is on offer.
Something of a signature dessert, the Campari, pictured below, is a study in texture with impossibly creamy ice cream, subtle and light against the punchiness and crunch of the Campari sherbet.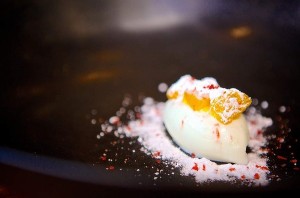 'Take only what you need' is Squires' credo when it comes to sourcing produce but its also very clear that those 'needs' include only the finest ingredients available and he works very hard to procure it.
"Our philosophy at Esq. & Esquire is that we design the menu around what's available for that particular day, what's best RIGHT NOW… I get product lists sent to me via text from different suppliers every day on what's coming in, what's available now or potential new lines. From this we put ourselves under some pressure to make use of this particular species or product," says Squires.  "Most of the time we don't have a plan of attack so to come up with something new on the spot is exciting and refreshing mentally."
Sourcing produce, particularly seafood is very important, as is the sustainability of seafood supply and the ongoing care of our waterways and oceans.
Squire's visits wet boats and auctions regularly.  "This for me is the best time of the day, looking, feeling all while gathering new thoughts and getting inspired," says the co-owner of the Brisbane Times Restaurant of the Year two year's running.  "To hand select produce is key."
With this level of commitment and passion coupled with polished service and a pristine environment, it's not surprising that esq. is one of the most impactful and exciting venues in town.  What is surprising are the prices; where you'd expect them to be through the roof, they are anything but – making this a venue for the everyday as much as for a celebration.
Esq. and Esquire
145 Eagle Street
Brisbane QLD 4000
Australia
Tel: +617 3220 2123
www. esquire.net.au
Lizzie Loel is a Brisbane-based qualified chef/turned restaurant critic for The Courier Mail since 1999. After a two-year break she re-entered the industry and has recently returned to review for QWeekend Magazine every Saturday. Lizzie reviewed for Australian Gourmet Traveller Restaurant Guide for the seven years and was State Editor of Australian Gourmet Traveller from 2004 - 2007 and her bi-line regularly appears in prestigious publications such as Winestate Magazine and Delicious Magazine. Lizzie was the founding editor of the Courier Mail Food + Wine Guide since 2007.