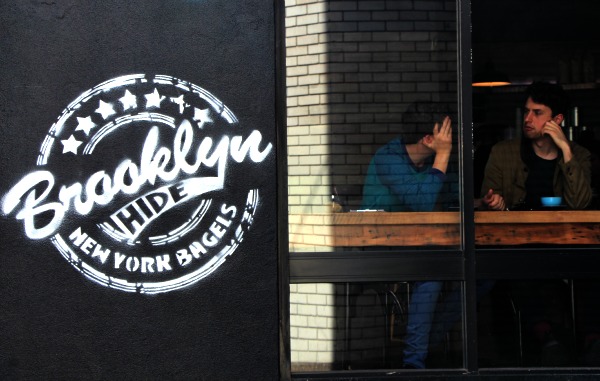 Sydney's latest craze for bagels, milkshakes and sloppy joes has seen a number of cafes and restaurants pop up with specialty items.  A standout is Brooklyn Hide.
Chef and owner Matthew Forsdike and business partner Daniel Littlepage have combined their kitchen experience and business background with their love for New York to create Brooklyn Hide.  The café's location, the corner of Commonwealth and Belmore Lane in Surry Hills, looks and feels like Williamsburg, NYC.  The vibe is like that of a coffeehouse; inclusive.  Wood-covered walls, high tables, window seats, an open kitchen, and funky decorations like an old radio and a vintage telephone.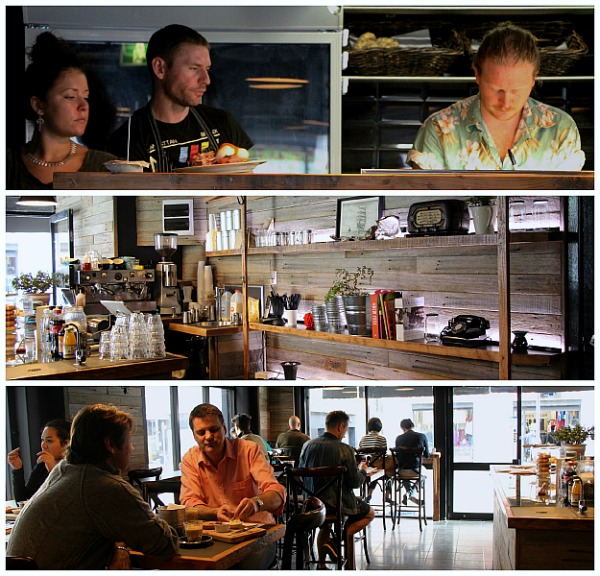 Brooklyn Hide is not your average bagel place, and the food served is by no means typical either.  The ingredients used are premium and well worth the price.  Each sandwich is named after a New York City neighbourhood, and the combinations offered with these boiled (not baked) bagels, are the bomb.  You pick your borough and are transported to the US.  I ordered the Tribeca, filled with alpaca ham; yes you read right, salty alpaca ham with cranberry jam, spiced labna, and baby spinach.  The sweetness of the jam and the tartness of the labna balanced the saltiness of the tender alpaca ham.  The latter is sourced from one of Australia's only alpaca meat farmers.  Talk about specialty produce.
The Hell's Kitchen bagel has avocado and prosciutto, Greenwich, the vegetarian option, comes with spiced tomato, pickled carrots and slaw, Manhattan is the traditional cured lox and cream cheese bagel brought up a notch with a drizzle of honey vinegar and rocket, Noho has poached eggs and alpaca ham, and Midtown, the reuben, is filled with generous amounts of corned beef, gruyere and sauerkraut.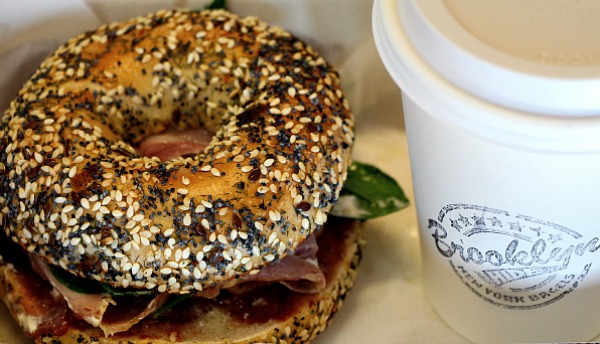 If this sounds too filling, the sourdough, poppy seed, everything (multi seed), blueberry, cinnamon raisin, and gluten free bagels are available on their own, or with a schmear of cream cheese, jam, vegemite, peanut butter or nutella.
To drink, there are hot and cold pick-me-ups, fresh juices, tea, and noteworthy coffee.  The Little Marionette, a much-loved Sydney roaster, has made a specialty blend for this hip bagel joint.   At midday, there are daily soup specials such as artichoke and parsnip or potato and leek.  From bread to biscuit to drink, Brooklyn Hide works like a charm.   Trendy, but not pretentious, it's Surry Hills at its best.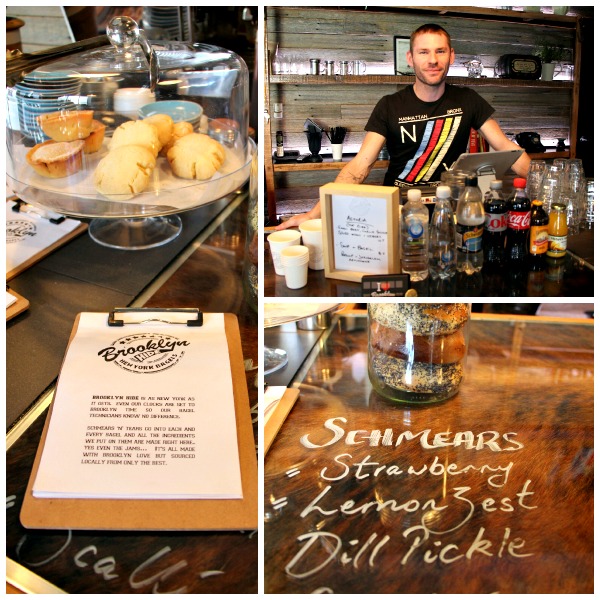 Go for the novelty, return for the delicious food, friendly service, and cool surrounds. If it's too busy on a weekend, get your bagel fix take-away, but get it.
Brooklyn Hide
226 Commonwealth Street, Surry Hills
New South Wales 2010
Australia
Tel. +61 1300 638 485
www.brooklynhide.com.au

Janice is a girl from Lima, Peru who loves a good cebiche and a glass of dry Riesling. She travels the world (often for food or to check out new restaurants) and lives in Australia. Janice tries to learn about different countries through cuisine, and takes advantage of Sydney's multiculturalism by exploring gastronomy in all of its forms. Grower's markets, wine tastings, restaurant openings, cooking classes, shopping for specialty spices; she's keen to do it all.