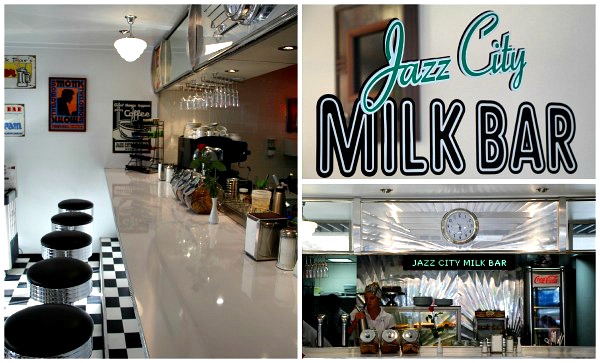 American chef Dan McGuirt moved to Australia to further his career within a fine dining kitchen.  After a successful time cooking at Melbourne's Vue De Monde, he decided to go back to his roots, and opened Jazz City Diner, a restaurant that would give Aussies the opportunity to taste the American South.   Making his New Orleans grandmother proud, McGuirt set his mind on offering robust, comfort soul food.  With the success of his first restaurant, he's opened a second, more casual spot: Jazz City Milk Bar.
The idea behind the milk bar is to evoke a sense of nostalgia.  The music, the decor, and of course the menu, all take you back in time. There are chilli dogs, barbecue shrimp with buttermilk biscuits, pastalaya, a take on the traditional New Orleans jambalaya made with pasta instead of rice, and Cajun meatloaf with Johnny cakes.  To indulge the sweet tooth, there's cotton candy (or fairy floss), malted milkshakes and root beer floats, red velvet and German chocolate cakes, an enormous banana split, as well as generous serves of cherry, coconut cream, and pecan chocolate pie.  On weekends, beignets and waffles are also offered, making the space both child friendly and an entertaining adult affair.
The small wine list is clever. For those unsure as to which wine should accompany this type of food, the menu highlights the suggested pairings next to each dish.  The selection of Californian Zinfandels on offer is a standout as Sydney still doesn't see much California wine in its restaurant lists.  I'd be pleased to give one or two of them a try.
With the exponential excitement over dude food, the popularity and return of old school favorites, gourmet hot dogs, triple-cooked fries, and the use of peanut butter and bacon as sweet and savoury items; it was one specific and particular dish that drove me to Jazz City Milk Bar.  This item is the star of the menu, at a hefty one-hundred (Australian) dollars, offered only during the last week of each month, is the Benjamin Franklin Burger.  It consists of: a brioche bun, tomato, black truffles, wagyu beef, butter poached lobster, and 23-carat gold leaf mayonnaise.
Considering that the other burgers are all under A$20 each, this was one important burger indeed. And clearly, the objective here isn't to keep it simple.  Contrary to most high quality burgers around, the intent is the opposite; use multiple great ingredients to create spectacular awesomeness.  In the words of Dan McGuirt, what drove him to put the Benjamin Franklin Burger on the menu was simple, "I wanted to make the best burger in Sydney".
As I waited, I re-read the menu and thought about the possible marriage of the premium elements of the dish.  Would it be the case that, with one big bite, they'd all blend into one perfect bit of wagyu, lobster, truffle, and brioche, leaving my lips decorated with gold flakes? I sipped on a glass of Merlot as I waited for the platter to arrive, and a majestic entrance it sure made.  Served on a silver platter, the Benjamin Franklin Burger arrived with the announced set of duck fat fried French fries on the side, and the intriguing foie gras milkshake.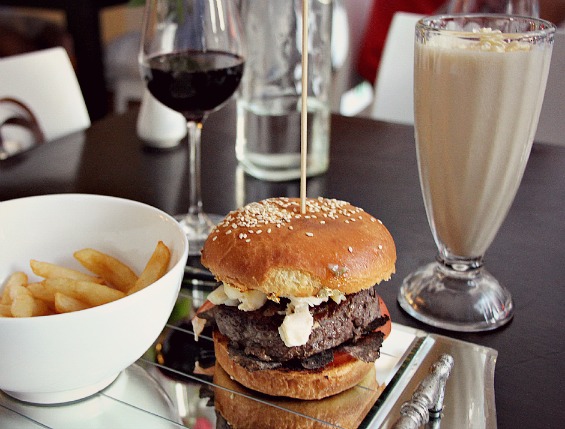 I then asked myself, what makes a great burger?
For starters, great burgers have great buns. The sweet, sugary brioche bun works well for Benjamin Franklin.  It doesn't quite melt in your mouth, but since it isn't starchy or crunchy, it holds up nicely with the rest of the party, and supports the beef patty well.  The beef was packed tightly in a thick, generous portion.  It made biting into the burger a little bit hard, but enjoyable nonetheless.  I like hamburger meat to have a touch of pink, it makes it juicier.  Given the size of the Benjamin Franklin patty, it's possible that achieving such colour would have been an extra challenge.  The flavour was good though, and lightly seasoned.
Visually, the gold leaf was stunning.  The chunks of lobster meat were generous, although the flavour didn't quite come through, seeing as it can be very delicate.  The black truffle shavings gave the entire hamburger extra earthiness, and the slice of tomato added juiciness to each and every bite.  The duck fat fries were crispy on the outside, tender on the inside.  I've had them before, and on this occasion I, once again, enjoyed the crunchy exterior and the fluffy interior of the potatoes.
The milkshake was the biggest surprise of all.  Sweet foie gras combinations are more common in the United States than in Australia.  Doughnuts with foie gras and jelly, oreo-style cookies filled with foie gras, and even foie pancakes have made their way across the USA.  The milkshake, however, is a rather unusual find.  Top Chef Winner Richard Blais is one of the only people to serve this at Flip Burger Boutique in Atlanta, Georgia.  Therefore, it is exciting for Dan McGuirt to give Sydney a taste of something this creative, albeit controversial.  Made with amaretto to balance the potential saltiness of the drink, it was silky and palatable.  It tasted extra-milky, rich, and almost unctuous in texture, but it wasn't bitter, and lingered in a way that impelled me to continue taking long sips of the shake.
Jazz City Milk Bar is full of surprises.  The simple sounding southern dishes are presented as meticulously as those in fine dining restaurants.  As for the Benjamin Franklin Burger, it is an extravagant affair catered for those willing to pay for the adventure.  I'd be just as happy to sit by the counter, sip a soda float, and order up some cotton candy.  I'm excited to report that Chef McGuirt will soon be offering American style barbecue dishes, cooked slowly with a special oven he imported from the US.
The excitement, the nostalgia, the consistence of theme from beginning to end, and the tasty food and quality ingredients are all vibrantly present in the milk bar. In order to keep the magic alive, to feel the comfort of the 1930s, enjoy Louis Armstrong's jazz, have root beer floats, pies, and perfectly plated quail, my only recommendation would be for the service staff to get more on board.  The chef is smooth and easy going; and he's clearly passionate about his establishments.  Some of the team members behind him, however, need to be as enamored with the restaurant as are McGuirt and his growing number of followers and fans.
Jazz City Milk Bar
Republic 2 Courtyard, Palmer Street, Darlinghurst
New South Wales 2010
Australia
Tel. +61 2 8354 1776
www.jazzcitydiner.com

Janice is a girl from Lima, Peru who loves a good cebiche and a glass of dry Riesling. She travels the world (often for food or to check out new restaurants) and lives in Australia. Janice tries to learn about different countries through cuisine, and takes advantage of Sydney's multiculturalism by exploring gastronomy in all of its forms. Grower's markets, wine tastings, restaurant openings, cooking classes, shopping for specialty spices; she's keen to do it all.