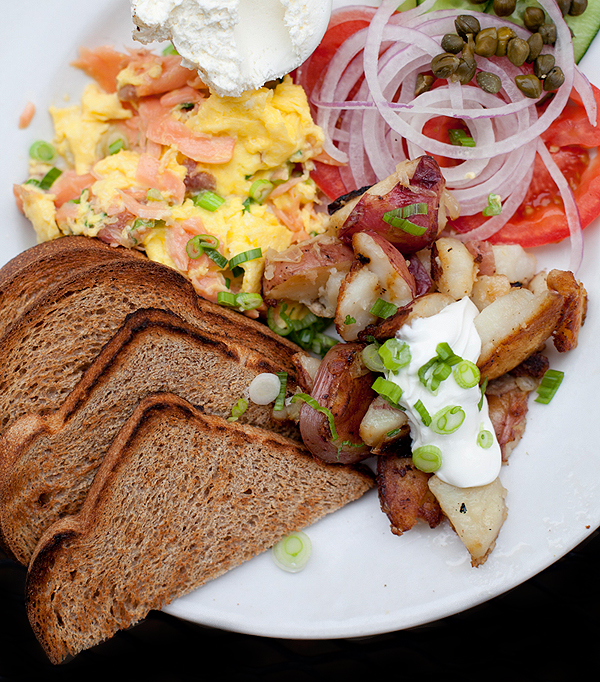 One Saturday morning in late January, while visiting friends in San Francisco, we decided to take a day trip to Berkeley. While we had several reasons for going there, one of the most important was to check out some of that area's most highly-regarded eating places. I asked my friends, some of whom knew the area well, for recommendations on where we should go to — after all, I was the tourist and they were the locals. While there were a lot of options thrown around for lunch, dinner and snacks in between, everyone agreed on where we should have breakfast. They all said Rick and Ann's.
Rick and Ann's is a true Berkeley institution. Founded in 1989, it is widely regarded as one of the #1 places for breakfast and brunch in the Bay Area.
We got to Rick and Ann's at about 1030am and, unsurprisingly, it was packed; there were at least ten people standing around waiting for tables ahead of us. The restaurant does not take reservations for weekend brunch and we were told to expect a long wait, between 45 minutes to an hour. As much as I had wanted to try this place, I wasn't sure we wanted to spend so much of our one day in Berkeley lining up. I commented under my breath, "how special can eggs and pancakes be, after all?" My friend Patricia, who was a devoted Rick and Ann's fan, heard me and insisted, "very special, like Rick and Ann's special!" So, we put our names on the list and went wandering around the area while waiting.
An hour later, the restaurant called us. By now, we were really famished. Everything on the menu sounded delicious. How does anyone choose between Erica's French Toast (challah bread dipped in orange-cardamom batter) or the very popular Gingerbread Waffle? Or favourites like the Midwest (two potato-cheese pancakes with two eggs any style, grilled tomatoes, and house-smoked pork chop) and the Down South (two cornmeal pancakes with Rick & Ann's spicy turkey sausage, salsa and two eggs scrambled with cheese)? There were so many things we wanted to try. It was a tough decision indeed and we enlisted the help of the very helpful waitress who recommended that we each select a different order so that we could sample four different specialties.
Our orders came after about twenty minutes. Between the four of us we had: Orange-Rice Flour Pancakes with Blueberries, the Manhattan Plate (lox and green onions served with scrambled eggs, bagel or toast with cream cheese, red onion, tomatoes and capers), the North East (red flannel hash served with two eggs any style and choice of toast, muffin or scone) and Ann's Tofu Scramble (tofu marinated in garlic, ginger, curry & tamari, sautéed with green onions, mushrooms, corn, spinach and sweet bell peppers).
The Orange-Rice Flour Pancakes were quite possibly the lightest pancakes I have ever tasted. They looked like any ordinary short stack but with one bite, I could tell this was like none of other gourmet pancakes I had tried in the past. The texture was light and fluffy while the orange flavour was subtle and went well with the blueberries.
The North East came with the red flannel hash which is the house special — a divine blend of fresh red beets, sweet potatoes, new potatoes, red onion and bacon, all cooked to perfection. A tiny dollop of sour cream and a sprinkling of green onions helped to lessen the sweetness from the beets. Even though it's hard to go wrong with scrambled eggs, this was really quite remarkable — it arrived beautifully warm and was light and fluffy. This and the pancakes were the best of the four dishes we tried.
As we were paying our bill, we heard someone asking for Rick or Ann. Apparently Rick and Ann, a warm and friendly couple, are usually present at the restaurant. Unfortunately, the day we visited, they weren't in. The customer told us he'd been coming to Rick and Ann's every couple of months for twenty years now. He also told us how Rick and Ann set out to offer, quite simply, good comfort food, using fresh local produce.
The service was great, especially given how busy they were; the portions were generous; and the ambience made us all feel alive and happy. Overall, it was a thoroughly enjoyable brunch at a thoroughly enjoyable restaurant. I can see why this place has been an institution for more than two decades.
Image courtesy of Simone Anne at simoneanne.com
Rick & Ann's
2922 Domingo Ave
Berkeley, California, USA
Tel: +1 (510) 649 8538
www.rickandanns.com
Mahita recently returned to Singapore after owning and managing a B&B in Bali. She now indulges in her twin passions of eating and writing. Mahita spent 30 years in advertising and hospitality. She is a sworn lover of Singapore's street food. She co-founded a small book club which has been going strong for eight years. She is also an animal lover. Mahita is married with two daughters currently in university and 3 great pets–a dog and two cats.