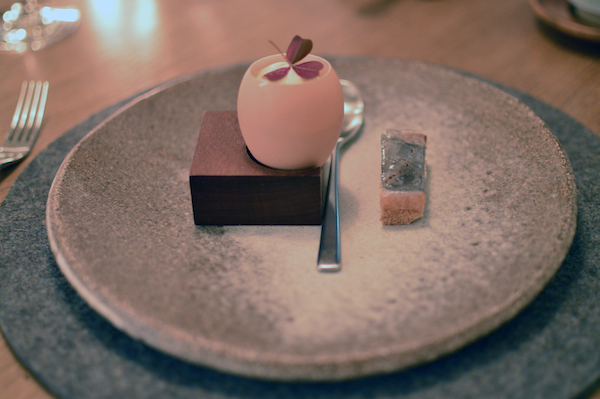 "Foie gras is boring," were the epigrammatic words of Antonin Bonnet before my dinner at Le Sergent Recruteur in Paris. Or at least, that's what I think he said; it's hard to recall bits of conversation after being plied with bubbly and Riesling. But it would be completely in keeping with the chef's cavalier demeanor, and with the feel of this lively new place, which served up some of the most playful cuisine of my weeklong stay in the city.For sure, any restaurant whose façade features a fabulous baby pink suit of armor can't be accused of being dull. Opened late 2012, "Le Sergent" is chef Antonin's beaming new baby, his first venture after working under (and with) a host of talented professionals in France and England, including super-restaurateur Marlon Abela and three Michelin-starred Michel Bras. The rather tangential name is borrowed from the historic tavern whose premises chef Antonin took over, smack in the middle of the quaint Ile Saint-Louis on the Seine, and refurbished with the interior designer Jaime Hayon. The wooden boards on the ceiling have been painted white, and the bar no longer pours "all the wine you can drink," which one particular Yelper will be disappointed to learn, but the restaurant wears its architectural and gastronomical heritage proudly, and with more than a bit of cheek.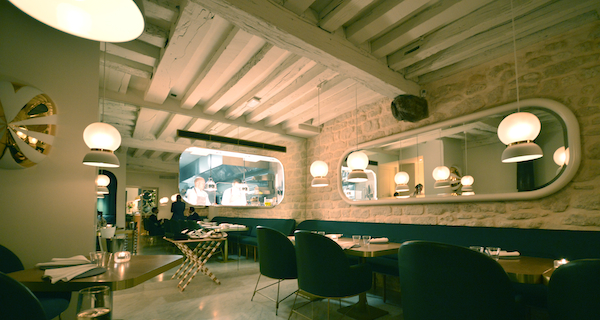 The food, too – tasting menu only – is a smidge different from the rustic fare of the old joint. Our dinner that particular night was all about seafood, with just one meat course – a juicy loin of veal – and featured some of the most unique combinations in recent memory. A small bowl of celeriac, quinoa, and sweet pea puree came with a shot glass of orange carrot juice; downing the juice first, as we were told to do, coated my mouth with a sweetness that contrasted beautifully with the strong taste of the celeriac and with the pearly quinoa. A slow-cooked egg, served trendily in-shell, set itself apart from similar dishes I've had at other restaurants with an infusion of another sweet ingredient (I think it was vanilla) and an accessory of smoked eel on toast. A tart sorbet with beetroot ice and a poached pear with chocolate ice cream and artichoke puree dared us to categorize them.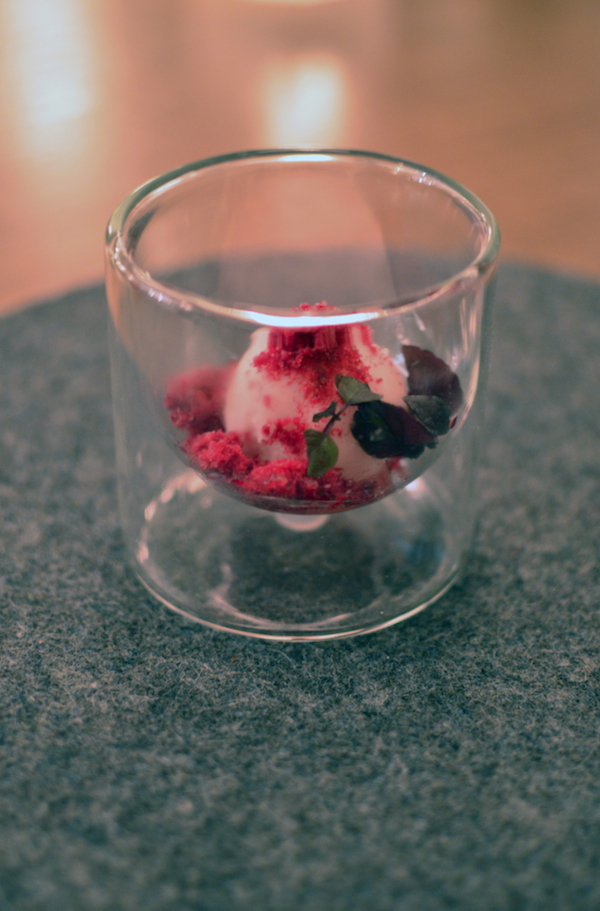 Which brings me back to the foie gras. Chef Antonin was talking to my girlfriend K, who had just confessed her distaste for the stuff and requested that it not be included in our meal. She was then told that the restaurant prefers to, ahem, recruit lesser-used ingredients and use them to create simple, but surprising, dishes. Like many of the best young chefs whose restaurants I've had the privilege of dining at, chef Antonin is a bit of a post-post-modernist, using both classical French techniques and slightly more contemporary methods, and presenting produce mostly in their natural forms as opposed to turning them into an homage to Frank Gehry.
What you get is an approachably creative meal, and a tour of chef Antonin's wacky brain. Sure, there are arrestingly simple offerings such as the veal, bathed in its own jus and looking like a boulder surrounded by an outcropping of small chunky potatoes and carrots. But then, there is also the bundle of mussels, clams, and cockles, pasted onto a kabocha puree and decorated with bitter vegetables; a herbivorous combination of sweet onion, black truffle, and watercress; and my personal favorite, a diversified portfolio of squid body, fin, and tentacles with Swiss chard and gobs of its own ink. I swear I saw the man himself winking at me from the kitchen counter.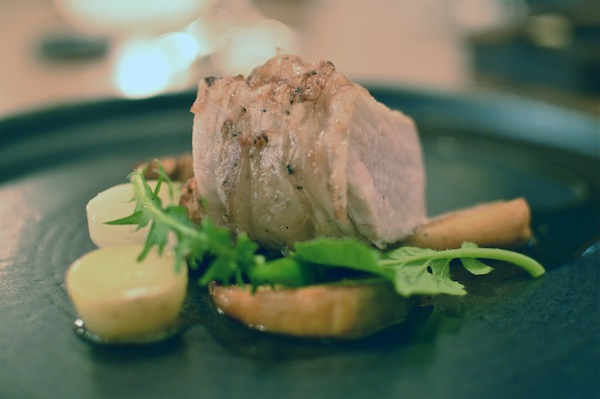 What's interesting about Le Sergent Recruteur is that it really can't be classified. It isn't exactly fine dining, even though the service is excellent and the cuisine is made with the utmost attention to detail. It isn't exactly casual, either – try serving cured mackerel with fennel and horseradish in a brasserie. It isn't exactly French, nor British; traditional, nor modern. In fact, it's a little bit of everything – everything, that is, except the B-word. In a city of centuries-old brasseries and celebrated legendary chefs, chef Antonin's mercurial, cerebral cuisine appears to be a great new addition to the scene. I'm looking forward to seeing what he'll come up with the next time I visit Paris.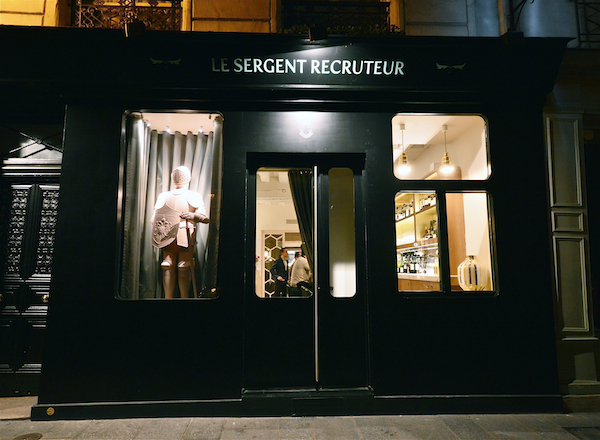 Le Sergent Recruteur
41 rue-Saint-Louis-en-l'Isle
75004 Paris, France
Tel: +33 (1) 43 54 75 42
www.lesergentrecruteur.fr
Brandon Chew's first memory is of him eating chicken rice at the dining table of his parents' old flat. His second memory is of him politely asking for, and receiving, a second helping of fries at KFC, which taught him two things: manners gets you places, and fries are the most awesome food known to man. Brandon has just returned to Singapore from New York and is happily exploring the food scene here.