Earlier this month, thanks to some amazingly cheap deals on Scoot, I was able to whisk my wife S up to Tokyo for a three day eating trip to celebrate our twelfth wedding anniversary. We had only three nights in town, which meant (to me at least) making sure each dinner was truly something special. On the first two nights, we visited familiar favorites (including, of course, Sushi Sho). For the last night in town, I wanted to take S somewhere neither of us had been. And after a bit of research, decided the restaurant I most wanted to try — and that I thought she'd really enjoy — was DEN, in Jimbocho. And boy am I glad I did. I can honestly say that DEN is one of the best restaurants we've been to in years, for a few reasons. The food is outstanding and technically without fault. You can dine at a counter, watching and interacting with the chef, which is something we both love. The sakes and wines paired with the food were brilliantly chosen. And the staff are all super sweet. But above and beyond these factors, the thing that I loved the most was chef Zaiyu Hasegawa's sense of humour, which he infused to great effect in several of his dishes.
I should say that in no way am I going to take any credit for "discovering" Chef Hasegawa and DEN. Many other bloggers before me have visited and written marvelous things about this comedian-chef. And among real Tokyo foodies, his six year old restaurant is already considered a "must visit", having been ranked Tokyo's most popular restaurant in 2012 on Tabelog; for most of 2013, DEN has been ranked the #2 on the Tabelog listings. That said, when I had asked my own friends if they'd ever heard of or eaten at DEN, none of them had. So I was thrilled to be the first among my own little peer group.
DEN is located just a two minute walk from the Jimbocho subway station. Once you know where it is, it's super simple to find. Upon entering the little townhouse in which the restaurant is situated, you will be warmly greeted and ushered to the counter on the ground floor or one of the tables upstairs (book the counter!).
Our first course set the tone brilliantly for the evening. We were served a monaka (a wafer sandwich usually stuffed with sweet things, eaten as a dessert or a snack) that enveloped beautifully smooth foie gras, dried Japanese persimmon, and smoked radish. The presentation was fun, offering you something that wasn't what it seemed — a simple snack transformed into something luxurious and delicious. From that dish, S and I knew we were in for a real fun ride.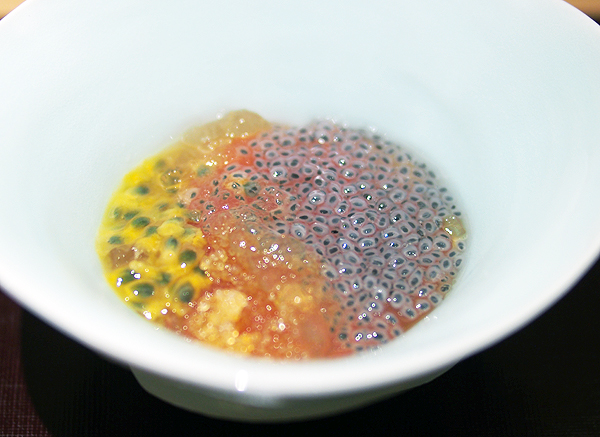 The second course was more serious. And almost a challenge to the diner. A bowl of textures, colors and shapes. I imagine a lot of non-Asians might be put off by this dish, a generous melange of tomato jelly, passion fruit seeds, basil seeds, fish roe and vinegar jelly. For us, it was refreshing and complex, a dish that said to the diner, "Okay, the first course was fun, but let's see what kind of foodie you are. Try this!"
The third course steered us right back into Chef Hasegawa's House of Fun. It was one of his signature dishes, something he jokingly calls DFC (DENtucky Fried Chicken). We were presented a box akin to a KFC box, which on second glance, had a picture of Chef himself printed on it. Inside, nestled in hay was a rubber ducky, a note to "Enjoy Dinner" and a Singapore flag. Nestled below the hay were two perfectly fried, stuffed chicken wings. The wings had been deboned and stuffed with a rice that had been cooked with three varieties of mushrooms, chestnut and gingko nut. In some ways, this dish is quite Thai — stuffed chicken wings a common dish in that cuisine — but taken to a new level of complexity.
After the DFC, we swung back towards serious food. The next course was sea urchin, abalone, and lobster with a liver and seaweed sauce, served in an abalone shell. This was a truly decadent course, smartly served in a small enough portion so you didn't feel overwhelmed by the richness of the ingredients.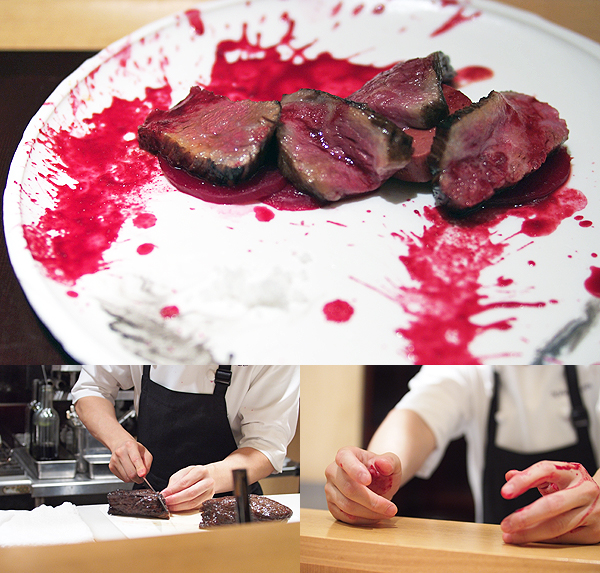 The presentation of the fifth course was quite startling. Chef came over to us quite suddenly, plates in hand. Each hand was streaked by what looked like blood, which was also splattered across each plate. Looking up at him, we were amused that he even had smeared some of the "blood" (which was a beetroot sauce) across his mouth and chin. On each plate sat four slices of wagyu beef, as well as several slices of beetroot and one slice of jelly that had been moulded to resemble coagulated blood. The beef was sensational. Chef told us that it had been slow-cooked and then steeped in dashi for one week. Right before serving, he then grilled the beef over charcoal. He cautioned us to pop each slice into our mouths; trying to bite into the beef or cut into it would release far too much juice.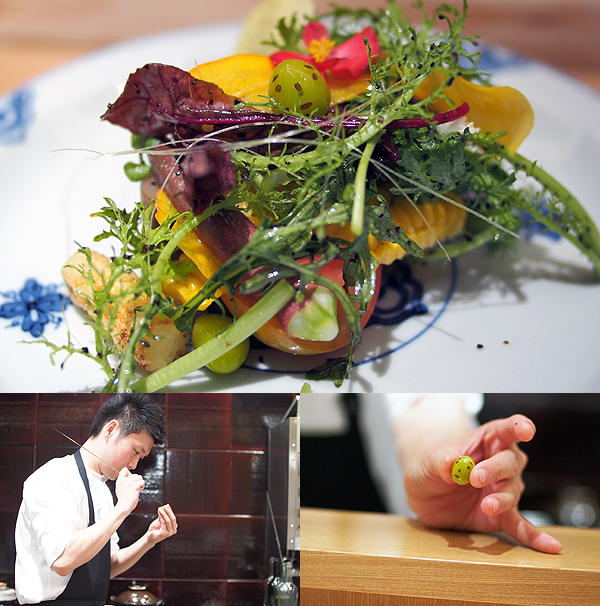 The sixth course was another of Chef Hasegawa's signature dishes. At first glance, it looks simple enough… a mixed salad. But once you start examining and tasting the components, you realize that every single vegetable on your plate has been treated and/or cooked differently. That what you are eating is an amazing feat of culinary talent. It was, without a doubt, the best salad I have ever eaten. And surprisingly (since I am not a salad person) one of my favorite courses from a menu of amazing things. Of course, Chef Hasegawa couldn't help but inject a little humour into the dish. S noticed it first. She had turned to me and said, "Do you realize all the gingko nuts have faces?" When she asked Hasegawa-san about them, he first said that it wasn't anything that he had done, that he had a supplier who sold him special gingko on which faces would appear when looked at by someone with a pure heart. He followed that up by saying that while many customers had seen them, he had yet to see one himself. Of course, S didn't believe a word he said and asked for a demonstration of how he carved the faces, which he was happy to do for her. Amazingly, it took him what seemed like less than a single second to heat up a sharp metal stick and burn eyes, eyebrows, a nose and mouth onto a nut.
The seventh and eighth courses were more serious and a little more traditional. The first was sea eel (anago) and eggplant wrapped in Yuba. The eighth was a gorgeously fragrant matsutake mushroom rice. Both were lovely dishes and the rice especially was the perfect end (of the savoury dishes at least) to the meal.

When we had entered DEN, S had noticed that lining the stone walkway leading up to the front door was a lot of moss. And in one well-lit corner, there was a small pink shovel stuck into the ground next to a sign asking you to watch your step. It honestly wasn't something that stuck out at me; wives are always much more observant than us guys. So, when our first dessert was served, she immediately saw the humour in it. It was, literally a shovel with what looked like a big scoop of wet mud covered by moss. Which, of course, it wasn't. It was a gorgeous riff on a tiramisu, covered in black and green tea, as well as charcoal powder and buckwheat.
The final dessert was equally amusing. Chef Hasegawa said he would give us a small "coffee" to end the night and presented us with two Starbucks espresso cups. As you can see from the picture, he added a happy face to one and the restaurant's name to the other. Inside each of these "DENbacks" as he calls them, was a gorgeous pudding made with sugar cane and black truffle. It was the perfect little sweet and silly something to a truly amusing and delicious dinner.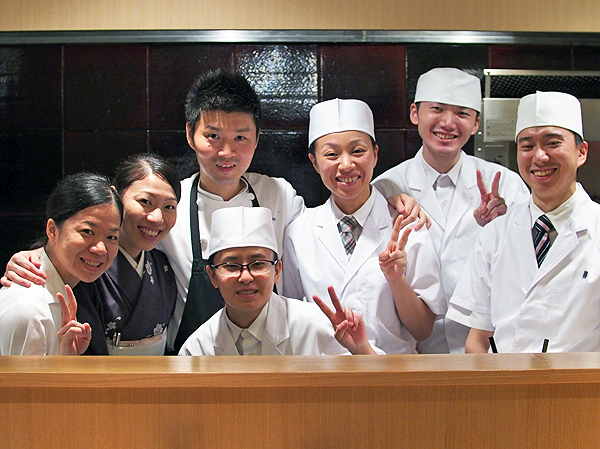 Obviously, I am now a huge fan of Chef Zaiyu Hasegawa. But I think anyone who goes and eats at DEN will leave similarly enamored with this 35 year old culinary comic's genius and wit. Add to all this the fact that dinner at DEN is, for what you get, amazingly well-priced (the dinner degustation runs Y12,000 a person). It is, to me at least, pretty obvious why DEN was and still is ranked so highly in Tabelog. And I am confident that as more international foodies discover and visit the restaurant, it will soon become one of the most talked about restaurants in Asia, if not the world.
DEN
〒101-0051 2-2-32
Jimbocho, Kanda, Chiyoda-ku, Tokyo
Tel. 03-3222-3978
Aun has always loved food and travel, passions passed down to him from his parents. This foundation, plus a background in media, pushed him to start Chubby Hubby in 2005. He loves that this site allows him to write about the things he adores--food, style, travel, his wife and his three kids!