When I hear about Peruvian restaurants opening in different cities, I keep an eye on them.  The world has finally welcomed Peruvian food as a global phenomenon, and new eateries are popping up in all corners of the world.  On a recent trip to Hong Kong, I visited Chicha, the city's only Peruvian restaurant – Chicha is known as an exciting trend-setter in the local restaurant and foodie circle, and also the recent recipient of Time Out Magazine's Best New Restaurant (People's Choice).
In Peru, everybody drinks chicha. Children have the sweetened, unfermented version, almost like a cordial or a soda.  It comes in two colors, white or purple, depending on the corn that it's made from. Boiling the corn produces the drink, and in the case of chicha morada (purple chicha), it not only tastes good, but looks fun too.  The drink that's popular with adults, especially in the Andes, is the low alcohol chicha de jora, made from fermented corn. Sweet, strong, soft or pungent, the beverage resonates with every Peruvian.
Created by the Concept Creations team, a group of restaurateurs who also run Tapeo, Frites, and The Roger Room, Chicha has taken Hong Kong by storm.    Wanting to open something different, and acknowledging the local interest and well received enthusiasm for Latin American food (and tacos galore), Concept Creations put together a mission to bring Peru to Hong Kong.  They approached the Peruvian Consul; they sent the executive chef and some of their staff to Lima to eat their way through the city, from top seafood restaurants to cevicherias, to street food carts selling anticuchos and picarones.
The strategy worked wonderfully.  Executive Chef Michael Van Warmelo and Peruvian Head Chef Arturo Melendez have developed a team that not only represents Peru's flavours, but executes them superbly.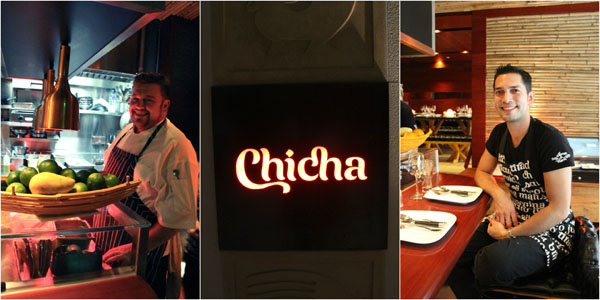 The servers pronounce the words properly, they know their way through the menu, and make recommendations based on their personal preferences, not only on what the most popular dishes are.  That's a sign of an integrated team.  They're not selling just because; they're genuinely enthusiastic about the food.  Brilliant.
My dining companion and I had the pleasure of sitting by the bar.  I find this much more interactive, when it's just the two of us, because we get to watch the kitchen in action.  Our evening at Chicha was a delight; we had Executive Chef Michael W next to us.  So I proceeded to talk with excitement, ask questions, probing about his two week eat-a-thon in Peru, his favourite discoveries, and how things are going at the restaurant.
We ordered dishes as we watched the chefs prepare everything from ceviches and tiraditos, to anticuchos (grilled skewers, the traditional ones made from beef heart), causas (mashed yellow potatoes topped or filled with seafood and avocado), chicharrones, and even taco shells with Peruvian fillings.  For those unfamiliar with the words, the menu has a description of 'the lingo', to acquaint diners with the new styles of food.

We started with a traditional ceviche de corvina.  Cubed sea bass served with choclo (giant Peruvian corn), sweet potato, red onion, and classic leche de tigre.  Sour, with the right amount of salt, fresh with a hint of heat.  The journey to Peru has begun.  The other cold, 'raw' dish that followed was the kingfish tiradito, thinly sliced, with cream of aji amarillo  (yellow chilli).  This is by far the dish that I long for the most.  I typically never compare it to my favorites from Lima, but I was so taken by Chicha's interpretation that, if the restaurant would have been empty, I'd have licked the plate.  Instead, I kept the emptied dish after I gobbled up the fish, in order to scoop out the tangy sauce by the spoonful.
Some grilled skewers arrived next.  Anticuchos made from beef heart, chicken in aji panca (yet another type of Peruvian chilli), and a refreshing tomato skewer served with huacatay (Peruvian black mint).
Michael kindly offered a few extra dishes for us to sample, insisting we try out the fish anticucho: black cod in ponzu miso and rocoto; accompanied by pan con chicharron, a miniature version of the original, hardy sandwich of pork belly with sweet potato and pickled red onion.  Served with a spread of aji amarillo paste, these sliders transported me further down the Peruvian coast.  I began to feel as if I were taking a road trip south from Lima.   We then had a tiradito of scallops, thinly sliced, served with choclo, large corn, spicy rocoto, cilantro, and leche de tigre, the traditional ceviche lime juice. Think hotate sashimi with lime and chilli – exquisite.
We sipped pisco sours, and snacked on cancha – yet another type of Peruvian corn, served at cevicherias as something to munch on while you wait for food and drink beer – as we eyed the wine list.  In true representation of South America, the list mainly contained Argentinian and Chilean wines (the strongest wine makers of the region), Chardonnay and Cabernet Sauvignon from the USA, a Brazilian blend of Pinot Grigio and Riesling, and even two Peruvian wines by Tacama, Peru's most prominent wine producer.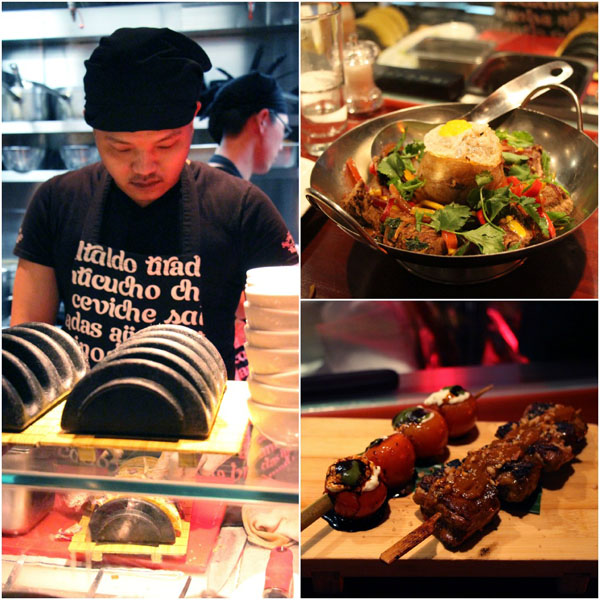 Once our round of appetizers and cold plates had been happily consumed, and we were on to our third pisco sour of the night, the show stopping lomo saltado arrived.  This dish, which is in the 'big share' section of the menu, was our only main dish since we were interested in tasting more of the smaller dishes.  Traditionally, this beef stir fry is wok-fried with onions and tomatoes, aji amarillo, soy sauce and vinegar, served with a side of steamed rice and French fries.
At Chicha, the kitchen has reinterpreted the saltado, creating a dish that's presented like personal paella, served with separate components to be mixed like a bibimbap, while maintaining all of the elements that make lomo saltado a dish that Peruvians crave, and a flavour that those familiar with the dish can recognize.
We didn't have dessert.  The cocktails and multiple servings of fish, chicken, pork, and beef were sufficient for the night.  However, the sweet offerings at Chicha looked incredibly tempting. The picarones, sweet potato doughnuts served with spiced molasses syrup, looked as marvellous as they sound, and the suspiro de limena, a traditional dessert from Lima made from a rich layer of caramel topped with meringue, was served with a twist (the meringue was infused with pedro ximenez sherry instead of port).
I'd go back with a larger group in order to taste even more things, starting with the marisco jugoso.  This spicy seafood dish, almost like a Peruvian bouillabaisse, has prawns, black cod, scallops, squid, sea urchin, and is served with rice that's been made with a yuzu lime reduction.  Now that I think about it, I'd order this dish on my own, and revel in the flavours.  Groups of four or more people can be taken for a journey on the 'Inca Trail', a set menu that includes a trio of ceviche, four types of causa, any four anticuchos, a serving of pan con chicharron, a big share plate, a salad, and some picarones.
I was seriously taken by every aspect at Chicha.  The décor was dark and trendy, but neither tacky nor overdone.  Subtle touches of Peruvian heritage, such as a traditional pottery and some images near the bathrooms, are visible, and delicate, rather than kitsch.  Staff members wear black aprons that have the Peruvian 'lingo' written on them.  The music was buzzing, yet not unbearably loud.  The place was run with ease.  We could see Michael speak to his staff at the same voice level he used to chat with us about the delights of Peruvian food.
At one stage, I had to pinch myself to be reminded about where I was.  The most exciting thing was that I could have been anywhere.  Chicha is taken straight out of Lima, but could be equally as successful and trendy anywhere in the world.
It is indeed a restaurant with Peruvian precision. Led by chef Arturo Melendez, from Trujillo, in Peru's North Coast, Arturo grew up in a town that lives and breathes the beach lifestyle, and really values the freshest seafood.  Arturo's experience as a chef also involved teaching –   he used to work at a cooking school in Lima, training up-and-coming chefs.  With this in mind, Arturo makes sure that all the basics at Chicha are done impeccably.  Coupled with the owner's creativity, and the Executive Chef's broad experience behind Australian kitchens, Belgian and Spanish restaurants, this is a buzzing piece of Latin America in the heart of hip Soho in Hong Kong.
I don't measure Peruvian restaurants outside of Peru with the same yardstick the same way I do the ones in Peru.  It is never the same, and it probably shouldn't be.  The produce and access to ingredients will never be the same.  The local understanding or openness to a new cuisine might not be as adventurous either.  So the ability to adapt a menu or represent a cuisine, based on location, is a key factor.  For this, Chicha is king.
Location, service, and a youthful, vibrant energy make the establishment a success.   The quality of the food is superb; detail can be seen from the attentive emails and phone calls with inquiries and reservations, to the warmth of the staff, the inspiration in the kitchen, and the camaraderie between the chefs. Even on your first visit, Chicha makes you feel like you've already been there; and you definitely want to visit again for another spectacular Peruvian adventure.
I'm excited to see that Hong Kong drinks chicha.  Salud!
Chicha
26 Peel Street, Central
Hong Kong
Tel: +852  2561 3336
www.conceptcreations.hk

Janice is a girl from Lima, Peru who loves a good cebiche and a glass of dry Riesling. She travels the world (often for food or to check out new restaurants) and lives in Australia. Janice tries to learn about different countries through cuisine, and takes advantage of Sydney's multiculturalism by exploring gastronomy in all of its forms. Grower's markets, wine tastings, restaurant openings, cooking classes, shopping for specialty spices; she's keen to do it all.