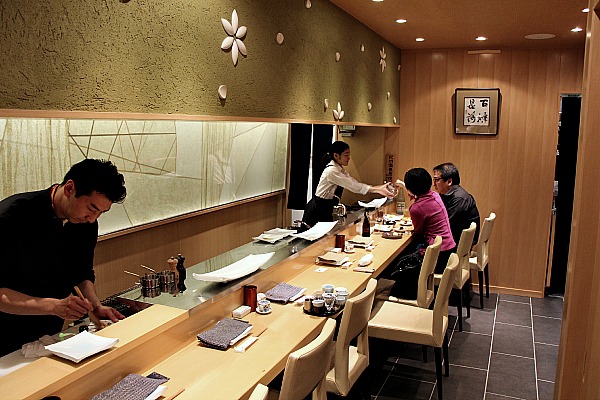 On a recent trip to Tokyo, this ten-seat restaurant in Nishi-Azabu (near Roppongi), was the only place I booked in advance.  I had read that the chef pairs his food with wine, as well as sake, and that lured me right in.
I had the best night at Yakitori Shinka.
Chef Takuhiro Murakawa spent ten years at Birdland, Tokyo's uber-famous yakitori restaurant.  After that, including some quality time in New Zealand where he gained great wine knowledge, the chef decided to open Yakitori Shinka. The set menu of 12 dishes – a combination of skewers, vegetables, and tofu- is not your usual grilled meat on a stick with a thick glaze and a sprinkle of salt.
Murakawa dishes out creativity left, right and center.  Baby corn served with husk, pate that's mixed with roasted sesame seeds, an offal stick of four different pieces accompanied by a passionfruit sauce and a slice of homemade brioche to eat with the foie gras.  There are some extra options available, like sashimi of chicken breast and liver; also a miso-soup sized serving of oyakodon (slurry chicken and egg on top of rice) to end the meal beautifully with.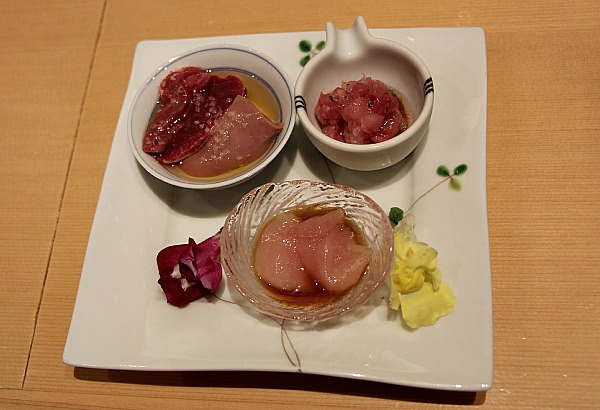 The drinks I had, from the sparkling sake to toast the start of the night, to the robust Barbera that accompanied the gamey flavours of gizzard, heart, liver, and foie gras, were all as delicious as the food placed in front of me.
The service is efficient, attentive, and kind, as most things in Japan.  It is the chef's energy, however, what keeps the spirit alive and the buzz in the restaurant going.  He chats with all of the guests, explains the dishes, moves along the bar, keeps a positive attitude, and is eager to share the experience.  I had the good fortune of chatting in depth with Chef Murakawa, eagerly probing about his preferred restaurants in Tokyo, where he sources his food from, and the secret to that great broth behind the gooey, wonderful bowl of oyakodon.
Now, I can't stop raving about the three hours I spent at Shinka, one of the most joyous solo dining experiences I've had.  Off to Tokyo? Treat yourself to dinner there too.
Yakitori Shinka
1-4-4-1F, Nishi-Azabu, Minato-ku Tokyo, 106-0031
Tel. + 81 3 3479 0388
www.yakitorishinka.com

Janice is a girl from Lima, Peru who loves a good cebiche and a glass of dry Riesling. She travels the world (often for food or to check out new restaurants) and lives in Australia. Janice tries to learn about different countries through cuisine, and takes advantage of Sydney's multiculturalism by exploring gastronomy in all of its forms. Grower's markets, wine tastings, restaurant openings, cooking classes, shopping for specialty spices; she's keen to do it all.