Chiva-Som means "haven for life", and for the well-heeled guests who frequent this gorgeous spa in order to relax, de-stress and detox, that description is perfectly apt. Chiva-Som, located in Hua Hin, Thailand, is one of the world's most famous spas, and its range of treatments, physical, mental and spiritual are well-reputed. For people seeking to rejuvenate themselves and their bodies, it's a great place. For a foodie, however, the idea of spending 4 days in a spa, eating "health food", i.e. close to no salt, sugar, fat, etc, was a little terrifying. On the 2.5 hour car journey to Hua Hin from Bangkok, I kept asking my wife is she didn't want to consider pulling over for one last greasy but delicious bowl of…well, whatever street food we could find on the way. Her favourite response was a swat with her hand, giving me no more attention than your average pest, which I think she was beginning to think I was.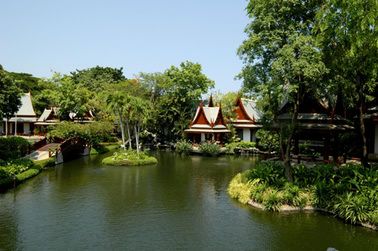 Chiva-Som's grounds are beautiful. This picture is taken just past the well-guarded entrance. Further inside, past the villas, are the main facility areas—spa, gym, yoga pavilion, bathing pavilion, and more rooms. The hotel's pool and Thai restaurant, Taste of Siam, sit closer to the rather attractive white-sand beach. All in all, a rather idyllic setting.
But what about the food, you ask?
Our first meal at Chiva-Som really scared me. Arriving just a bit late for lunch (past 2pm), we were quickly ushered into the Emerald Room, the hotel's international restaurant, and presented with what has got to be the healthiest buffet spread I have ever seen. Lots of raw and grilled veggies, a few salads—Thai and Western—and some other food items that I am sure would look palatable to a rabbit but not to yours truly. I was really beginning to fear that the next few days, I'd be living on multi-grain muffins and self-pity. Fortunately, my wife asked if there was an a la carte menu. After a couple minutes of twisting our waiter's arm, we found out that, in fact, lunch came with 2-3 hot dishes made upon request, but because we were late, they were hoping we wouldn't order them. Of course, we did. And I am so very happy we did. After a few minutes, we were presented with a spinach-ricotta parcel wrapped in philo with a red pepper sauce and a plate of green curry with seafood and brown rice. And both, while incredibly light and healthy, were delicious!


The green curry, especially, impressed me. No oil, no coconut milk, but a ton of flavour. My wife and I had arranged for a Thai Spa Cuisine cooking course the next day, and after tasting this dish, I couldn't wait to take it and question the chefs on their techniques. (The class I'll write about in Part 3 of these posts.)
Aun has always loved food and travel, passions passed down to him from his parents. This foundation, plus a background in media, pushed him to start Chubby Hubby in 2005. He loves that this site allows him to write about the things he adores--food, style, travel, his wife and his three kids!