Over the weekend, my wife and I took a Thai Spa Cuisine cooking class at Chiva-Som. It was, for me, an important part of the research I needed to conduct in order to be able to contribute intelligently to the resort's forthcoming Thai Spa Cuisine cookbook.
I won't go too much into the details of the course, nor will I divulge most of the cooking techniques or any recipes here. (For that, you'll have to buy the book when it hits the shelves in September 2005). But I will say that as someone going into the course a tad sceptical of making Thai food healthy, the course really was an eye-opener.
The food we prepared was delicious, despite being made with close to no salt and sugar, and no oil. In fact, I found that there was a clarity in flavour that is often missing in the Thai cuisine you find in most restaurants.
The one method that I found most interesting was the substitution of cooking oil with vegetable stock, a technique which sounded a little odd at first but worked beautifully with the various dishes we made (pictured throughout this post). We made a clear and spicy mushroom soup, a spicy pomelo salad with prawns, a fish dish (they called it simply fish with Thai sauce), and a beef with red curry.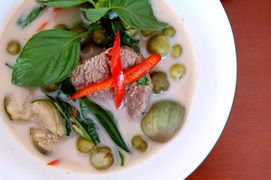 The only substitution that I am sure some purists would object to might be the swapping of coconut milk for a combination of young coconut juice and skim milk. I thought it worked well but I am sure a lot of others won't find the taste fatty or authentic enough. Anyway, to make a long post short, the experience was really enlightening and ever since returning to Singapore, my wife and I have been experimenting with some of the techniques learnt at Chiva-Som in order to make our dinners a whole lot healthier. That, of course, doesn't mean I won't be indulging in some delicious sinful foods from time to time, just that I can feel less guilty about doing so.
Aun has always loved food and travel, passions passed down to him from his parents. This foundation, plus a background in media, pushed him to start Chubby Hubby in 2005. He loves that this site allows him to write about the things he adores--food, style, travel, his wife and his three kids!