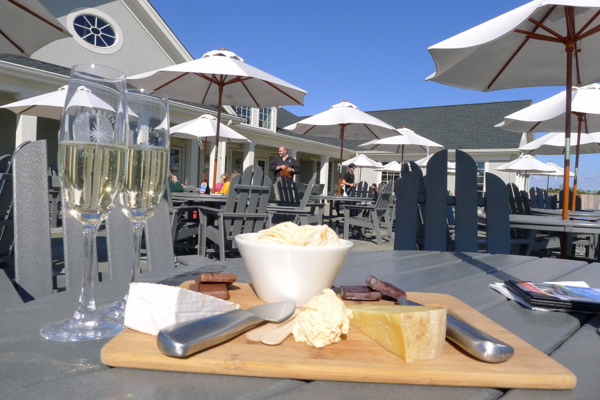 Cloud 9 Living is a provider of experience gifts – instead of providing the traditional physical gift, they organise experiences so that that wonderful memories can be made. They pride themselves on providing premium class customer service and I personally found that to be true. Founded in 2005, they have 1,700 experiences in 43 regions in the United States. When I was contacted by Aun about experiencing firsthand one of Cloud 9 Living's experiences, I was ecstatic! There are several categories for me to choose from: food and wine, driving, fighter pilot for a day, golf, learn to fly, action and adventure and more! The experiences look amazing and are appropriate for birthdays, anniversaries, corporate gifts and more. I picked the private winery tour and picnic as I wanted to take the opportunity to go out to the Long Island wineries in a more intimate setting, enjoy the good weather while it lasted and spend some quality time with my sister.
Sparkling Pointe is one of the premier sparkling wine only producers in Long Island, NY. When my sister and I arrived in Sparkling Pointe, we were blown away at how beautiful it was. The owners love Brazil, and Brazilian influences can be seen through the art work in the high-ceilinged indoor space – there is a huge painting of Rio de Janeiro adorning the back wall of the bar and various Brazilian artworks scattered throughout the space. The choice of piped music is of course bossa nova. I especially loved the outdoor space. There are 20 lounge tables for a maximum of four to six people each in order to keep the experience intimate, all with a great view of the rolling vineyard.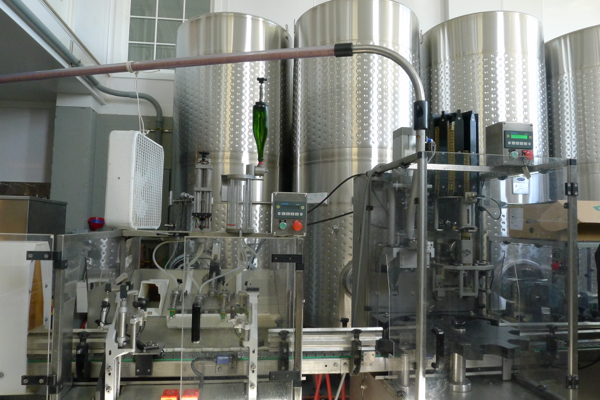 The staff first guided us to our table outdoor and started us off on the first of the four wines on our Grand Brut flight, the NV Brut (54% Chardonnay, 34% Pinot Noir, 12% Reserve wine). Later on, Mike, the general manager came outside to greet us and with our glasses in hand, off on our private vineyard tour we went! Sparkling Pointe wines are produced onsite: from the grape harvesting, to the pressing, to the aging, to the bottling. They grow Chardonnay, Pinor Noir and Pinor Meunier, the only three grapes allowed to be used for champagne, and buy other varietals like Gewurztraminer in very small quantities from other winemakers in the region for blending and experimentation. I was impressed at the amount of technology involved in wine making, such as the imported stainless steel barrels for aging and cooling from South Africa, the bottling machine and labeling machine. Sparkling Pointe uses the traditional methode champenoise to create the bubbles in the bubbly – adding sugar and yeast in each bottle so that the yeast is in constant contact with the wine, tilting and turning the bottles over time until they are fully upside down so that the dead yeast lies near the cap and then removing the dead yeast from the bottles. Mike let us sample some barrel wine as we strolled through the premises. He was very knowledgeable and friendly so we were able to ask him a lot of questions about the winemaking process and the vineyard. We also got to meet Gilles Martin, their French winemaker who has had extensive wine making experience all around the world.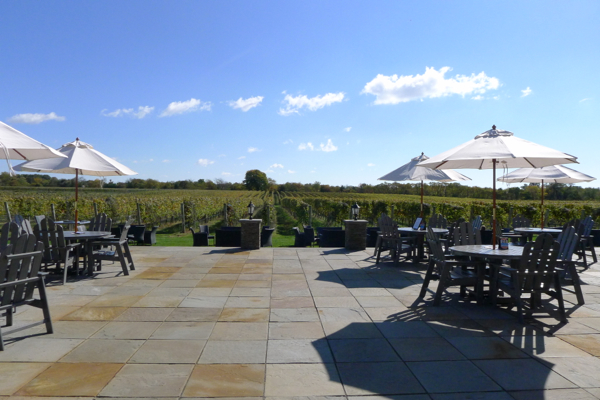 Subsequently, we returned to the vineyard to enjoy the rest of our wine flight and the accompanying cheese and chocolate pairing. We tried the 2007 Blanc de Blancs (100% chardonnay), 2003 Brut Selection (51% Chardonnay, 49% Pinot Noir), the NV Cuvee Carnaval (59% Chardonnay, 27% Pinot Noir, 14% Reserve wine). Mike told us that they source their cheeses and chocolates from local producers as much as possible. We enjoyed 3 types of cheese: a light pumpkin chevre made especially for Sparking Pointe by a farm five minutes down the road, a Berle Farms Organic "Berleburg" nutty cow's milk cheese and a creamy Hudson Valley camembert that is among Wine Spectator's 100 best cheeses in the world. The pecan nut and pumpkin chocolates are from Tumbador Chocolates in Brooklyn. My favorite of the wine flight was the 2003 Brut Selection, which paired beautifully with the Berleburg cheese. Its previous successors, the 2001 and 2002 are both award-winning wines and this one looks to be a winner too. As part of the experience, we were able to take one bottle home and that was the bottle we selected.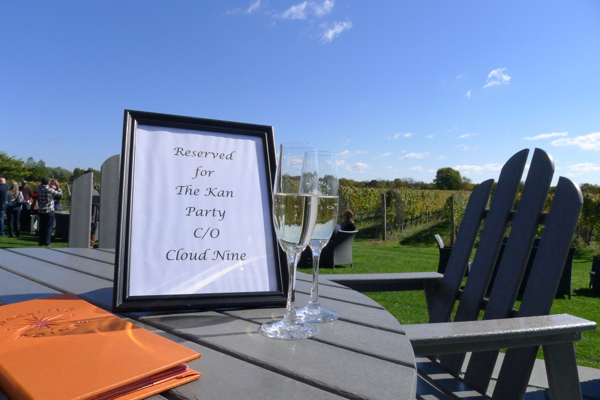 Thanks to Cloud 9 Living for sending my sister and I on this experience. We had such a great time. Cloud 9 Living offers a full range of experiences in cities all around USA, ranging from having a chef host a cooking party at your home to being a race car driver for a day! I had an incredibly easy time booking my experience online and was pleasantly surprised when I received a packaged gift certificate in the mail too. I would highly recommend it as a replacement for a traditional gift and as it is given as an e-voucher, it can be given last minute (so useful for all the busy folks out there!). Now you can win your very own experience simply by entering Cloud 9 Living's "9 Days of Christmas Contest" here
Sparkling Pointe Winery
39750 County Road 48
Southold , NY 11971
Tel: +1 631 765 0200
www.sparklingpointe.com
Cloud 9 Living
Tel: +1 866 525 6839
www.cloud9living.com

Jeannice is a world traveller and eater. She has lived in Chicago and Madrid (as well as Miami and Yellowstone National Park, albeit for much shorter periods) and has recently moved to New York City. Like many Singaporeans, she seeks out the best places to eat when travelling as recommended by locals, friends who have previously visited the city or a simple online search.