A couple of weekends ago, I was invited to Angsana Bintan for a quick weekend getaway, and also to experience their quarterly weekend event, The Colours of Thailand. Among the activities lined up, it included feasting on a selection of Thai cuisine that was thoughtfully prepared by Chef Renu Homsombat, Banyan Tree's Corporate Chef at Saffron, who had specially flown in from Bangkok for the event.
On the first night, we were treated to a four course dégustation meal featuring some of Saffron's newest dishes. Before we indulged, Chef Renu took some time and explained the inspiration behind the dishes (and also her cooking philosophy). She did not want to serve guests with just traditional Thai cuisine. She wanted to elevate each dish, bringing a spark to our palettes yet at the same time not losing the authentic Thai flavours that we are familiar with. After listening to Chef Renu, I could not wait to dive into my meal.
The first course was a selection of Thai appetizers–my favourites were the grilled chicken satay, and soft shell crab with green papaya salad. The grilled chicken satay was very well-seasoned. I love that Chef Renu used dark meat–this guaranteed that the satay stayed tender and juicy. And the green papaya salad was sourish and spicy which opened up my appetite, and made me craving for more.

For the soup course, we got to have Tom Yum Goong. It is from this dish that I understand Chef Renu's direction of creating a difference with tradition. Tom Yum Goong is a dish that can be easily found on the streets of Thailand and Chef Renu effortlessly made this common soup a standout. Each bowl of soup was topped with a grilled prawn which not just brought texture but also a smokey note to the dish.
I was looking forward to the main course as it featured my favourite Gaeng Kiew Wan Gai (chicken green curry). Chef Renu's version did not disappoint. It was creamy without being overly rich. And she had once again used dark meat so the curry was packed with flavour. Later, I learned that Chef Renu marinated and grilled the chicken partially before adding it into the curry. This explained why the curry was such a delight.
To end the dégustation, we had mango sticky rice and coconut ice cream. While everyone at the table was over the moon with the dessert, I was actually falling in love with the accompanying pandan tapioca pudding. Despite being made with tapioca flour, the pudding was light and chewy. My only complaint was there was only two tiny pieces on my plate.
During my weekend stay at Angsana Bintan, I was also treated to a royal Thai cuisine dinner and a Thai street food theme buffet–all Chef Renu's creations. Among all the deliciousness, a few dishes left a deep impression. One of them was Khao Soi–curry egg noodle. The dish was topped with fried egg noodle which gave it crunch.  And the egg noodle was thin and had a bite, and reminded me of Singapore's mee pok.
Another item that caught my eye was Kanom Beuang Yuan which I lovingly labelled "Thai taco". It is a crispy thin wafer packed with a filling made up of shredded coconut and shrimp, and garnished with raw bean sprouts, firm tofu and cucumber relish. This "taco" was especially moreish and refreshing. I am not a fan of raw bean sprouts but I was willing to eat them anyway and was pretty happy with the taste. Oh did I mention I went for seconds?
Chef Renu is also a genius when it comes to cooking beef. Her beef noodles with chicken meatball was the best beef noodles I have had to date. The beef short rib was ridiculously tender and the chicken meatball just melted in my mouth. It took a lot of willpower to stop myself from having a second bowl. Instead, I went for a bowl of Tom Sab–a hot soup with beef short rib, lemongrass and shallot. The soup was definitely richer than the beef noodles broth but the beef was equally tender and I finished everything in my bowl.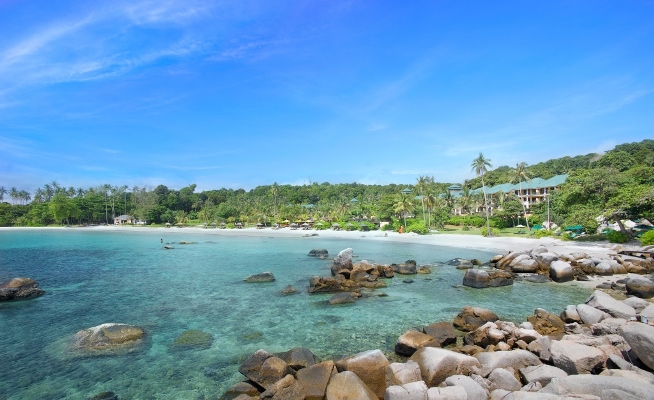 And of course greedy me always needs to end each meal with dessert. It was not fancy at all. I just had ice cream. It is not just your usual chocolate or vanilla ice cream – they had lemongrass and thai iced tea flavours! The flavours were very pronounced and not sickeningly sweet. I almost wanted to ask the folks at Angsana to let me bring a tub of the ice cream home.
It is pretty awesome to know that with just a 45-minute ferry ride, I was transported to a beautiful beach resort and surrounded by all these delicious food. And I understand from the team at Angsana Bintan that they are trying to organise more of these weekend themed events in the future. So keep a lookout!
Angsana Bintan
Jalan Teluk Berembang
Laguna Bintan, Lagoi 29155
Bintan Resorts, Indonesia
Mandy was generously hosted by Angsana Bintan.
Photograph of the resort is courtesy of Angsana Bintan.
Mandy's journey into the culinary world began out of necessity–a means of survival whilst she was at university. She believes cooking should be simple and fun. Besides spending time in the kitchen whipping up hearty meals, Mandy also dreams of having a bottomless stomach that she can fill with all kinds of delicious things.